Thanks to changes in our drinking habits and the availability of more top-quality beers under 0.5% ABV, sales of low and no alcohol beers have risen dramatically in recent years.
Yet, many people still wonder, "What's the point in non-alcoholic beer?" Others might not be aware of non-alcoholic beer's many wonderful advantages – including its health benefits.
Need some convincing about the benefits of alcohol-free beer? Or want to convince someone else?
Here are my top 10 benefits of alcohol-free beer.
The benefits of non-alcoholic beer
1. It tastes good!
In the past, most people avoided non-alcoholic beer because it simply wasn't very nice.
Things are very different now. And while there are still a few undrinkable NA and AF beers floating around, there are also scores of alcohol-free beers that easily rival their full-strength siblings (and many other non-alcoholic alternatives) in flavour and aroma.
From rich, chocolaty beers like Big Drop's "Stout", to thick, fruity pale ales like Vandestreek's "Playground IPA" and the refreshing tartness of Mikkeller's "Hallo Ich Bin" Berliner weisse, there's something for all tastes – even those who don't normally drink beer.
2. It can help you cut down your drinking
Whether you're wanting to drink a few less units of alcohol every week, take a temporary break or give up completely, non-alcoholic beer can help.
It's also a handy way to give yourself a break from alcohol on a night out without resorting to water or another soft drink.
One of the reasons why non-alcoholic beer is an effective replacement for alcoholic drinks is because your body associates the flavour and smell with full-strength beer. This leads it to produce dopamine, the same chemical that makes you feel good when you drink alcohol.
Research has also found that drinking non-alcoholic beer gives you the same feelings of reward as full-strength beer.
This means you get some of the positive effects of alcohol with alcohol-free beer, without the negative consequences.
Just be aware that because non-alcoholic beer provides some of the sensory cues of full-strength beer, it's possible to lead you back onto the stronger stuff. So, if you have an addiction to alcohol, it's best to speak with a healthcare professional before you use non-alcoholic beer to cut down your drinking.
3. It's healthy
Non-alcoholic beer has several health benefits making it one of the healthiest drinks available behind the bar.
For instance, drinking non-alcoholic beer can reduce your risk of heart disease, help you sleep, aid bone growth and reduce your risk of getting illnesses like the common cold.
It's also chock-full of vitamins and minerals including folic acid, potassium, iron and zinc.
4. It contains less calories
Alcohol contains 56 calories a unit. These are "empty" calories, because they provide no nutritional value.
Swap a pint of 4.5% ABV beer for an equivalent 0% or 0.5% beer and you'll be saving yourself up to 145 calories from alcohol alone. That's about the same amount of calories as what you get in six teaspoons of sugar.
But bear in mind that not all non-alcoholic beers are low in calories. The final calorie count depends on their ingredients and the brewing process. For instance, a beer that has used a lazy yeast is likely to be higher in sugar and calories.
5. It won't get you drunk
Some alcohol-free and non-alcoholic beers contain up to 0.5% alcohol, but this is nowhere near enough to get you drunk.
This is because your body processes this teeny amount of alcohol as you drink it – the average person's body will process the 0.28 units of alcohol in a pint of 0.5% beer in around 17 minutes.
Meanwhile, it takes the average person 2 hours to process the alcohol in a pint of 3.6% beer (about 2 units of alcohol) and more than 3 hours to process the alcohol in a pint of 5.6% beer (around 3.1 units of alcohol).
Drinking non-alcoholic beer means no more of the negative effects of being drunk, like hangovers (and the "hangxiety" that comes with them), poor productivity, tiredness and making a fool of yourself.
And you can still drive home from the pub.
6. It tells you what's in it
A good example of the influence alcohol companies have over our Governments is the situation regarding the labelling of drinks in the UK and EU.
Here, drinks producers must list all the ingredients on the packaging – unless it's an alcoholic drink containing more than 1.2% ABV.
Say what?
The upside of this is that we know exactly what's gone into a non-alcoholic beer because it's listed on the bottle or can. Meanwhile, those who drink full-strength beer could be consuming all manner of things in their pint.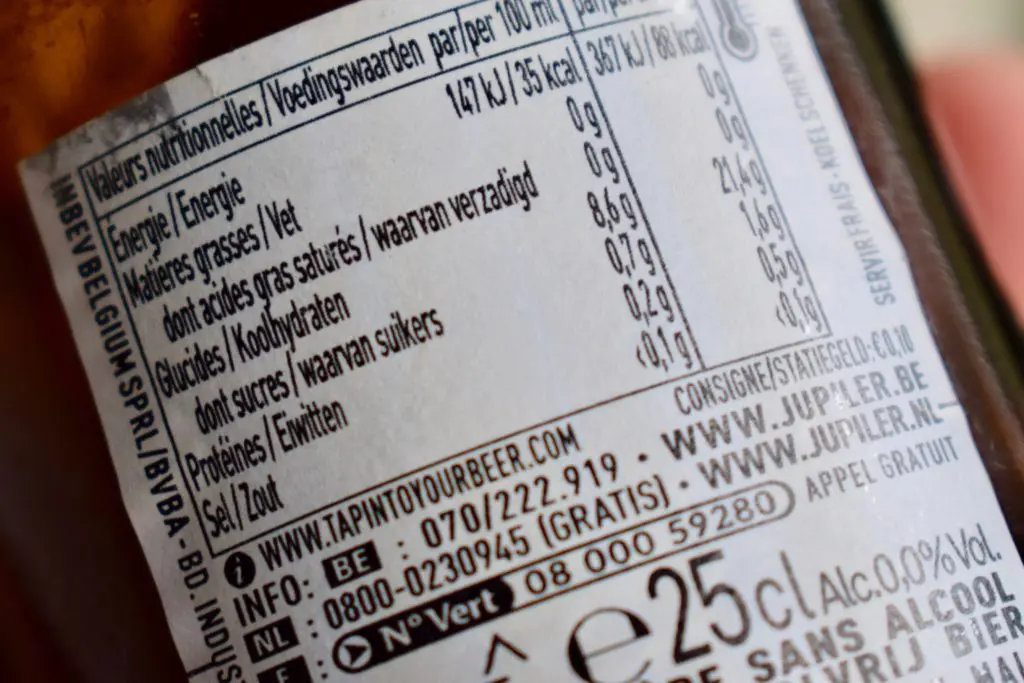 7. It (sometimes) costs less
In many countries, brewers pay tax on any beer above a certain percentage, for example, 1.2% ABV in the UK. They usually pass this cost onto you.
This means that non-alcoholic and low-ABV beers are often cheaper to buy than a similar full-strength beer.
Just bear in mind that it usually costs more for a brewer to make alcohol-free beer. So don't expect all non-alcoholic beers to be a bargain. After all, it's taste and quality we pay for when it comes to beer, not the ethanol content.
8. It helps you "fit in"
Why do we live in a culture where drinking – rather than not drinking – is the norm?
That's probably a discussion for another time. Yet the reality is that there are many situations where not drinking alcohol can make you feel like an outsider, especially when you're nursing yet another lime and soda or cheap orange juice.
This is where non-alcoholic beer can help. It looks like beer. It smells like beer. It tastes like beer. (Hint: it is beer.)
Ask for it at the bar by brand name and you won't even have to explain why you're drinking a beer without alcohol (someone will inevitably make it an issue because people are idiots).
9. It allows you to support the beer industry and pubs
A common objection to cutting down how much alcohol we drink is that we'll no longer be supporting pubs or the beer industry.
This doesn't have to be the case when you drink non-alcoholic beer. You can still go to the pub (let's gloss over the fact that most pubs still only have one or two crappy alcohol-free beer options) and support breweries big and small.
10. It's natural
Most non-alcoholic beers are made using the same four natural ingredients brewers have used for millennia – water, yeast, malt and hops.
This means most non-alcoholic beers are natural products – unlike the many alcohol-free alternatives that contain additives, artificial sweeteners and who-knows-what.
Over to you
Right then, time for you to let me know what I've missed. Leave a comment below or find me on Twitter or Facebook.