Find out why many NA beers aren't suitable for a vegan diet. Plus, discover nine of the best non-alcoholic beers and lagers for vegans.
In its purest form, beer consists of four ingredients – water, grain, yeast and hops.
Why then are many beers – including non-alcoholic beers – not suitable for a vegan diet?
Animal-derived ingredients
Sometimes it's to do with additional animal-derived ingredients. These can include lactose (milk sugar), which brewers use to make their beers fuller, sweeter and creamier.
Other non-vegan ingredients can include honey and a colouring made from insects called cochineals.
Animal-based finings and packaging
In most regions including the EU, non-alcoholic drinks must declare the ingredients on the packaging (unlike drinks over 1.2% ABV).
But this doesn't mean the absence of animal-derived ingredients on the label means your beer is suitable for a vegan diet.
This is because some brewers use animal-derived finings near the end of the brewing process to filter out organic compounds such as yeast and hop particles, improving the clarity of their beers.
These finings can include gelatine, egg whites and isinglass, which is made from the dried swim bladders of fish (and often described as "fish guts" – nice). These are rarely mentioned on the labelling when used.
The packaging itself can also include animal-derived products, as some adhesives still use collagen from animal bones.
9 of the best non-alcoholic vegan beers
The good news is many producers of non-alcoholic beer have committed to not using animal products in their beers and in their packaging.
Here are nine of the best alcohol-free beers suitable for vegans.
Each comes in at 0.5% ABV (alcohol by volume) or less, which is considered non-alcoholic or alcohol-free in most regions and less than the alcohol content of many everyday foods and drinks.
Unfiltered to avoid the need for any finings, Lucky Saint is brewed in Germany. It's lagered (stored) for over six weeks before the alcohol is removed and it's bottled.
Hazy amber with a gorgeous head, the aroma is sweet and malty, while the flavours feature fruity esters with a gentle bitterness.
Each of Drop Bear Beer Co's non-alcoholic beers is vegan and gluten free. "Bonfire Stout", which doesn't feature lactose (milk sugar) like other leading NA stouts, is the pick of the bunch from this South Wales brewery.
Smoked malts in the grain bill give this beer a subtle smokey aroma and taste. It also melds cocoa, liquorice, coffee and oak flavours with a touch of grapefruit from chinook hops to form a strangely effective combo.
(Also check out Drop Bear's IPA and yuzu-infused pale ale.)
Infinite Session is a "cuckoo" brewery that brews at Sambrook's Brewery in Battersea, London. "Pale" is one of Infinite Session's three core beers along with a pilsner and IPA.
As an American-style pale ale, there's plenty of tropical fruits in the aroma and flavour. This is backed up by a well-balanced caramel maltiness with bitterness that complements rather than overpowers.
The mouthfeel is smooth and gentle, and will appeal to real ale drinkers.
A few brewers have had a go at a non-alcoholic sour, but few have cracked it.
Tempest Brewing Co has. "Drop Kick" is a 0.5% version of the brewery's full-strength "Drop Kick Me Jesus" sour beer.
It's stuffed with aromatic new world hops and has a diverse grain bill, exhibiting the best flavours of a bitter ale and a sour in one bottle.
These include lychee, grapefruit, mango, pineapple and pale malts with a touch of acidity that encourages slow sips.
This lager from Scottish brewery Jump Ship features zesty hops, giving it a different aroma and flavour profile to Lucky Saint (above).
The aroma features toffee and caramel, mixing with tropical fruit and floral notes.
Less gassy that a typical lager, the mouthfeel is smooth and accommodating, while the taste features more caramel, fruit and light malt flavours.
This beer from Hop & Hemp is one of a growing number that feature CBD (cannabidiol) – the non-addictive, non-psychoactive chemical found in hemp and cannabis.
The flavour of CBD apparently works well in a beer, and you don't notice anything out of the ordinary in this IPA. It features caramelised biscuit and loads of citrus and tropical fruit from Citra, Cascade and Mosaic hops.
"Nanny State" – launched in 2009 as a 1.1% beer but now at 0.5% – is one of the beers that kicked off the recent non-alcoholic beer revolution.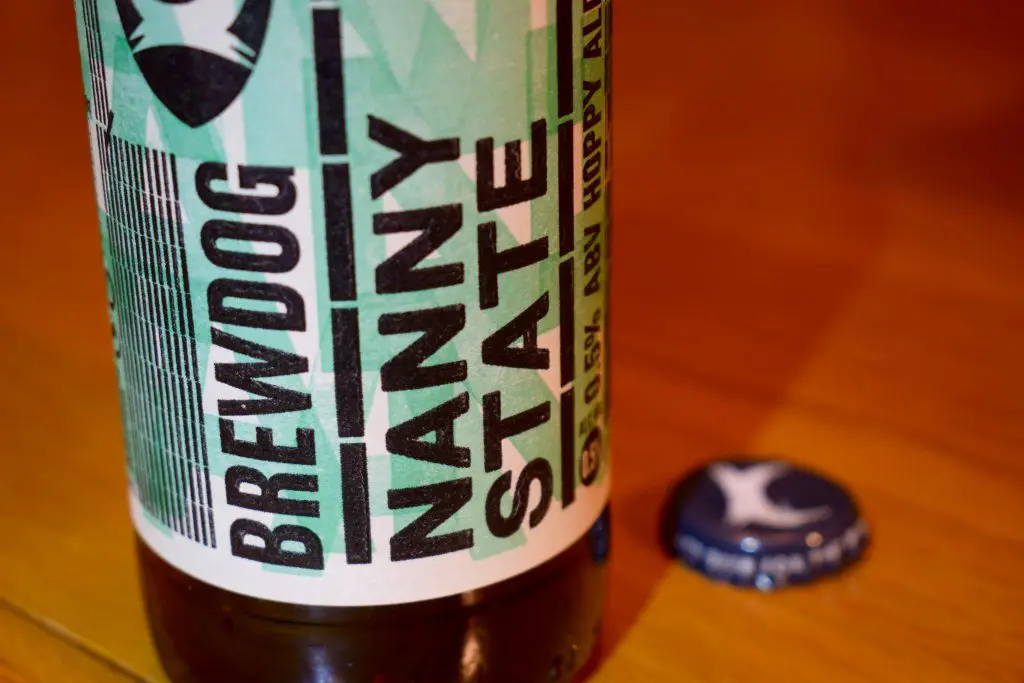 Available pretty much everywhere, it may not be as exciting as some of the other vegan NAs on this list. But it's still a great beer with a complicated grain bill and five types of hop offering plummy, citrusy aromas and flavours.
Importantly, there's no lactose (milk sugar) in the ingredients – unlike several other Brewdog alcohol-free beers.
Scotland-based Coast brews its beers at De Proufbrouwerij in Belgium, which also the source of non-alcoholic beers from Denmark's To Øl and Mikkeller brands.
Grapefruit features heavily in the aroma and taste of its Hazy IPA. It also has a deliciously sticky mouthfeel and lots of other fruity flavours, with minimal maltiness.
This Bavarian helles beer is Nirvana Brewing's flagship lager and one of several core beers it produces, which are all suitable for vegans.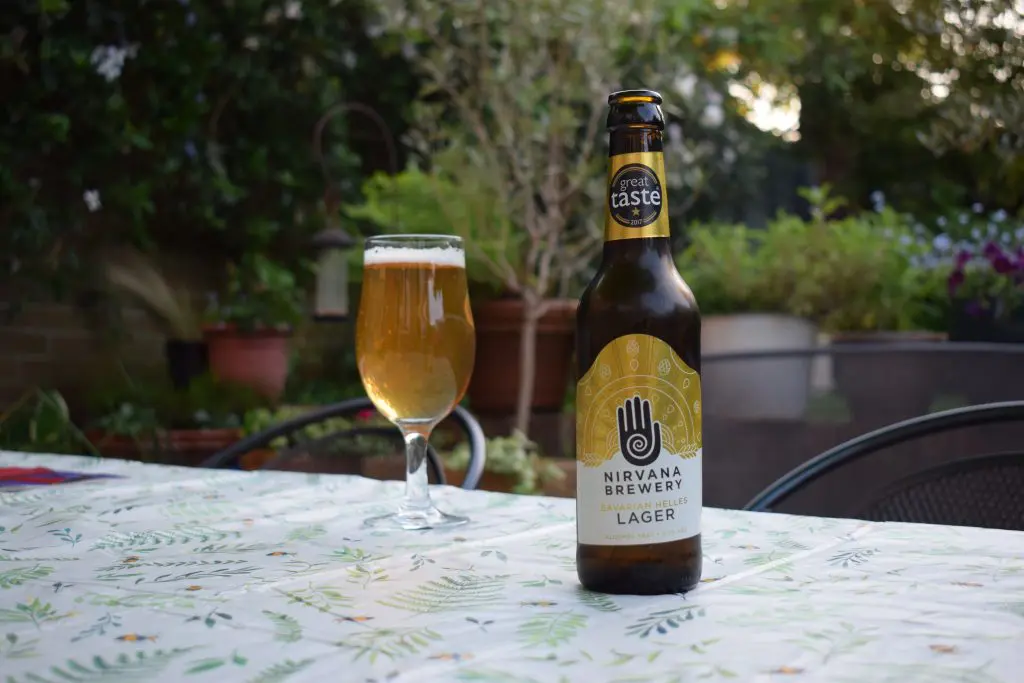 There's plenty of tasty pale maltiness in this beer, along with a touch of caramel and spicy hop aroma making for a surprisingly complex flavour.
Over to you
What's your favourite non-alcoholic vegan beer? Leave a comment below or tweet me @steadydrinker.