With insignificant amounts of alcohol and fewer calories, it's clear that drinking alcohol-free beer (up to 0.5% ABV) is better than opting for an alcohol-laden equivalent and great for giving your liver a rest.
Non-alcoholic beer has health benefits too. For example, it can help you recover more quickly from exercise, cut cholesterol and reduce your calorie and alcohol intake when you swap standard beers for alcohol-free.
But, are there any situations where alcohol-free can be bad for you? And what – if any – are the dangers of non-alcoholic beer?
Here are three scenarios where non-alcoholic beer could be damaging.
1. If you have an alcohol addiction
Many people – me included – find alcohol-free beer useful for cutting down the amount of alcohol they drink or even cutting it out altogether. However, it's not effective for everyone, especially those with an addiction to alcohol.
You might think this is because alcohol-free beer can contain a small amount (up to 0.5% ABV) of alcohol.
It's not (0.5% is about the same as a ripe banana and comes nowhere close to getting you drunk).
Instead, it's because alcohol-free beers, which often still taste the same as standard alcoholic beer, can provide sensory cues that make you want the real thing. Even the smell of non-alcoholic beer is enough to encourage you to want to drink a standard beer.
If you have an alcohol addiction and you're considering drinking alcohol-free beer, it's best to speak with your support or healthcare professional first.

2. If you don't drink it in moderation
Alcohol contains 56 calories per unit. Therefore, a beer will always be higher in calories than the same beer with the alcohol removed.
However, all beers – alcoholic or not – contain varying amounts of carbohydrates and protein. These contain four calories per gram.
Some of these carbohydrates will be sugars. Most of the time this is natural sugar that doesn't get eaten by the yeast during fermentation. Sometimes, it's an added ingredient.
The presence of calories and sugar doesn't mean alcohol-free is bad for you, especially if you only drink it as a replacement for full-strength beer or soft drinks that are higher in calories and sugar.
However, regularly drinking it as a replacement for water or lower calorie drinks could pile on the pounds if you're not careful. The sugar in beer can damage your teeth, too.
How much sugar is too much?
The sugars in beer is known as a "free sugars". These also include sugars added to food and the sugars in foods like fruit juice, honey and smoothies (but not sugars in fruits, vegetables and milk).
The NHS recommends we consume no more than around 30g of free sugars a day. Keep this in mind if you regularly choose non-alcoholic beers high in sugar.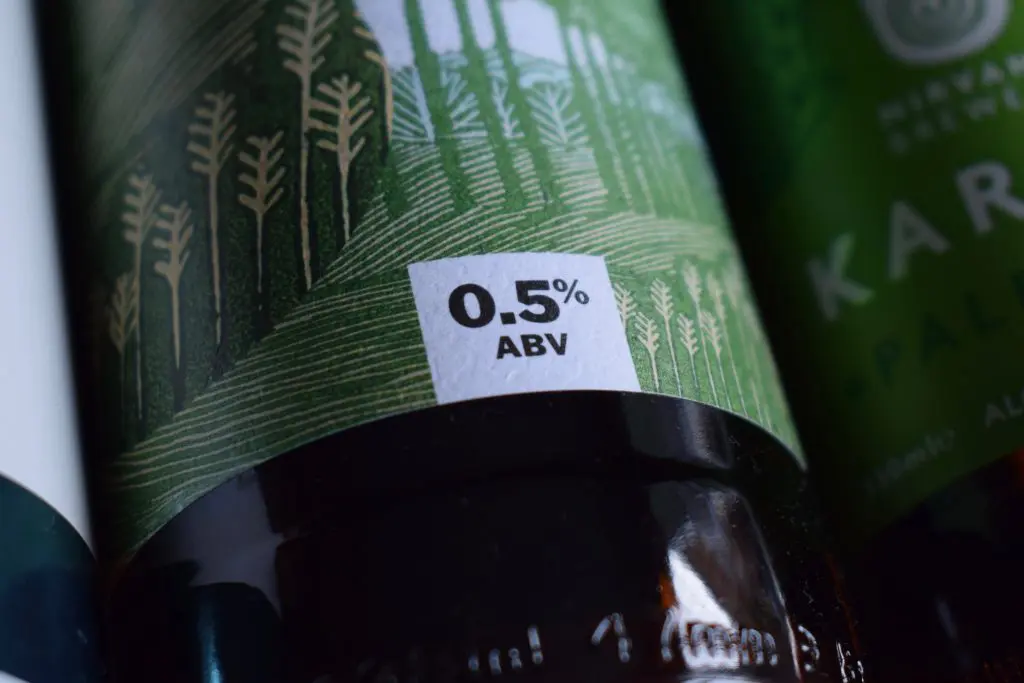 Also, if you're diabetic, be wary of too much alcohol-free beer that has added sugar. Some refined sugars such as sucrose can cause a spike in blood sugar levels and most producers keep schtum about what type of sugar they've added.

3. If you have a specific health condition
Alcohol-free beer can contain trace amounts of alcohol – up to 0.5% in most cases. Even drinks labelled 0% could contain up to 0.5% because UK law allows a tolerance of 0.5% either side of what's shown on the label.
This is unlikely to cause any issues for those who can't drink alcohol for health or medical reasons. After all, 0.5% ABV is comparable to the amount of alcohol found naturally in foods such as ripe bananas, some fruit juices and some breads.
Have you ever seen health advice to avoid these foods when you can't drink alcohol? I haven't.
This means there's little need to be concerned if you drink alcoholic beer with medication or a health condition.
Yet, there's been no research into the effects of doing this.
So while the risk is likely to be very low, health professionals continue to advise to avoid drinking any alcohol, despite alcohol occurring naturally in some foods.
If you're concerned about the effects of drinking alcohol-free beer on a health condition or medication, speak with your doctor or health professional.
In conclusion
Yes, there could be some situations where alcohol-free beer could be bad for you.
Yet, alcohol-free beer is always a healthier option than drinking standard beer. And most are better for you than other sugar and additive laden soft drinks.
Note that a previous version of this article said that "drinking alcohol-free beer isn't a concern if there are no major consequences if it does lead you back to the 'real' thing." I removed this line on 5 February 2020 following some feedback that it could be dangerous advice for someone new to sobriety.