I've reviewed more than 180 non-alcoholic ales and lagers. Here's my verdict on the best non-alcoholic beers available at Tesco.
The popularity of non-alcoholic beer has sky rocketed in the last few years. Yet Tesco – like most supermarkets – was a little slow in adding non-alcoholic beer sections to its aisles.
Fortunately that's no longer the case. Depending on where in the UK you're located, your local Tesco supermarket could have more than 15 alcohol-free beers to choose from, via brands big and small.
The choice at its Tesco Express convenience stores is more limited. But there's usually one or two non-alcoholic beers on the shelves.
So with such a variety of non-alcoholic beers on offer at Tesco, where to begin?
The beers
Here's a list of all the non-alcoholic beers Tesco has in stock on a regular basis with tasting notes and info on whether they're gluten free or suitable for vegans.
All beers come in at 0.5% alcohol by volume (ABV) or less, with many at 0%.
Retailers like Tesco don't need an alcohol licence to sell 0.5% ABV beer, as these beers contain a similar amount of alcohol as foods like ripe bananas and orange juice. But Tesco policy means you may need to prove you're over 18 to buy them.
Score: 8.3 out of 10
Vegan friendly: yes
Gluten free: no
Nanny State started life as bit of a PR stunt, brewed in response to the furore that surrounded Brewdog's 18.2% ABV beer "Tokyo" in 2009. But it showed us that non-alcoholic beer can be good, and helped pave the way for other brewers to enter the non-alcoholic beer market.
Ruby in colour and with multiple varieties of hops and malts to ensure the flavours pack a punch, it has a rich, malty taste and an aromatic, tropical aroma.
It's incredibly low in calories and sugar too – 26 calories and 1.3g of sugar per 330ml serving.
Score: 7.6 out of 10
Vegan friendly: yes
Gluten free: no
Lucky Saint is a specialist non-alcoholic brewer that has so far put all its efforts into producing just one pilsner – and what a great pilsner it is too.
Founder Luke Boase worked with multiple brewers before he found a recipe and process to take to the market. The result is a gorgeous-looking German-style pilsner that features a full and gentle mouthfeel with clean, malty flavours backed by a little citrus.
Score: 7.4 out of 10
Vegan friendly: yes
Gluten free: no
Ghost Ship 0.5% is essentially the full-strength beer with a few tweaks and minus the alcohol, which is removed with high-tech kit that uses a method called reverse osmosis.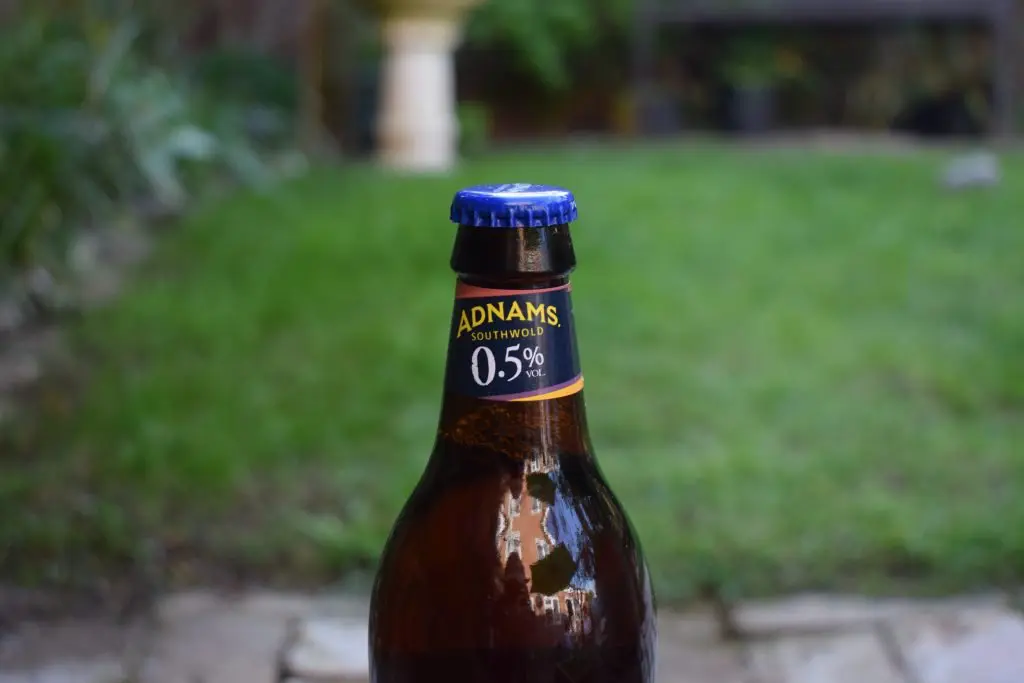 A modern-style bitter, roasted malt and caramel are joined by tropical and citrus flavours from aromatic hop varieties. The body is decent too, easily rivalling many bottled full-strength brews.
Score: 6.9 out of 10
Vegan friendly: yes
Gluten free: no
Dry-hopped with modern US hops, this ain't a clean and classic lager. But it is tasty.
Expect a varied aroma and flavour featuring a caramel-heavy malty base with dried herbs, lychee and caramelised orange. Plus a full mouthfeel with a tickle of carbonation.
Score: 6.9 out of 10
Vegan friendly: unknown
Gluten free: yes
Best known for its full-strength beer Estrella, Barcelona-based Damm brewery's "Free Damm" is the best American-style pale lager available in Tesco.
A varied aroma together with a simple grainy and citrusy taste and decent body means Free Damm will satisfy anyone looking for a non-alcoholic replacement for a mass-produced lager like Carlsberg or Carling.
Score: 6.7 out of 10
Vegan friendly: no
Gluten free: no
As with its "Nanny State" beer (above), "Punk AF' is packed full of various types of malts and hops.
The result this time is a fresh aroma with pine and citrus fruits, which sits alongside a taste that features grassy, herby tropical fruit flavours on a foundation of pale malts.
The carbonation is prickly; the finish dry and tacky.
Score: 6.6 out of 10
Vegan friendly: unknown
Gluten free: no
Stella has a reputation as a high-strength lager. Not so this non-alcoholic version, which comes in at 0%.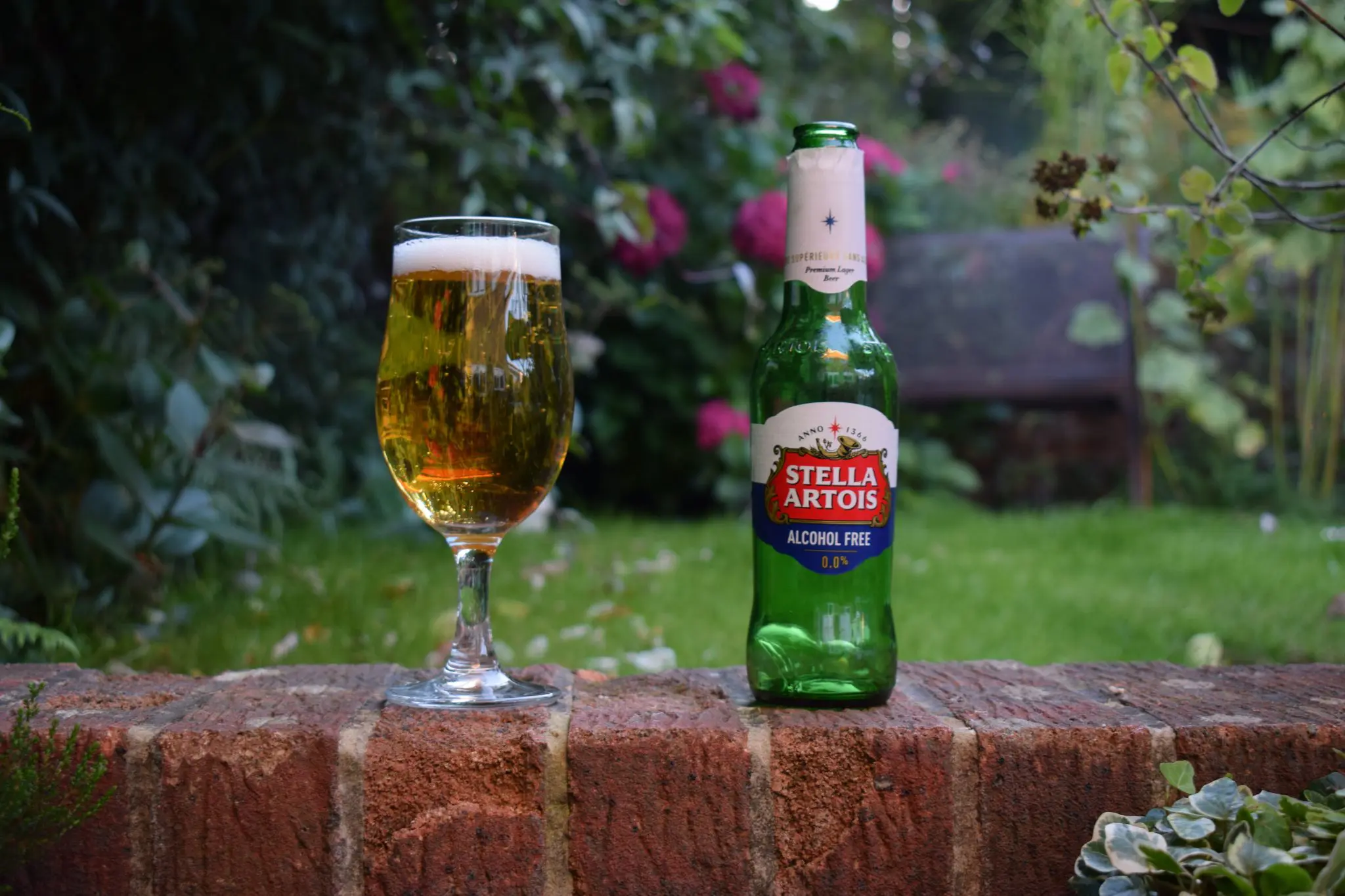 Low in sugar and calories – especially compared to the 4.8% ABV original – Stella "Alcohol Free" has a simple doughy aroma, which includes a touch of sweetcorn. The mouthfeel is surprisingly full of lots of bubbles.
The taste is clean and simple too, but there's a slight cardboardy aftertaste along with its light bitterness.
Score: 6.5 out of 10
Vegan friendly: unknown
Gluten free: no
Birra Moretti was the UK's fastest-growing beer brand in 2018 and 2019. The Heineken-owned brewery is now set to grow even more following the launch of this 0% version.
Lemon flavours dominate the aroma and the taste. The aroma also offers brown bread and a floral character. Meanwhile, the body is good with measured carbonation.
One of the better Heineken-owned non-alcoholic lagers.
Score: 6 out of 10
Vegan friendly: yes
Gluten free: no
Created in 1993, Beck's "Blue" is the original non-alcoholic beer for those of us too young to remember Kaliber. It still accounts for a big chunk of all NA beer sold in the UK.
Beck's Blue conforms to the German Reinheitsgebot (beer purity law), so it only contains water, barley malt, yeast and hops – not that the Reinheitsgebot is anything more than a marketing tool these days.
The aroma is clean and simple, with pale malts, straw and some lemon. The body has a creamy quality, although it's a touch syrupy.
High in bitterness, this gets in the way of the flavours on tasting. There's more clean malts and more of the citrus from the aroma.
Score: 6 out of 10
Vegan friendly: no
Gluten free: no
Shipyard is a US craft beer brewery with UK origins thanks to the involvement of a former Ringwood Brewery brewer. This 0.5% beer is only available in the UK, due to Shipyard's licensing partnership with Marston's.
Stuffed with aromatic US hops, its aroma features passionfruit, caramel and roasted orange.
The body is light, making it a little watery – this is despite the addition of lactose in the ingredients, which is supposed to add some weight.
Malts provide the foundation in the taste, which also features tropical fruit from the esters and hops.
Score: 5.9 out of 10
Vegan friendly: yes
Gluten free: no
As people drink less alcohol and more "craft beer", sales of mass-produced lagers are on the decline. Not so with Italian brand Peroni, which gets more popular year-on-year.
It launched this 0% version in 2019. It's a decent enough beer, if a little sweet. It has a clean and malty aroma, a cloying and lively mouthfeel and a simple malt-forward taste, which also features straw and lemon flavours.
Score: 5.4 out of 10
Vegan friendly: unknown
Gluten free: no
Erdinger sells itself on its health benefits, which aren't much different to all non-alcoholic beers.
It's a wheat beer, so it has a few more calories than a standard NA beer and a heavier mouthfeel.
Flavour-wise, the aroma and taste is grainy, featuring some banana.
Not as tasty as a legendary German wheat beer, but easy to drink.
Score: 5.7 out of 10
Vegan friendly: unknown
Gluten free: no
"Buckler" – Heineken's first non-alcoholic beer – was apparently a favourite of President George W. Bush. Meanwhile, this "0.0" pale ale is a favourite of James Bond – in the advertising at least.
The brewery actually blends two beers to make 0.0. On pouring, it looks like its alcoholic counterpart. It mimics its taste, aroma and mouthfeel too. Although the flavours are probably bit sharper than in a standard Heineken.
Not a bad one to go for if you're a Heiney fan. But there are better non-alcoholic pale lagers available.
Score: 5.6 out of 10
Vegan friendly: unknown
Gluten free: no
Leffe is now owned by global beer behemoth, AB-Inbev. But it started as an abbey brewery in 1240.
"Blonde 0.0" is the brewery's non-alcoholic version of its flagship beer. It has many of the flavours present in the standard-strength version – clove, bubblegum and orange spring to mind. But it's a little sickly, which may explain the 250ml serving size.
Score: 5.4 out of 10
Vegan friendly: unknown
Gluten free: no
A lot of us associate San Miguel with Spain. But it was originally a Philippines-based brewer and didn't produce beer in Spain until the 1950s.
It launched a 0% version of its flagship beer in Spain in 2001, but it didn't come to the UK until 2017. It has a creamy body and lots of wholemeal bread in the flavours. So it might not be to your taste if you're after a clean-tasting pale lager.
Score: 5.3 out of 10
Vegan friendly: unknown
Gluten free: no
Orange and opaque, this non-alcoholic wheat beer from German brewers Paulaner looks ace.
The aroma and taste aren't as impressive. But there's still comforting malty flavours along with a bit of sourness, which works well with the creamy mouthfeel and smooth carbonation.
Score: 4.5 out of 10
Vegan friendly: unknown
Gluten free: no
"Zero" is Bud's second non-alcoholic beer in recent years. It launched in the UK in 2020 to replace the modestly successful "Prohibition". But while Zero may have different ingredients to Prohibition, it still comes up short in key areas.
It offers a thin body, with sickly honey and sweetcorn flavours and a low bitterness. It might be OK if you're a Budweiser disciple. But there are better pale NA lagers available.
Score: 4.4 out of 10
Vegan friendly: unknown
Gluten free: no
Confusingly, the Bavaria brand is from the Netherlands rather than Germany. This 0% beer first appeared as long ago as 1978. Unusually for an NA beer, no alcohol – not even ultra-low levels – are created at any stage of the "brewing" process.
This is reflected in the taste and aroma – there's an unfermented worty character, along with cardboard and soapy characteristics.
It looks great when poured though, so there's that. Oh, and it's cheap – about 50p a can when you buy an eight pack.
Score: 3.3 out of 10
Vegan friendly: yes
Gluten free: no
"Without" is one of the first of the new wave of non-alcoholic beers, launched in 2016. St Peter's owner John Murphy decided to create a non-alcoholic beer to sit alongside the brewery's standard-strength offerings after he had to stop drinking due to health reasons.
Without gets a mixed reception – some love it; others hate it. It features strong grain flavours – wholemeal bread and a worty character – more reminiscent of a malt drink than a beer. I found the mouthfeel a little odd too – almost greasy.
Still, it's the nearest you'll get to seeing a non-alcoholic best bitter in Tesco.
Over to you
Have you tried any non-alcoholic beers in Tesco? What's your favourite?