"Wake Up Call" (also known as "Stout AF") is a coffee-infused stout-style non-alcoholic beer by Brewdog. Get tasting notes and info on stockists, calories, carbs and sugar in this review.
It wasn't long ago that the NA beer market was dominated by lagers and wheat beers. Yet it was probably a dark ale – Big Drop Brewing's "Stout" that convinced me non-alcoholic beer can rival its bigger-ABV relatives in flavour and mouthfeel.
That was almost two years ago. Since then, although I've sampled a few easy-to-drink non-alcoholic stouts, nothing has come close to Big Drop – so far.
Love 'em or hate 'em, Brewdog seem to know what they're doing when it comes to producing non-alcoholic beer. After all, their "Nanny State" pale ale is in the top five best-selling alcohol-free beers in the UK.
And now, following hot on the spent mash of "Punk AF" come two new non-alcoholic beers – "Hazy AF" and this possible rival to Big Drop's Stout – "Wake Up Call".
Ingredients in Wake Up Call
Despite the lack of alcohol, I'd don't think I'd recommend drinking non-alcoholic beer with breakfast. But if you had to, this could be the beer for it because – as the name hints at – Wake Up Call contains coffee.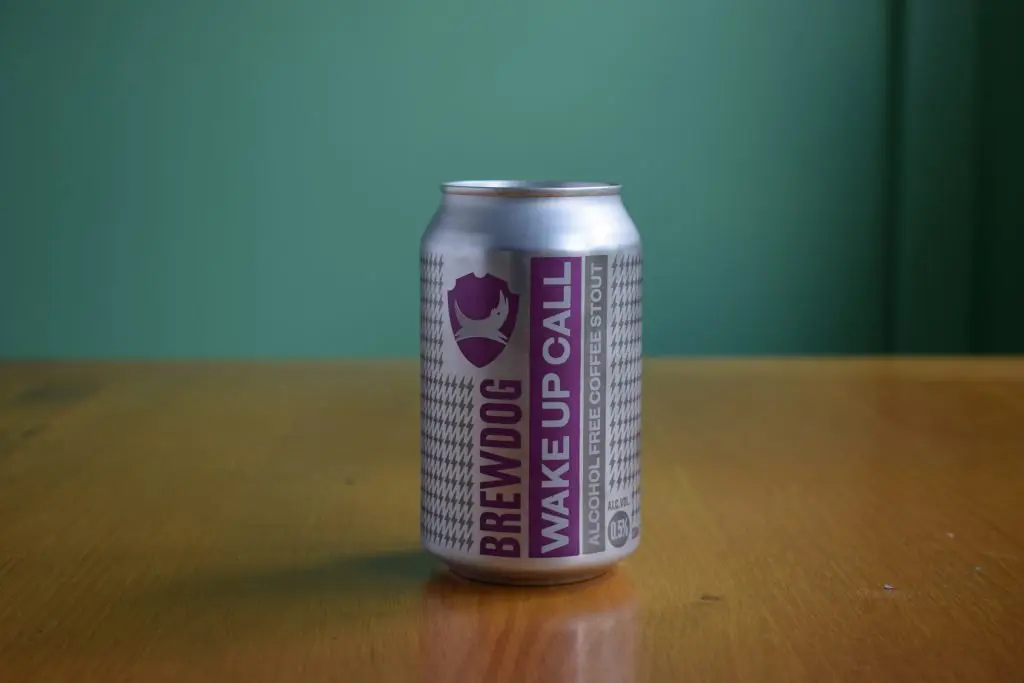 As with Big Drop's Stout, Wake Up Call also contains lactose (milk sugar) to add sweetness and improve the body, and oats, which can enhance the body of the beer.
The other grains include a mix of caramalt, carafa and crystal malts. Plus chocolate wheat, which darkens the beer and can provide aromas of coffee and chocolate.
The hops are Bramling Cross, a UK hop that has an American-style aroma that often features lemon, blackcurrant, blackberry and plum, depending on how it's used.
Naturally, Wake Up Call also contains caffeine via the coffee.
There's about 37mg of caffeine in a 330ml can. This is just over half the amount of caffeine you'd get in a typical single espresso or cup of instant coffee (62mg). Meanwhile, a 250ml can of Red Bull energy drink contains about 80mg of caffeine.
Calories, carbs and sugar in Wake Up Call
The lactose in this beer pushes up the calorie, carb and sugar content a little.
There's 22 calories, 4.5 of carbs and 2.7g of sugar per 100ml. That's 73 calories, 14.8g of carbs and 9g of sugar per 300ml can.
Flavour, appearance and mouthfeel
Wake Up Call pours an unforgiving jet black, even against the light. It has a gorgeous toffee-coloured head, which grips the side of the glass as you sip.
It's no surprise that the smell of coffee grounds dominates the aroma.
But there are a few more flavours when you take a whiff, which come out of hiding as it warms up – there's a slight smokiness with liquorice, tobacco and oddly, tiniest hint of tropical fruit and blackcurrant, most likely from those Bramling Cross hops.
The body is lacking, and is a touch watery even for a no alcohol beer. The carbonation is feathery, with tiny bubbles adding a perfect amount of liveliness.
The finish is dry.
I found the taste dull despite some diverse flavours. Burnt grain rather than coffee takes the lead, with a bitterness that I sense came from the coffee rather than the hops.
There's also some caramel and straw maltiness. After a few sips, I also detected a little sourness, possibly caused by lactic acid, at the back of my throat.
Verdict
I wasn't too impressed with Wake Up Call. But it's definitely drinkable, despite some undesirable flavours and a light body. And still one of the better stout-style NA beers I've tried.
Still, given the choice, I'll be continuing to choose Big Drop's stout when I fancy a dark beer.
Key info – Brewdog "Wake Up Call" ("Stout AF")
Name: "Wake Up Call" ("Stout AF")
Brewery: Brewdog
Style: stout
Alcohol content: 0.5%
Calories: 73 (per 330ml can)
Carbohydrates: 14.8g (per 330ml can)
Sugar: 9g (per 330ml can)
Ingredients: water, malted barley, hops, yeast, oats, wheat, coffee
Country: UK
Dispense: can (330ml)
Stockists (UK): Brewdog
Stockists (US): Brewdog