"Polaris" by Divine Brewing is an ultra-low-alcohol (0.5%) porter-style beer. In this review, get tasting notes and info on stockists, calories, carbs and sugar.
Liquorice in a beer?
Actually, it's not a crazy concept. The malts in loads of beers – especially dark beers like stouts and porters – already create liquorice and aniseed flavours (both have the same flavour compounds).
Why not enhance those flavours by adding some actual liquorice?
That's exactly what some brewers do. Some use the root, others use an extract.
In both cases, the aim is to inject some flavour without pulling in too much of liquorice's undesirable bitterness.
The result is usually a flavoursome beer that also features some of the plant's potential health benefits.
I haven't come across a non-alcoholic beer that features liquorice – until now. Divine Brewing Co's "Polaris" porter (0.5%) features liquorice root in the ingredients.
Polaris is one of several beers the Salisbury-based specialist NA brewer produces. Founded in late 2019, it wasn't until 2021 – after months of research and testing – that the brewery released its first brew.
Ingredients and how it's made
One of the brewery's guiding principles is to "honour traditional brewing processes," which is probably why Polaris is brewed to be low in alcohol rather than having the alcohol removed.
Apart from the addition of the liquorice root, the ingredients are pretty standard too. A complex mix of 10 (yes, 10) different grains including barley malts, oats and wheat provides the foundation. Water, yeast and hops – although there's no word from the brewery on hop varieties – make up the ingredients list.
The packaging and ingredients make it suitable for vegans. It's gluten-free too (less than 20 parts per million).
Calories, carbs and sugar
Polaris features 29 calories per 100ml.
There are 6.3g of carbohydrates per 100ml. Of this, 2.8g is sugar.
Flavours, appearance and mouthfeel
Polaris pours black in the shade; deep ruby in the light. It looks smooth with lots of foam that develops a bouncing beige head.
There are signs of dark malts and low-alcohol yeast in the aroma.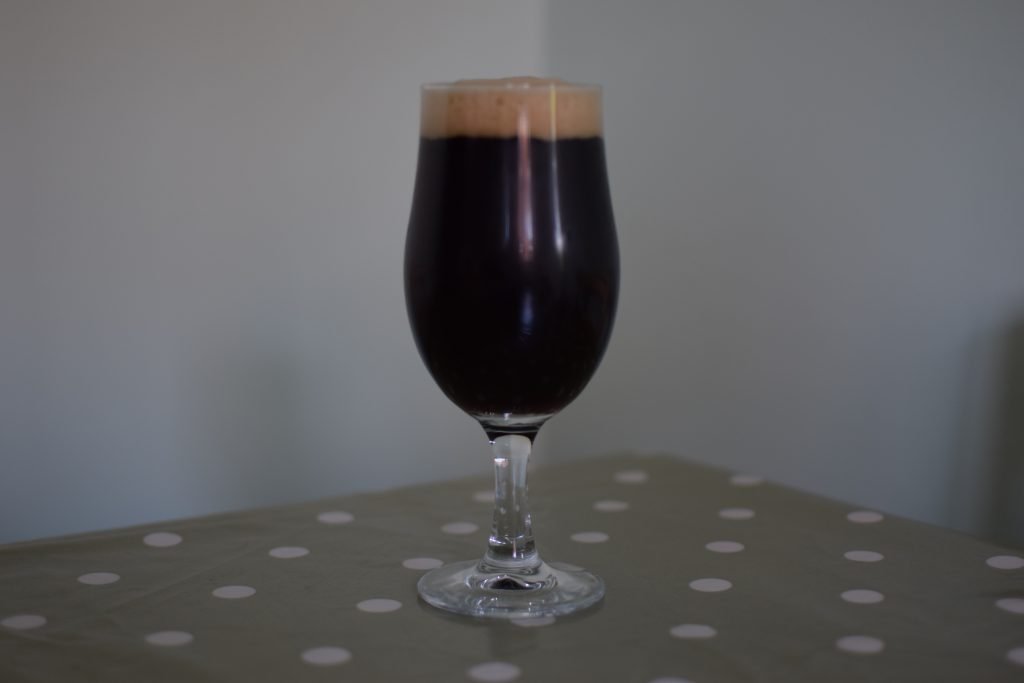 There's coffee, roasted barley, cherry, grapefruit – a bit of a black forest gateau vibe if truth be told. Unusual but effective.
No detectable liquorice aromas though.
The body is full and smooth with gentle carbonation. All those dark malts give it a dry texture.
The flavours on tasting, although similar, lack the depth of the aroma. But there's still a variety of flavours present, with a malt start featuring coffee and roasted barley followed by a fruitier finish that showcases grapefruit and cherry. The fruit flavours bring a hint of sourness.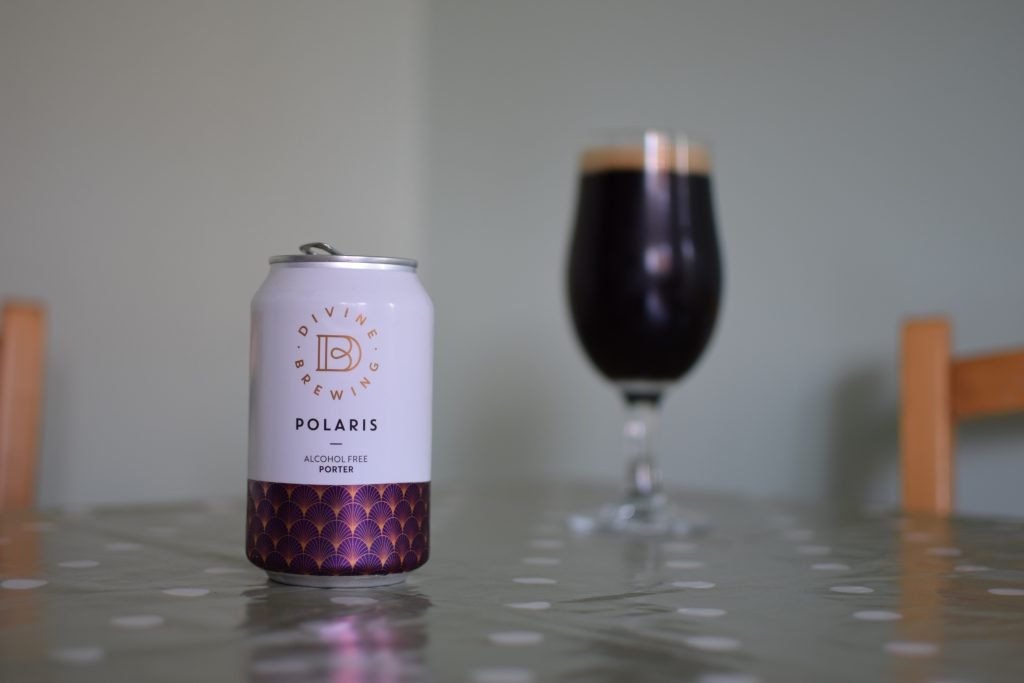 Again, I didn't detect any liquorice flavours.
The bitterness is low for a porter with bitterness provided more by the malts than the hops.
Verdict
Polaris doesn't provide all the characteristics of a classic porter. But the mix of malty and fruity flavours is interesting.
This is a drink I'd reach for again.
Key info – Divine Brewing Polaris
Name: Polaris
Brewery: Divine Brewing
Style: porter
Alcohol content: 0.5%
Calories: 96 (per 330ml can)
Carbohydrates: 21g (per 330ml can)
Sugar: 9.5g (per 330ml can)
Ingredients: water, barley, oats, wheat, liquorice root, hops
Country: UK
Dispense: can (330ml)
Selected stockists (UK): Amazon*, Booze Free, Divine Brewing