"0.0" by Guinness is the non-alcoholic (0%) version of its famous dry stout. In this review, get tasting notes and info on stockists, calories, carbs and sugar.
Is Guinness 0.0 the most eagerly awaited non-alcoholic beer yet?
It's certainly been popular. I've only just managed to get hold of a four-pack, despite it apparently being available in the UK and Ireland since late summer 2021.
It's now also available across some other markets, including the US and Canada.
This is all after a failed initial launch in 2020, where the product was pulled from shelves due to a risk of contaminated cans.
0.0 isn't actually Guinness's first non-alcoholic beer. Under its Open Gate moniker, it was an early entrant into a reborn no and low market in 2018 with its fruity 0.5% lager, "Pure Brew".
But we can go back even further to trace Guinness's roots in the non-alcoholic sector because it's the brewery behind the infamous, "Kaliber". This beer – for so long the only non-alcoholic choice for lager drinkers in most pubs – was made famous through an ad campaign featuring comedian Billy Connelly.
So why so much hype around Guinness 0.0?
Owned by the multinational drinks brand Diageo and brewed in some form since the mid 16th century, Guinness is one of the most well-known beer brands in the world. In the UK, 97% of people have heard of Guinness. Meanwhile, it was in the top 15 beer brands by sales in the US in 2021.
Guinness 0.0 is a non-alcoholic version of the brewery's flagship dry stout. It's available in cans as well as on draught in some pubs.
Like Kaliber, Guinness 0.0 is completely alcohol-free, containing no more than 0.05% alcohol by volume (ABV) – the lowest amount of alcohol detectable by analysing equipment.
Ingredients and how it's made
Unlike its Pure Brew lager, which uses a yeast that produces only low levels of alcohol, Guinness 0.0 uses a cold filtration method to remove the alcohol from a full-strength beer.
There's also some blending of different batches involved, according to the brewery.
The ingredients include some non-standard additions along with water, barley and hops.
One is the vaguely described "natural flavourings". Another is fructose, which is a natural sugar. Finally, there's nitrogen. This, paired with the plastic "widget" you'll hear rattling around the empty can, is what's responsible for agitating the beer on opening and pouring, creating Guinness's famous surge and settle effect.
Although there are no animal products in the ingredients list, the label doesn't say whether Guinness 0.0 is suitable for vegans. It may use animal products in the packaging.
Guinness 0.0 is not gluten free or gluten reduced.
Calories, carbs and sugar
Guinness 0.0 is low in calories, carbohydrates and sugar so is a healthier choice than many other alcohol-free beers.
There are just 17 calories and 3.8g of carbs per 100ml in Guinness 0.0 compared to 35 calories and 2.7g of carbs in full-strength (4.1%) Guinness draught.
Sugar makes up just 0.7g per 100ml of the carbs, slightly more than the 0.2g of sugar per 100ml in full strength Guinness.
Flavours, appearance and mouthfeel
Guinness 0.0 pours dark ruby in colour – it's almost black in low light.
The nitrogen and widget combine to produce a thick beige-coloured head.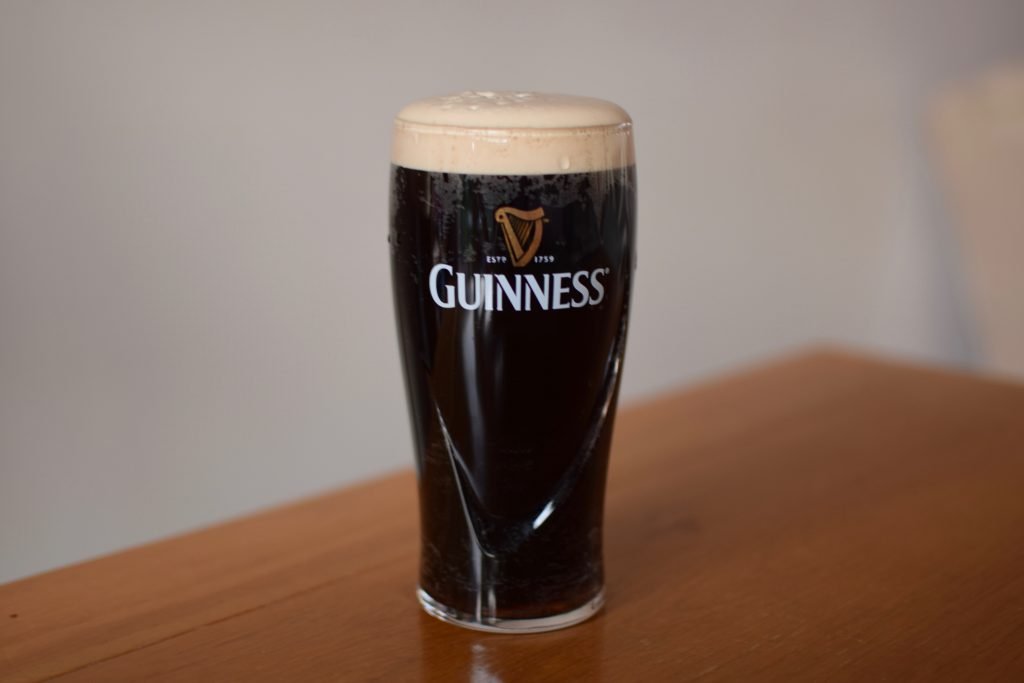 The aroma is quite neutral compared to some other non-alcoholic stouts, such as Big Drop's "Galactic".
Roasted barley provides the backbone. There's also a little coffee and vanilla and the tell-tale grapefruit aroma of a low-alcohol yeast, despite the fact the beer apparently starts life as a full-strength brew.
There's no hop aroma, as befits the style.
The nitrogen ensures a creamy mouthfeel reminiscent of milk, but it disguises a lack of body. It also loses its liveliness quickly but is far from flat.
The finish is dry with a slight stickiness.
There's a little more fruitiness in the flavours on tasting. Roasted barley again provides the foundation, complemented by small amounts of raisin and cherry.
The bitterness is low but grows on each sip. It's constrained by a little lactic sourness.
Differences between Guinness 0.0 and Guinness Draught
Fans of the 4.1% ABV Guinness Draught will be hard-pressed to notice differences between Guinness 0.0 and the full-strength version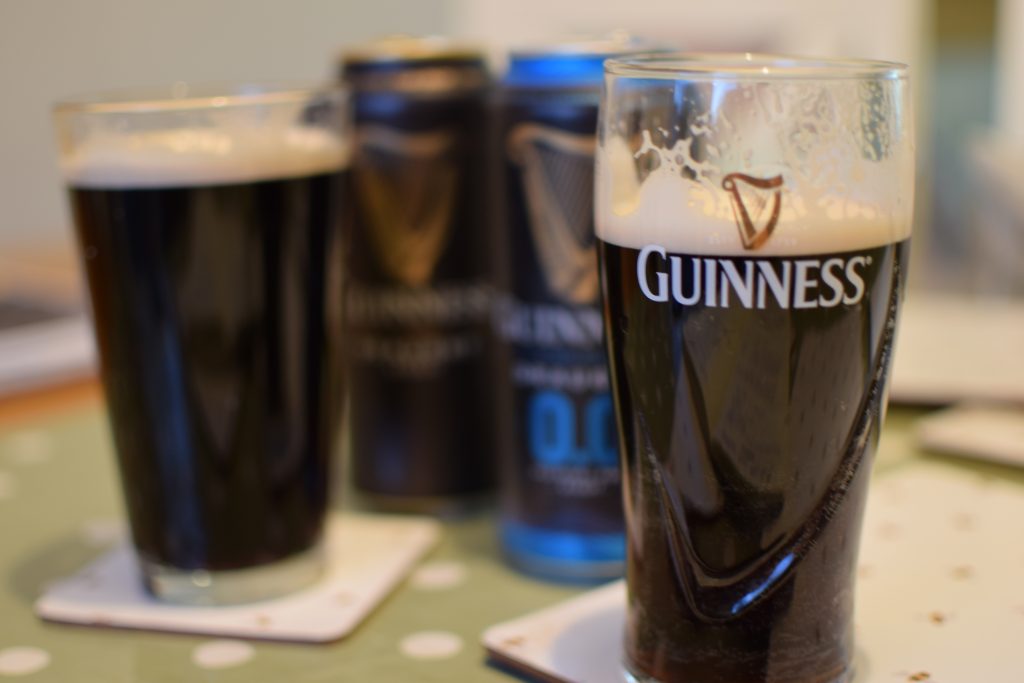 Compared side-by-side, you can definitely taste the alcohol in the full-strength version. The alcohol also gives it a slightly fuller body.
Flavour-wise, there's more coffee aroma in full-strength Guinness and more fruit flavours in the taste of 0.0.
Verdict
My usual advice is not to compare the non-alcoholic version of a beer with its full-strength counterpart. But I'll make exceptions for Guinness 0.0 as it's so close to the original.
If you're a Guinness drinker, you'll love 0.0. But if you're after a variety of flavours or don't like nitrogen-injected beers, there are better non-alcoholic stouts out there such as Big Drop's Galactic and Drop Bear's Bonfire Stout.
Key info – Guinness 0.0
Name: 0.0
Brewery: Guinness
Style: dry stout
Alcohol content: 0.05%
Calories: 75 (per 440ml can)
Carbohydrates: 16.7g (per 440ml can)
Sugar: 3.1g (per 440ml can)
Ingredients: water, barley, fructose, hops, nitrogen, natural flavourings
Country: Ireland
Dispense: can (440ml)
Selected stockists (UK): Wise Bartender*, Amazon*
Selected stockists (US): Total Wine