"Sainte Etienne Alcohol Free" is a 0% version of Aldi's own-brand lager (0.5%). Get tasting notes and info on ingredients, calories, carbs, sugar and stockists in this review.
One of my favourite things about shopping at so-called "discount" supermarkets Lidl and Aldi is spotting their cheeky imitations of well-known products.
From butter, to breakfast cereal and jaffa cakes, it seems there's not much brands can do to stop Lidl and Aldi from copying their designs and – with mixed results – mimicking their recipes.
Not that they haven't tried. In 2015, beer behemoth AB-Inbev took Aldi to court in Europe over Aldi's "Buval" beer, arguing the design was too similar to the design on AB-Inbev beer's "Jupiler".
Then earlier this year, Scottish brewer Brewdog publicly accused Aldi of copying its branding. But this also ended well for Aldi, with Brewdog creating a special beer ("Ald IPA") for the discounter.
Which is why I think Aldi missed a trick with the design of their "Sainte Etienne Alcohol-Free" beer, a non-alcoholic version of its full-strength "Sainte Etienne" lager.
Coming in at less than a quid a bottle, a clone – branding wise at least – of Beck's "Blue" wouldn't have seemed out of place.
In reality though, Sainte Etienne Alcohol-Free comes in a 500ml bottle (rather than the more common 330ml size) with the only nod to Beck's Blue being a little blue colouring on the design – a colour commonly associated with non-alcoholic beer since Ambar started using it for alcohol-free beer in the 70s.
Ingredients
Sainte Etienne Alcohol-Free is produced for Aldi in France.
It contains barley malt, hop extract and vague "flavouring". There's also added citric acid, which can provide a fruiter flavour.
Calories, carbs and sugar
There are 23 calories and 5.2g of carbs per 100ml.
1.8g of the carbs per 100ml are sugar, giving it about 9g of sugar per 500ml bottle.
Flavours, appearance and mouthfeel
Sainte Etienne Alcohol-Free pours clear amber.
There's lots of fizz with a good head initially. But this soon dies to leave only pin pricks of foam. From a distance, it looks lifeless although you can see the bubbles continue to rise as you take a closer look.
The opening aroma is gorgeous. Simple, clean malty aromas are joined by a twist of pepper and caramel.
Eventually, a little sweetcorn joins in but it doesn't degrade from the other aromas significantly.
My experiences with supermarket lagers from France prepared me for a fizzathon. But the carbonation is pretty gentle and could probably do with a bit more fizz.
The medium body has no stickiness or tackiness.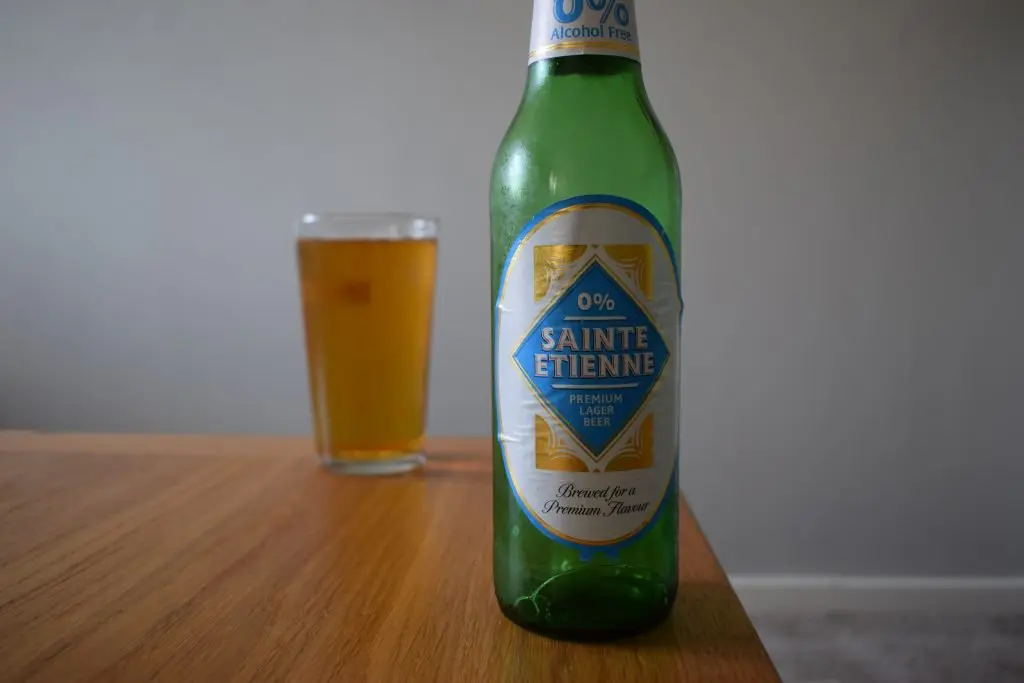 Sainte Etienne Alcohol-Free has high bitterness, but it's interwoven with clean lager malt flavours. But that's as far as the flavours go, with none of the depth of the aroma.
There's a very slight sour snap at the end of each sip and a barely noticeable sulphur flavour emerging after a few sips.
Verdict
Sainte Etienne Alcohol-Free is a reliable beer. The taste doesn't quite live up to the aroma and mouthfeel. But the clean flavours will appeal to anyone after a simple lager.
Just watch out for that sugar if you're sinking several in a session – 9g a bottle soon adds up.
Key info – Aldi Sainte Etienne Alcohol Free
Name: Sainte Etienne Alcohol Free
Brewery: Aldi
Style: lager
Alcohol content: 0%
Calories: 115 (per 500ml bottle)
Carbohydrates: 26g (per 500ml bottle)
Sugar: 9g (per 500ml bottle)
Ingredients: water, barley malt, hop extract, flavouring, citric acid
Country: France/UK
Dispense: bottle (500ml)
Selected stockists (UK): Aldi