Big Drop "Uptown" is a lager-style 0.5% beer. Get tasting notes, plus info on calories and where to buy, in this review.
Now that more people are cutting down on their drinking, most of the big brands like Beck's, Cobra, Heineken, Budweiser, Carlsberg and San Miguel have had a stab at a non-alcoholic lager.
These bigger breweries tend to remove the alcohol in their non-alcoholic lagers after brewing. This requires less skill. It can also negatively affect the flavour because it often involves heating the beer to burn off the alcohol.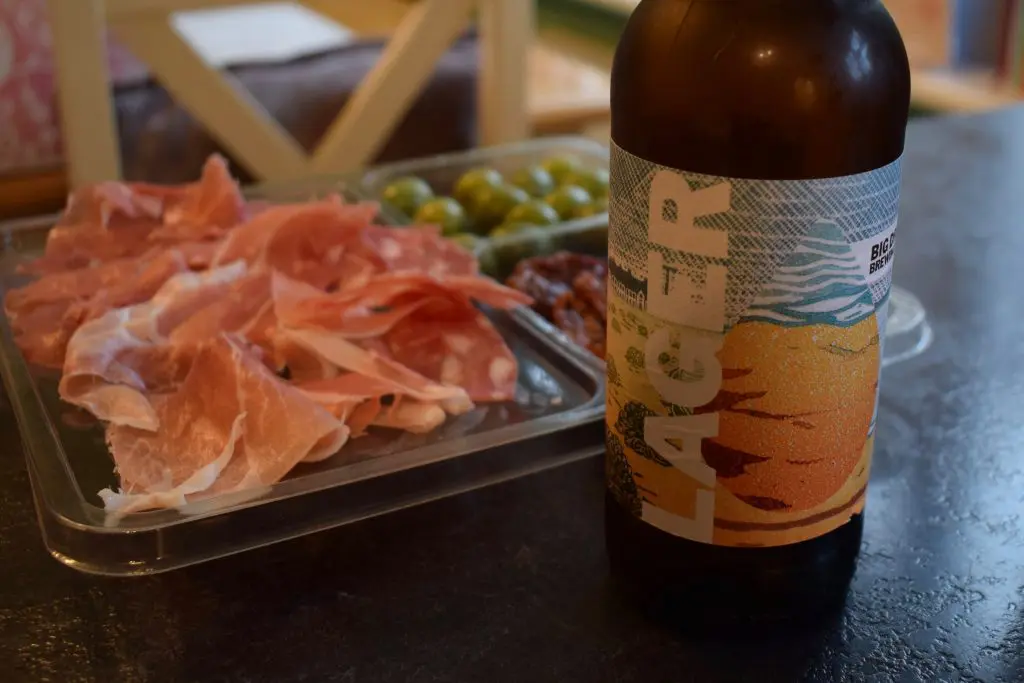 So if you want a better-tasting non-alcoholic lager, it's usually better to hit up one of the smaller breweries that are less likely to use this technique.
One of these is Big Drop Brewing Co. Instead of heating its lager, its brewers use a recipe that doesn't produce a lot of alcohol during fermentation. This leads to a low ABV beer.
Big Drop's "Uptown" lager (0.5%) is one of a few core beers the brewery produces. The others include – "Galactic", "Paradiso", "Woodcutter", "Double Strike" and "Pine Trail" (all 0.5% ABV).
New recipe
Originally launched in 2017, this new version of Uptown is gluten free and suitable for a vegan diet because it doesn't contain lactose (milk sugar).
Another addition to the new recipe is maltodextrin, a carbohydrate additive made from the starch found in foods like wheat, rice and corn. It's fine in small amounts.
There's slightly fewer calories in this new version of Big Drop's lager – 40 per 330ml can or bottle compared to 46 in the original.
Aroma, mouthfeel and taste
Uptown is darker than your typical pale lager, tawny in colour and clear. It has a decent head, which attracts a quaffing. And while it doesn't last long, there's always a little foam on top as you sip it.
The aroma is understated and fruity with passionfruit and the nostalgic whiff of fruit salad sweets hitting your nostrils. There's a touch of sour raspberry and oak in there too.
The maltiness in the aroma is clean and simple, yet reminded me more of a bitter than an ale. That, coupled with the darker appearance may mean Big Drop have used some roasted malts in this new recipe.
Without lactose to give it body, this beer feels quite thin and doesn't have the tackiness you'd expect in a bigger-ABV beer.
The carbonation consists of lots of small bubbles and it doesn't feel overly gassy with a nice tickle on the tongue as it slips down.
On tasting, the fruit flavours present in the aroma dominates with very little bitterness to cut through it.
A smoky maltiness pops into the flavour late on, again offering a sensation more akin to an English bitter.
Verdict
Uptown is a pleasant beer, despite the lack of body and presence of flavours that you might not usually find in a lager. It's a good option as a beer for a hot summer's day or as a post-exercise drink.
It reminded me more of a top-fermenting ale than a bottom-fermenting lager. So this might not be for you if you're on the lookout for that classic lager taste.
Key info – Big Drop Uptown
Name: Uptown
Brewery: Big Drop Brewing Co
Style: lager
Alcohol content: 0.5%
Calories: 40 (per 330ml)
Carbohydrates: 4.6g (per 330ml)
Sugar: 2.6g (per 330ml)
Ingredients: Water, barley malt, hops, yeast, maltodextrin (this beer no longer contains lactose)
Country: UK
Dispense: can/bottle (330ml)
Selected stockists (UK): Amazon*, Wise Bartender*
Selected stockists (Australia): Alcofree, Craft Zero* (use the code STEADY at checkout to get 10% off your Craft Zero order)