Birra Moretti "Zero" is a fruity, lemony alcohol-free lager from Italy. Get tasting notes and info on stockists, nutritional content and ingredients in this review.
If you've never heard of the Italian beer brand "Birra Moretti", chances are you'll see a lot more of it in the next few years, especially if you're in the UK.
According to the brand, sales of premium continental lager are set to double in the next four years. And that's at a time when overall beer sales are showing signs of a slump, indicating that drinkers are becoming more discerning – in their choice of brand if not in their tastes.
Birra Moretti will likely have a big influence on this growth. In 2018/19, it was the UK's fastest growing beer brand with a 125% growth in sales.
Is this growth simply down to a great product? Maybe. But it's more likely to do with being owned by Europe's biggest brewing corp, Heineken.
But it wasn't always part of a brewing behemoth. Founded in 1859, Birra Moretti was family owned until the late 1980s. Heineken took on the brand and its easy-to-market traditions in 1996.
The brewery makes several beers but it's usually only its flagship beer, Birra Moretti "L'Autentica" (4.6%) that's a common sight in the countries it exports to such as the UK, US and Japan.
Now, that beer is joined by Birra Moretti "Zero", an alcohol-free lager the brewery launched in March 2019.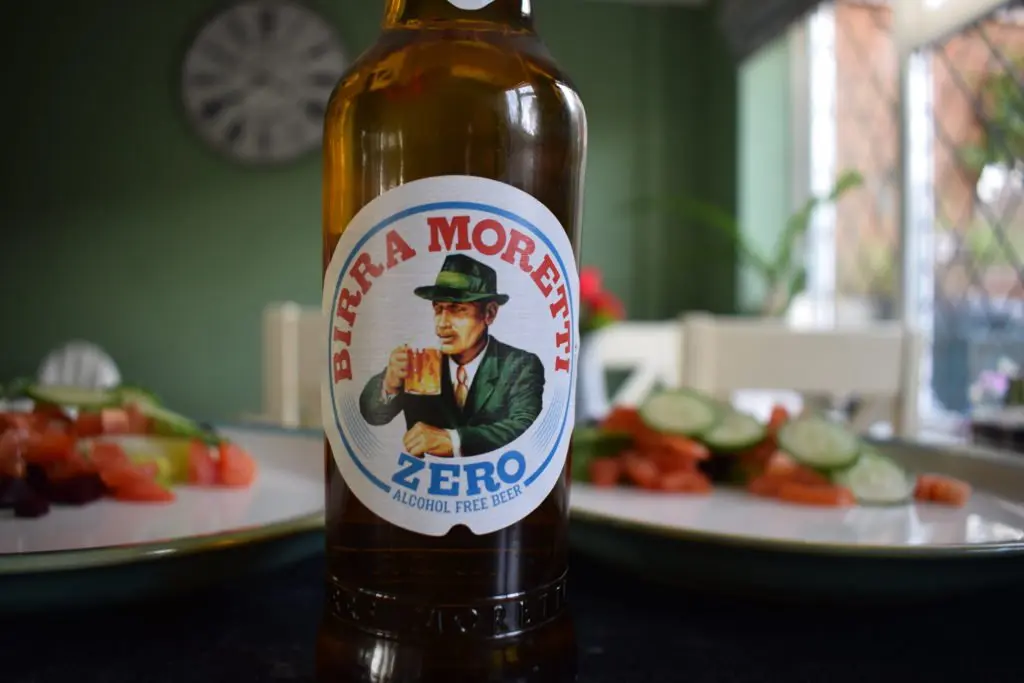 Birra Moretti Zero ingredients
Unlike in Germany, where the ancient Reinheitsgebot law limits the ingredients that can go into beer, Italian brewers can put anything into their beers with good reason.
Hence why Birra Moretti Zero contains natural flavourings as well as water, hops and barley malt.
Birra Moretti Zero calories, carbs and sugar
I wasn't able to find out how Birra Moretti Zero is made but it's likely to have the alcohol removed, meaning it goes through a full fermentation process allowing most of the sugars to be consumed by the yeast.
The sugar content of the end product tallies with this – there's just 4g of sugar and 14.5g of carbs in a 300ml bottle. About average for an alcohol-free beer.
The calorie count is average for an AF beer too – 66 calories in a 330ml bottle.
Flavour, aroma, appearance and mouthfeel
Birra Moretti Zero pours a standard pale amber with a thin white head that quickly disappears to nothing leaving it flat-looking.
The aroma mostly consists of a powerful and embracing sweet lemon smell, with signs of pale lager malts and brown bread about the place too – a pleasant balance of sweet and savoury all told. There's some floral aromas in there as well.
The mouthfeel is soft and inviting with good body. The bubbles are tight, so it's not too harsh on your tongue or your belly. It's not syrupy and sticky like some AF lagers but it might be quite heavy going if you were to crack open a few of these in a session.
That sweet lemon flavour clutches at your tastebuds in the taste, with a more familiar maltiness joining the lemon the more you sip. There's a trace of bitterness in the aftertaste.
Verdict
Birra Moretti Zero is a solid alcohol-free lager and a great option for anyone who doesn't usually drink lager because of those inoffensive lemon flavours and lack of bitterness.
That said, I wouldn't object to some more bitterness as a foil to the sweetness. A bit more variety in the aroma and taste would also be welcome.
But we can't have it all, hey?
Key info – Birra Moretti Zero
Name: Zero
Brewery: Birra Moretti
Style: lager
Alcohol content: 0.05%
Calories: 66 (per 330ml)
Carbohydrates: 14.5g (per 330ml)
Sugar: 4g (per 330ml)
Ingredients: water, barley malt, hops, hop extract, natural flavouring
Country: UK
Dispense: bottle (330ml)
Stockists (UK): Major supermarkets including Sainsbury's and Morrison's