This 0.5% lager is from Scotland's Brewdog brewery. Get tasting notes and info on ingredients, calories, carbs, sugar and stockists in this review.
Love them or hate them as a company, there's no denying that Brewdog has been a major driver in in the recent popularity and success of non-alcoholic beer.
It all started with "Nanny State" – initially a stunt in response to the outrage to an ultra-high ABV beer but now one of the biggest selling non-alcoholic beers in the UK.
That's been joined more recently by a range of NA beers including "Punk AF" IPA, "Wake Up Call" stout, "Hazy AF" pale ale and "Raspberry Blitz" fruit beer (although Wake Up Call, Hazy AF and Raspberry Blitz have now been discontinued in some regions).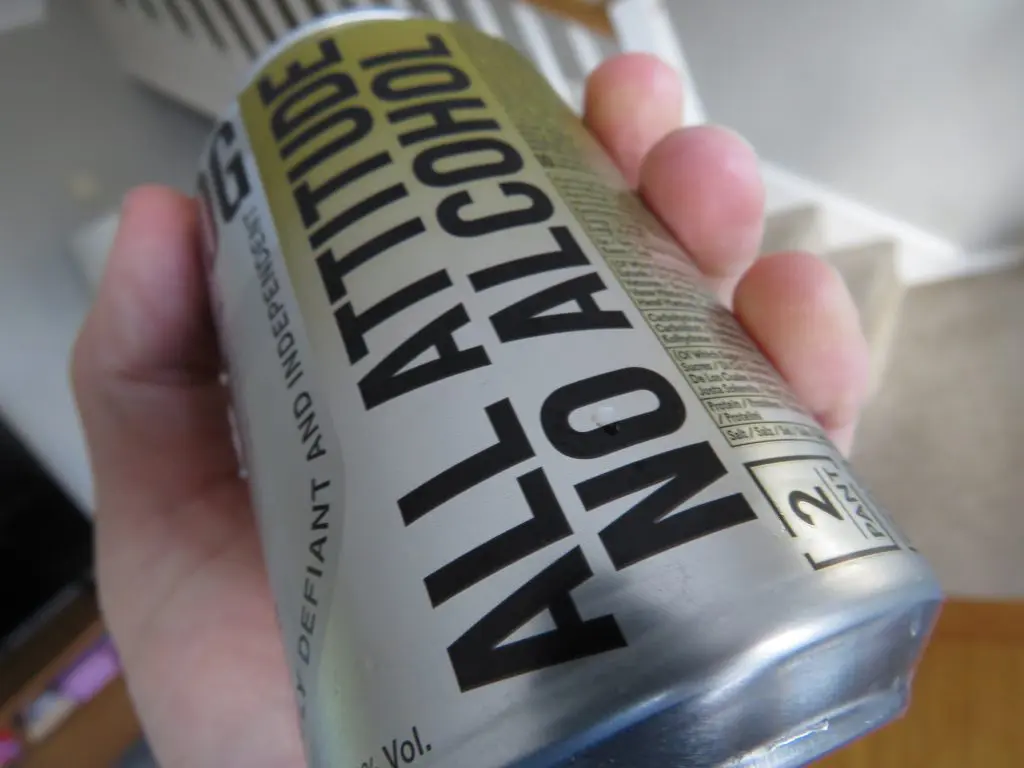 Now, Brewdog has also released a non-alcoholic lager in the form of "Lost AF", an NA version of its 4.7% "Lost Lager".
Brewdog doesn't have much of a track record in producing lagers, preferring to focus on beers made with ale yeasts. Lost wasn't launched until 2018. This alcohol-free version followed last June.
Ingredients
A like-for-like copy of the 4.7% version, this isn't.
While the original Lost Lager uses barley malt and Saaz hops, Lost AF uses Caramalt, Carapils, Pilsner and oat malts with Cascade hops.
There's also added lactose (milk sugar), presumably to add more body and viscosity to the body and mouthfeel. So Lost AF isn't suitable for vegans.
It's also not gluten free, as there's no sign the malts are gluten reduced.
Calories, carbs and sugar
There's just 10 calories per 100ml in Lost AF.
There are 3g of carbs per 100ml, of which 1.8g are sugar so it's relatively low in sugar – just under 6g per bottle.
Flavours, appearance and mouthfeel
Lost AF pours a straw colour with lots of small bubbles contributing an island of foam rather than a meaningful head.
The aroma is sweet thanks to those Cascade hops, with a touch of grapefruit and passionfruit leading into a touch of sulphur and sweetcorn.
It has a light body, coupled with heavy texture provided by the lactose, giving it a smooth quality. The carbonation is low but the odd prickly bubble cuts through the smoothness now and again.
The grapefruit, passionfruit and sulphur continue in the flavour adding a touch of intricacy to the simpler light malt foundation.
Pine flavours last a little longer than the other sensations after each sip. A medium bitterness builds with each sip.
Verdict
This may be a lager but with tropical aromas and a smoothish body, has more of the hallmarks of a modern pale ale. Which makes me wonder why Brewdog didn't aim for a cleaner tasting pale lager or spicy pilsner with this beer.
Lost AF isn't bad if there's nothing else available. But probably worth a swerve if you're seeking a classic lager taste.
Key info – Brewdog Lost AF
Name: Lost AF
Brewery: Brewdog
Style: lager
Alcohol content: 0.5%
Calories: 33 (per 330ml can)
Carbohydrates: 9.9g (per 330ml can)
Sugar: 5.9g (per 330ml can)
Ingredients: water, barley malt, hops, lactose, oat malt, yeast
Country: UK
Dispense: bottle (330ml)
Selected stockists (UK): Wise Bartender*, Brewdog