"Lager" (formerly "Fitbeer") is a 0.3% low-alcohol Bavarian helles-style lager, previously brewed in Germany. Get tasting notes, nutritional info and find out where to buy it, in this review.
Loads of non-alcoholic beer brands market their beers as a complement to a heathy lifestyle. This was how Nirvana's flagship Bavarian-style "Lager" started life in its former guise as "Fitbeer".
The idea sprung from the travails of a recovering alcoholic Jim Kean.
Jim struggled to find great-tasting non-alcoholic beer when he gave up the booze. So, with the help of his children Becky and Joe, took the to the Straßes of Germany in search of a brewery that could produce a decent alcohol-free beer for them.
They eventually stumbled on a 500-year-old Bavarian brewery to do the job for them. Becky and Joe then imported and packaged the beer as Fitbeer.
Now Fitbeer has been rebranded and is part of Nirvana range of beers, a brewery that the Keans also co-founded.
The recipe hasn't changed so there's still only 66 calories a bottle (20 calories per 100ml) along with 13g of carbs and 3.6g of sugar in a bottle.
Unlike breweries like Big Drop Brewing Co and Innis and Gunn, Nirvana doesn't use any unusual ingredients such as lactose (milk sugar) in its non-alcoholic beer, sticking with water, yeast, hops and barley malt.
This means it's suitable for vegans.
Flavours, appearance and mouthfeel
This beer is a helles-style lager, so pours a light gold colour. It's well-carbonated so has a decent head, which sticks around for a while and adds a little lacing to the side of the glass.
It has a clean, sweet and biscuity aroma with a touch of clove and caramel. It's certainly more interesting than most run-of-the-mill full-strength lagers.
In the mouth, it's a little thinner than a full-strength beer. But you probably wouldn't be able to tell the difference if you didn't know this was a low-alcohol lager.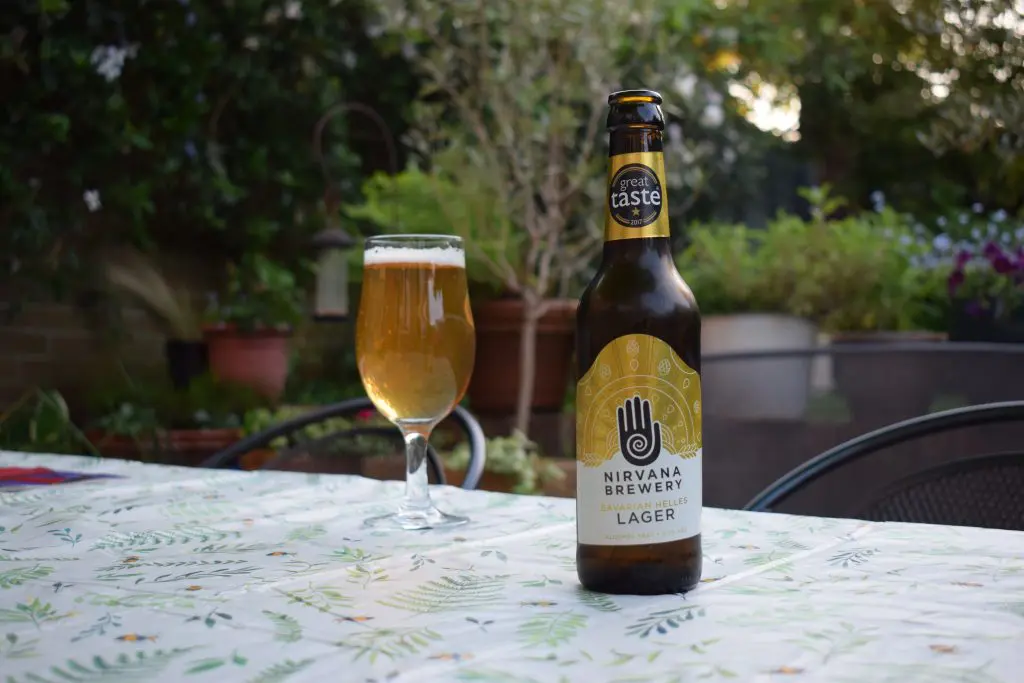 The carbonation helps bring through the flavour, which is sweet and malty with a slight sour finish.
There's a slight bitterness and no fruity esters initially, although some lemon comes through in the flavour as you sip it.
Verdict
Nirvana's helles is surprisingly complex for a non-alcoholic lager.
It's a refreshing and interesting drink and a good option if you're looking for a low alcohol alternative to a full-strength lager.
Key info – Nirvana Lager
Name: Lager
Brewery: Nirvana
Style: lager
Alcohol content: 0.3%
Calories: 66 (per 330 ml)
Carbohydrates: 13.3g (per 330 ml)
Sugar: 3.6g (per 330 ml)
Ingredients: water, yeast, hops, barley malt
Country: UK
Dispense: bottle (330ml)
Selected stockists: Wise Bartender*
Selected stockists (Australia): Craft Zero* (use the code STEADY at checkout to get 10% off your Craft Zero order)