Fitbeer is a 0.3% low-alcohol helles-style lager, brewed in Germany. Get tasting notes, nutritional info and find out where to buy it in this review.
Fitbeer is marketed as a lager that complements a healthy lifestyle. However, the idea sprung from the travails of a recovering alcoholic Jim Kean.
Jim struggled to find great-tasting non-alcoholic beer when he gave up the booze. So, with the help of his children Becky and Joe, took the to the Straßes of Germany in search of a brewery that could produce a decent alcohol-free beer for them.
They eventually stumbled on a 500-year-old Bavarian brewery to do the job for them. Now Becky and Joe – who are also both involved in the Nirvana non-alcoholic brewery – import and package the beer as Fitbeer.
The name draws on non-alcoholic beer's health credentials, which apply to most beers when you discount the alcohol. A 330ml bottle comes in at just 66 calories.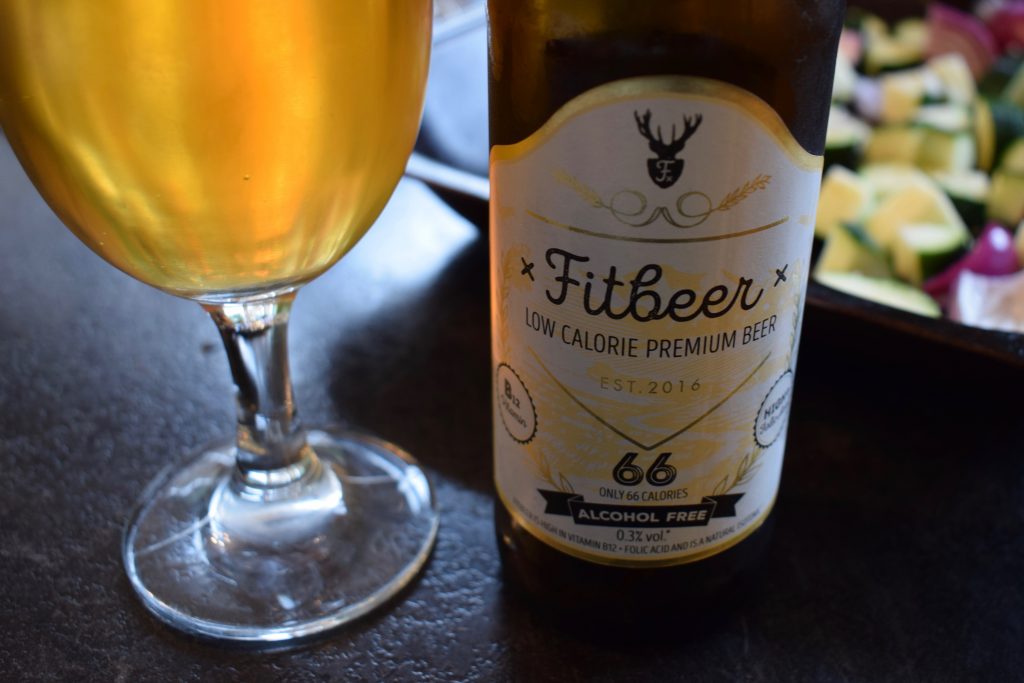 Most brewers keep the alcohol to a minimum in non-alcoholic beer by either removing the alcohol after fermentation or using ingredients that produce only small amounts of alcohol. Fitbeer uses a mix of both of these methods.
However, unlike breweries like Big Drop Brewing Co and Innis and Gunn, Fitbeer doesn't use any unusual ingredients in its non-alcoholic beer, sticking with water, yeast, hops and malt to meet German purity laws.
Fitbeer is a helles-style lager, so pours a light gold colour. It's well-carbonated so has a decent head, which sticks around for a while and adds a little lacing to the side of the glass.
It has a clean, sweet and biscuity aroma and is certainly more interesting than most run-of-the-mill full-strength lagers.
In the mouth, it's a little thinner than a full-strength beer. But you probably wouldn't be able to tell the difference if you didn't know this was a low alcohol beer.
The carbonation helps bring through the flavour, which is sweet and malty with a slight sour finish. However, the flavour doesn't last long after each sip.
Verdict
Fitbeer is surprisingly complex for a non-alcoholic lager.
It's a refreshing and interesting drink and a good option if you're looking for a low alcohol alternative to a full-strength lager.
Key info – Fitbeer
Name: Fitbeer
Brewery: Fitbeer
Style: lager
Alcohol content: 0.3%
Calories: 66 (per 330 ml)
Ingredients: water, yeast, hops, malt
Country: Germany
Dispense: bottle (330ml)
Stockists: Amazon*, Booze Free, Dry Drinker, Light Drinks* (use this link to get 10% off your Light Drinks order), Wise Bartender* (use the code STEADY at checkout to get 5% off your Wise Bartender order)