This lager from Impossibrew is infused with botanicals and vitamins. Get tasting notes and info on stockists, calories, carbs, sugar and ingredients in this review.
When producers of non-alcoholic beer add non-standard ingredients like colouring, maltodextrin and lactose to their beers, it's usually to improve the appearance, flavour or body.
However, there are a few producers out there, such as Fungtn (mushrooms) and Hop and Hemp (CBD), that are adding ingredients for their health and wellbeing benefits.
Impossibrew is one of the latest non-alcoholic beer producers to enhance its beer with non-standard ingredients – in this case, botanicals.
The brand was founded by wine expert Mark Wong.
Forced to stop drinking for health reasons, Mark decided to create a botanical-infused non-alcoholic beer when he came across the Kissa Yōjōki. This book, written by a Japanese monk in 1211, describes the benefits of drinking tea on the heart, brain, indigestive system and other parts of the body.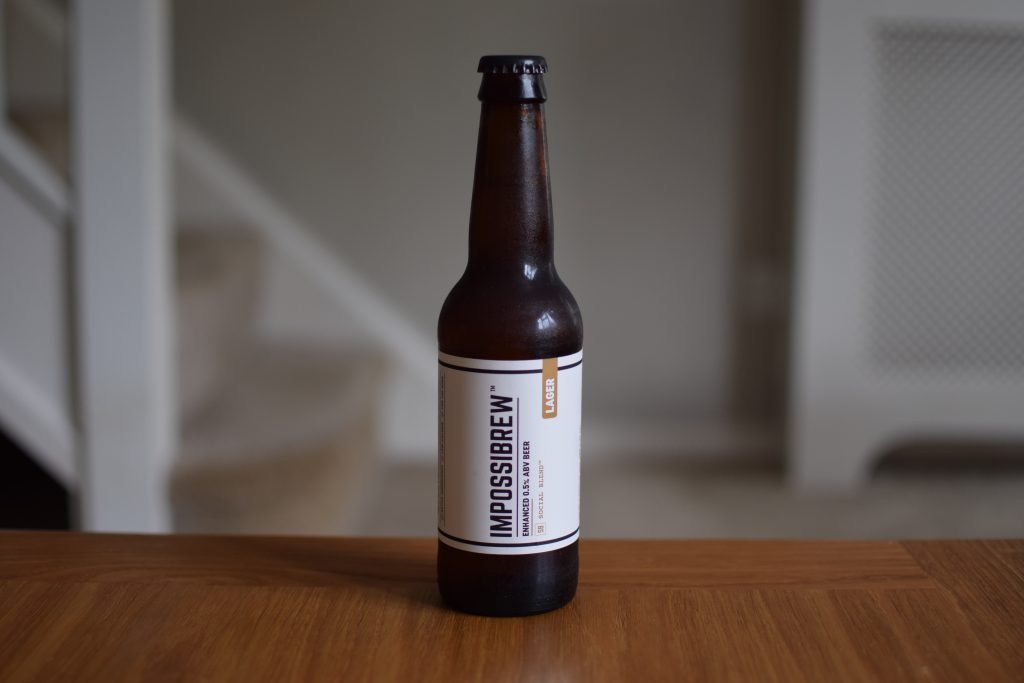 His experience reading the book encouraged him to research the effect of botanicals on health and relaxation. The result is the Impossibrew brand, so named because many in the industry with sceptical of a plant-infused non-alcoholic beer.
This lager is its first core beer, launched this year.
Ingredients
Most of the beer's ingredients are standard – water, malted barley, wheat, hops and yeast.
It's the Impossibrew's trademarked "Social Blend" that makes this beer different. This consists of L-theanine, Griffonia seed extract, ginseng extract, citrus extract and Vitamin B1:
L-theanine is an acid found in tea and may help improve brain function and aid relaxation.
Griffonia is a plant native to west and central Africa. It can raise our serotonin levels, which can help us sleep better and improve our mood.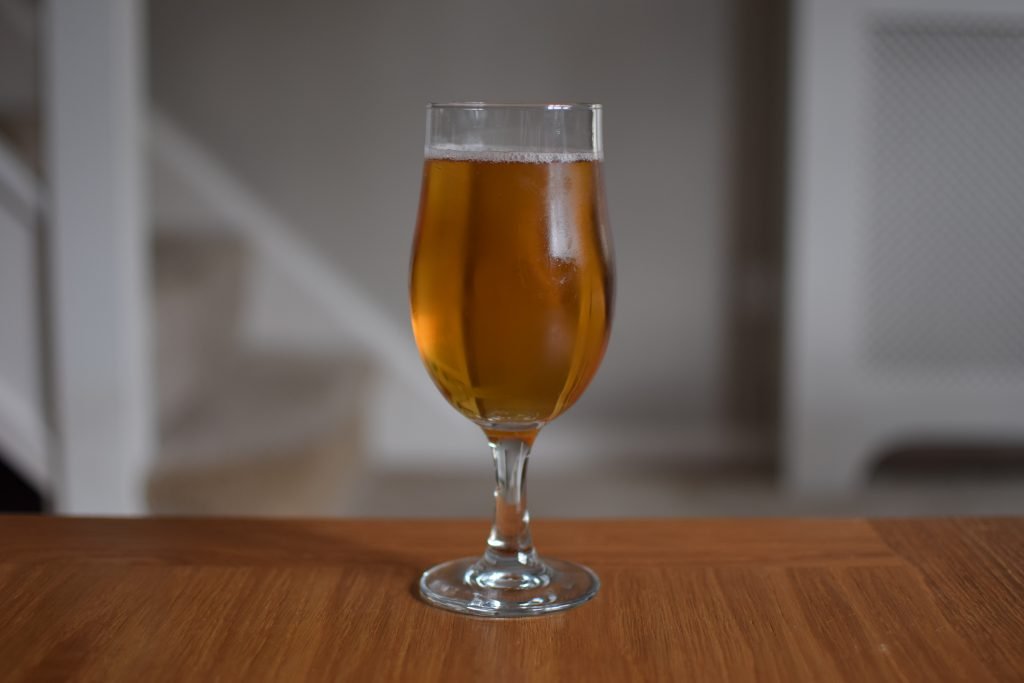 Ginseng is a family of sort-growing plants. Studies suggest it could make us feel more energetic and have inflammatory properties.
Vitamin B1 allows our bodies to convert carbs to energy – Social Lager contains 45% of our daily RI (recommended intake).
Social Lager is gluten free (less than 10PPM) and suitable for vegans.
Calories, carbs and sugar
Per 100ml, Social Lager contains 15 calories – 49 per 330ml bottle.
There are 2.9g are carbs per 100ml with none of this made up of sugars.
Flavours, appearance and mouthfeel
Social Lager is well-carbonated, pouring a clear amber with a small head.
The aroma is unassuming.
Sherbet, caramel, grapefruit and a dab of honey sit on a floral foundation.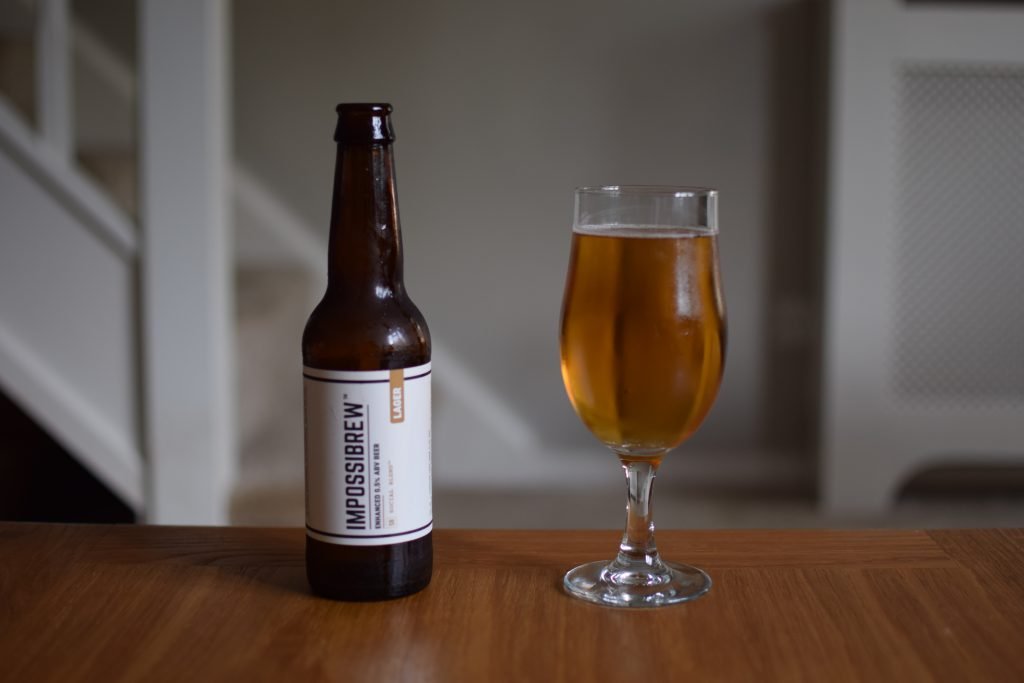 The body is delightfully clingy with a decent amount of weight behind it.
The bubbles are tight and gentle. The carbonation and body combine to give it a creamy quality.
As with the aroma, the flavour is light and minimal – which suits the other aspects of the beer perfectly.
A lack of malt is compensated by a balanced mix of floral and fruity flavours. I picked out peach, red apple, fruit blossom plus a touch of wheat.
There's a smidge of bitterness and comforting tacky finish.
Verdict
Social Lager is a refreshing beer that likely to appeal to drinkers who like a simpler flavour and more fruitiness and complexity than a typical pilsner or lager.
And did the botanicals have any effect on me? Hard to say, since I find the ritual of drinking beer – alcoholic or not – a relaxing experience anyway.
Key info – Impossibrew Social Lager
Name: Social Lager
Brewery: Impossibrew
Style: lager
Alcohol content: 0.5%
Calories: 50 (per 330ml bottle)
Carbohydrates: 9.5g (per 330ml bottle)
Sugar: 1.3g (per 330ml bottle)
Ingredients: water, barley, wheat, hops, l-theanine, ginseng extract, griffonia seed extract, citrus extract, vitamin B1, yeast
Country: UK
Dispense: bottle (330ml)
Selected stockists (UK): Wise Bartender*, Impossibrew