"Perlenbacher 0.0" is a 0% lager from the German supermarket chain Lidl. Get tasting notes and info on calories, carbs, sugar and ingredients in this review.
Lots of people put the success of the German supermarket chain Lidl down to its low prices.
Yet the main I shop there is to do with time. With limited choices and smaller stores that are easy to get around, a weekly shop takes no time at all – especially handy with my soon-to-be two-year-old in tow.
I get the impression Lidl only stock items that – like their customers – aren't likely to hang round the shelves too long. And it's a sign of the growing popularity of low and no drinks that it now sells two non-alcoholic beers – a wheat beer, which I reviewed in 2018, and "Perlenbacher 0.0", a 0% pilsner that has only recently found its way into UK stores.
Both beers are as cheap as they come – the wheat beer's 89p a 500ml bottle while the pilsner is just £2.49 for a six pack of 330ml bottles.
Although Germany has a proud tradition of producing drinkable non-alcoholic beers, Perlenbacher beers are brewed in eastern France by the Brasserie de Champigneulles. It's not clear how the alcohol is removed.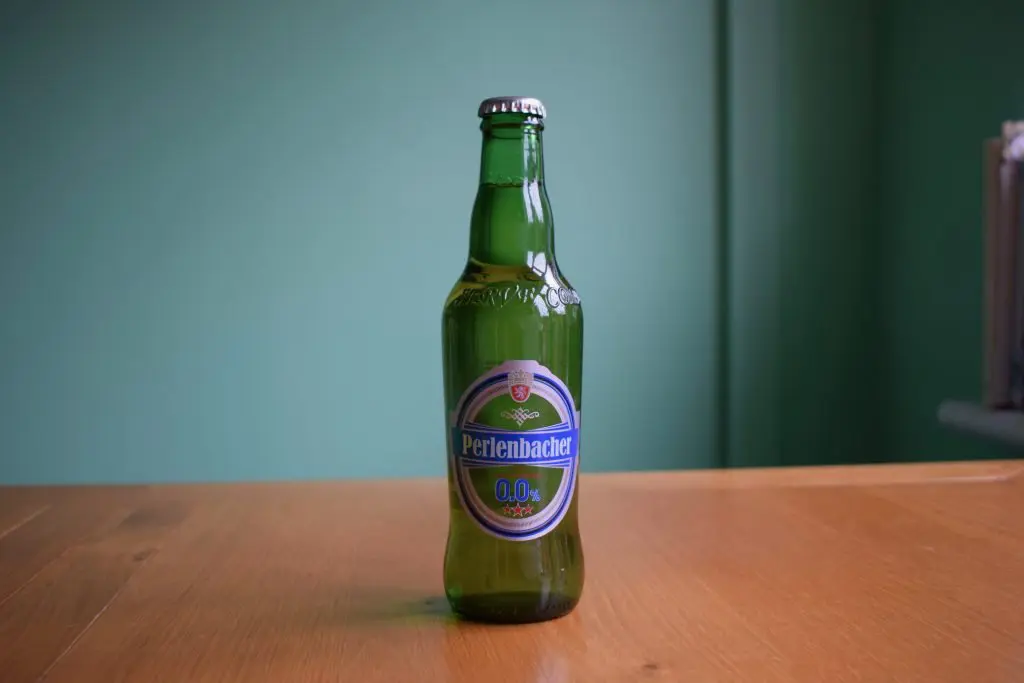 Ingredients
Perlenbacher 0.0 is likely mass produced and the ingredients reflect the need for consistency.
There's hop extract rather than dried hops, with citric acid and flavouring alongside water and barley malt.
Calories, carbs and sugar
The nutritional content is typical of this style of NA lager with 21 calories, 5.2g carbs and 1.4g sugar per 100ml.
Flavours, appearance and mouthfeel
Perlenbacher 0.0 pours clear amber, with lots of active bubbles hurrying to the surface. It has an impressive head of foam with lots of it hanging around as you sip.
I detected a slight unfermented wortiness on my initial sniffs, but aromas of pale malt, brown bread, lemon, grapefruit and pepper soon override any nastiness.
This sounds overwhelming but no element oversteps the mark, leaving the aroma pretty clean if not for that wortiness.
The mouthfeel and body is great. It's fizzy but not too harsh, and pretty smooth. The body is good, with no stickiness and tackiness.
The flavours on tasting are simple with less of the fruits and more of the maltiness featured in the aroma. There's a slight sickly, acidic flavour but it's hard to detect through the malt.
The style of its light bitterness could easily fool you into thinking there's alcohol in this.
Verdict
Although there are some undesirable flavours in this beer, there are loads of redeeming qualities too.
The body and mouthfeel is great and there are some nice flavours vying for attention in the aroma.
Anyway, what did you expect for less than 50p a bottle? If you like your lagers and you aren't too fussy, pick this up next time you're in Lidl.
Key info – Lidl Perlenbacher 0.0
Name: Perlenbacher 0.0
Brewery: Lidl
Style: lager
Alcohol content: 0%
Calories: 69 (per 330ml)
Carbohydrates: 17g (per 330ml)
Sugar: 4.6g (per 330ml)
Ingredients: water, hop extract, barley malt, natural flavours, citric acid
Country: France
Dispense: bottle (330ml)
Stockists (UK): Selected Lidl stores