Peroni "Libera" is a malty, fruity alcohol-free (0%) lager from Italy. In this review, get tasting notes, stockist info and details on carb content, calorie content, sugar content and ingredients.
With overall beer consumption on the long-term decline and the modest market share of real ales and so-called "craft" beers on the increase, sales of mainstream lagers are taking a hit.
Take the UK's top three lagers, Carling, Foster's and Carlsberg. Sales declined for all three of them last year.
One of a few mainstream lagers bucking this decline is the Italian beer, Peroni. Marketed as premium option, Peroni was only launched in the UK in 2005. Now it's the fourth best-selling lager in the on-trade in the UK, but still a few million pints a year short of the next lager on the list, Carlsberg.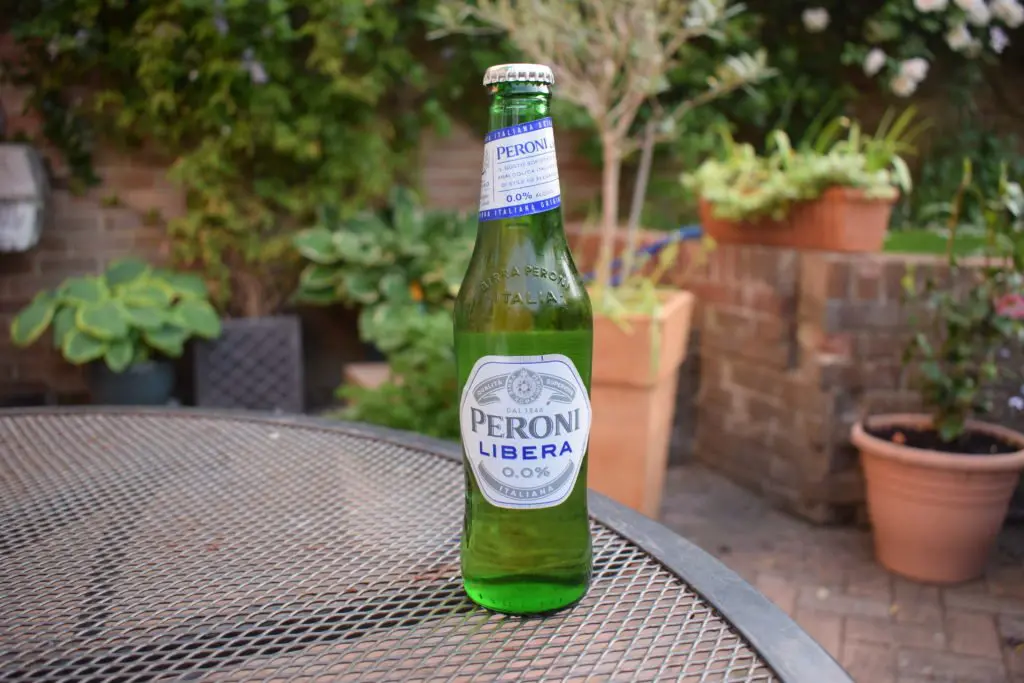 Peroni's owners, the Japanese brewing giant Asahi recently gave the Peroni brand an overhaul to make up some of that ground. It's also launched this alcohol-free Peroni beer, "Libera" to snag us growing band of permanent and occasional abstainers.
How is Peroni Libera made?
Like many alcohol-free beer producers, Peroni keep the process for making their alcohol-free Libera beer a secret. We know the ingredients – it contains water, hops, malted barley, maize and natural flavourings – and that the brewers remove the alcohol after fermentation.
The result of this process is a beer with 0% alcohol.
Aroma, appearance, flavour and mouthfeel
Peroni Libera pours a transparent straw colour with slither of foam, which leaves a little lacing down the glass as you drink.
I sensed a slightly fishy smell out of the bottle, which reminded me of salted anchovies. Fortunately, there were no signs of that in the aromas in the glass. Instead, there's a sharp cereal and straw aroma with pale lager malt in the background.
The lager malts then take over to leave a pleasant and clean malty aroma.
Medium carbonation gives Peroni Libera a decent amount of liveliness without the fizziness taking over. This partners with a good body to leave a smooth mouthfeel initially. It's slightly syrupy and cloying at the end of each sip. The finish is dry and inviting.
The taste is sweet and led by a clean and malty flavour with a smidge of bitterness to cut through the sugars left in this brew. The straw from the aroma and some lemon fruitiness also pops its head up in the aftertaste. This works nicely with the initial maltiness.
Verdict
Peroni Libera is a satisfying alcohol-free lager with a reliable aroma and flavour and good body. It doesn't rival Peroni's flagship beer, "Nastro Azzurro" but then it's not meant to be a non-alcoholic version of that anyway.
Some drinkers might find this too sweet, especially after a few. The hop bitterness is also low, which doesn't help with that sweetness.
Overall though, a solid enough alcohol-free lager.
Key info – Peroni Libera
Name: Libera
Brewery: Peroni
Style: lager
Alcohol content: 0%
Calories: 73 (per 330ml)
Carbohydrates: 17.5g (per 330ml)
Sugar: 10g (per 330ml)
Ingredients: water, hops, barley malt, maize, natural flavourings
Country: Italy
Dispense: bottle (330ml)
Selected stockists (UK): Amazon*, Wise Bartender* Booze Free
Selected stockists (Australia): Dan Murphy's, Alcofree, Craft Zero