"Lazer Crush" is a 0.3% India pale ale from Beavertown Brewery. Get tasting notes and info on calories, carbs, ingredients and stockists, in this review.
If you only buy your beer in the major supermarkets or don't get to independent venues much, you might have noticed a "new" brewery on the shelves and in the fridges over the past couple of years.
In 2018, London's Beavertown brewery sold a stake of its business to beer giant Heineken. This allowed the brewery – which has been growing rapidly since its inception in 2011 – to get its beer into the mouths of even more drinkers using Heineken's connections, distribution networks and pubs.
This investment also allowed Beavertown to expand its production facilities, opening a new brewery dubbed "Beaverworld" in 2020.
The brewery has also expanded into the low and no space with its "Lazer Crush" (0.3%) IPA. It joins other Heineken-backed non-alcoholic beers, including the flagship "0.0" plus NA beers like Brumore's "Weizen", Birra Moretti "Zero" and Furstenberg "Alkoholfrei".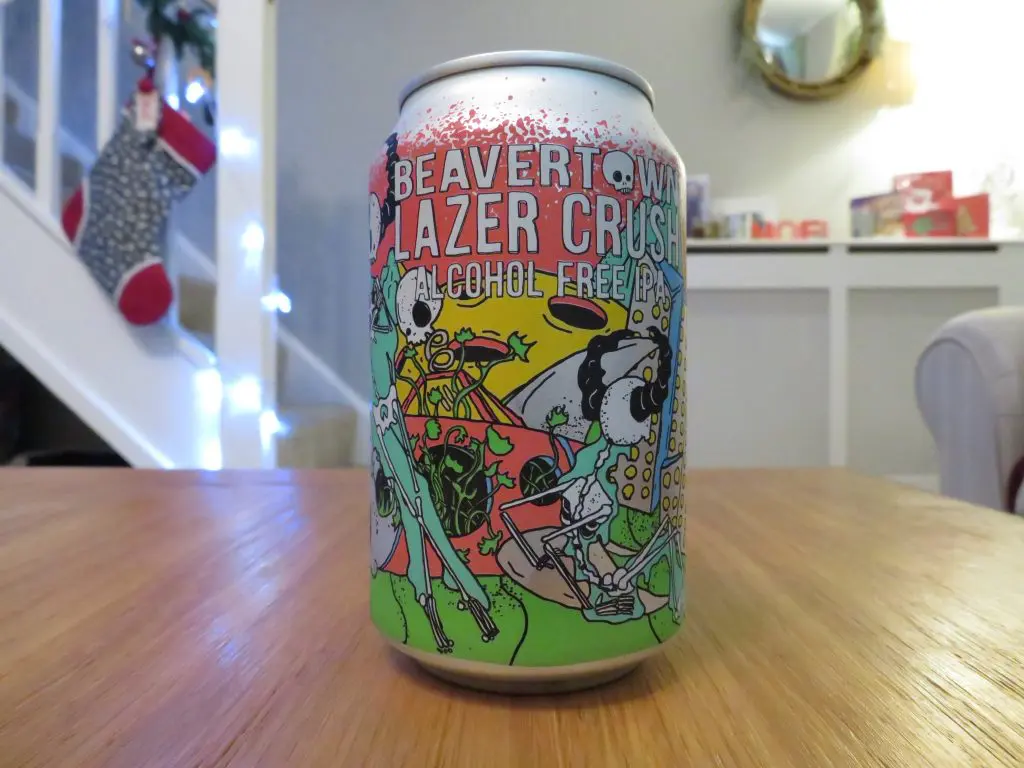 Beavertown has a partnering with other breweries to meet demand for its beers, even prior to the Heineken deal. And that's what the brewery has done with Lazer Crush, using the expertise of Belgium's De Proefbrouwerij, which has already produced non-alcoholic beers with the likes of Mikkeller, Coast Beer Co and To Øl.
How it's made
Lazer Crush is made by producing an ultra-low-alcohol beer from the off, rather than removing alcohol after fermentation.
The brewers do this using a low-alcohol yeast, in this case, the CHR Hansen Neer yeast. This yeast focuses on the glucose rather than maltose in the beer, creating very little alcohol.
The yeast also produces a lot of fruit flavours.
Ingredients
Along with that special yeast, Lazer Crush uses a pilsner barley malt along with Azacca, Amarillo and Citra hops.
Unusually for an NA beer, there's no additional grains like wheat or oats in the recipe.
Lazer Crush is suitable for a vegan diet. It's not gluten free.
There's a "canned on" date, so you can check how fresh your beer is before you buy.
Calories, carbs and sugar
Lazer Crush has 25 calories and 5.9g of carbs per 100ml.
There's 3g of sugar per 100ml, amounting to 9.9g per 300ml can.
Flavours, appearance and mouthfeel
Laser Crush is straw-coloured with a slight haze. On pouring, it generates lots of foam that leaves a decent head after everything settles.
Tropical fruits lead the aroma, backed by a touch of earthiness. There's mango, passion fruit, and grapefruit backed by a foundation of pale malt with a sprinkling of grass and pine.
The passion fruit becomes more dominant as the beer warms in the glass.
The medium body produces a creamy mouthfeel akin to a cask beer. The carbonation is light but this beer is in no danger of feeling flat.
Passion fruit and lemon flavours come to the fore on tasting, again with that framework of pilsner malt offering clean and simple support to the juicier flavours.
Some bitterness encourages you to take another sip while also taking the edge off the sweeter flavours.
The finish feels slightly sticky, thanks to all of those fruits in the aroma and flavour and its full body.
Verdict
A decent brew, is Lazer Crush. The mouthfeel, body and aroma are superb.
My only qualm is around the sugar content – it doesn't taste overly sweet but with 9g of sugar per can, I'd be wary of drinking too many of these one sitting, tempting as it is.
Key info – Beavertown Lazer Crush
Name: Lazer Crush
Brewery: Beavertown
Style: IPA
Alcohol content: 0.3%
Calories: 82.5 (per 330ml can)
Carbohydrates: 19.5g (per 330ml can)
Sugar: 9.9g (per 330ml can)
Ingredients: barley malt, yeast, hops, water
Country: UK
Dispense: can (330ml)
Selected stockists (UK): Wise Bartender*