Big Drop's "Pine Trail" is an aromatic low-alcohol (0.5%) pale ale beer. Get the lowdown on ingredients, taste, mouthfeel, aroma, stockists and nutritional info in this review.
Big Drop Brewing Co specialise in producing low-alcohol beers. This pale ale – called "Pine Trail"- was its second brew, the first being its award-winning milk stout.
The head brewer at Big Drop, Johnny Clayton, is renowned for experimental brewing. And because Big Drop doesn't remove alcohol from its beers, Johnny's used a few creative tricks in the recipe to produce a low alcohol pale ale to rival standard alcoholic versions for taste, aroma and mouthfeel.
Ingredients, calories, carbs and sugar
Firstly, there's added lactose – a sugar derived from milk. So this beer isn't suitable for vegans.
Brewers usually add lactose to stouts to add sweetness. Here it provides a bit more body than you'd typically get in a low ABV beer.
The lactose also adds a few more calories to this brew. But there's still only around 62 calories per 330ml bottle or can – about half the calories of a 330ml bottle of 3.6% pale ale. There's about 12g of carbs per 330ml serving, 0.3g of which is sugar.
This beer contains a little lime juice too, to bring out the other citrus flavours provided by the hops.
Pine Trail is a dry-hopped beer. This gives more aroma and flavour to the beer without adding more bitterness. But it means the beer costs more to produce because of the cost of additional hops and the extra time it takes.
In some regions, Pine Trail has less than 10 parts of gluten per million (the cut off to be defined "gluten free" is 20 parts per million). Check the labelling or product info before you buy if you need a gluten-free beer.
I first reviewed Pine Trail in early 2018. I'm convinced the recipe has been tweaked since then, so this an update of my earlier review.
Flavours, mouthfeel and appearance
Pine Trail pours a hazy amber colour, with a magnificent head of foam that provides a buffer as you sip. The foam leaves a pleasant amount of lacing.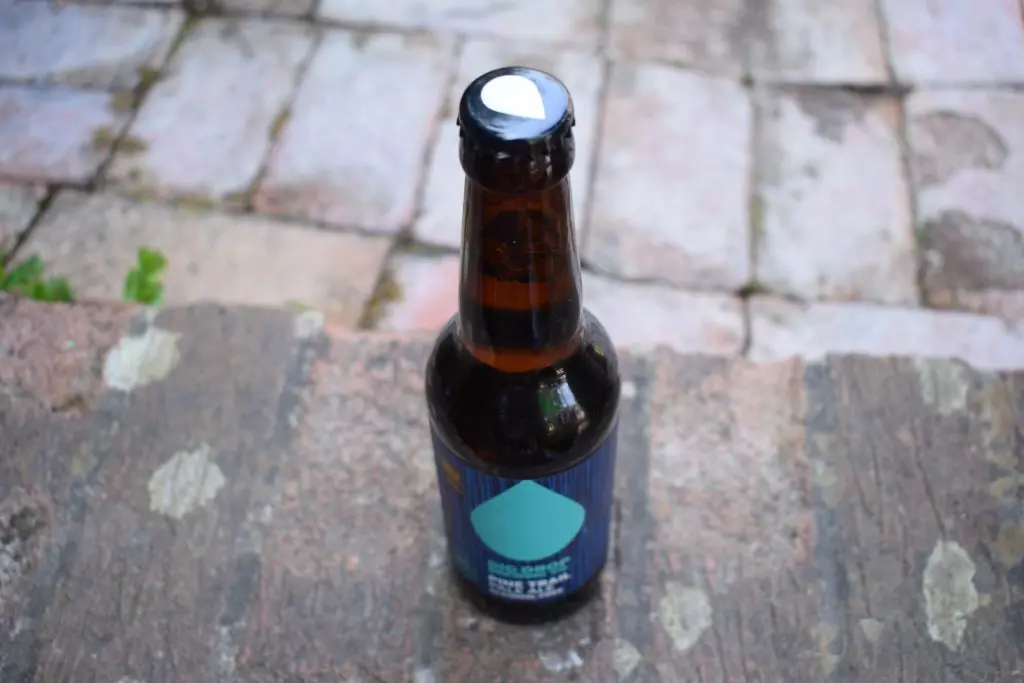 In my earlier review of Pine Trail, the aroma was all about lime and grapefruit, backed by pine. Now it's the pine that leads the aroma, this time backed with citrus, and sweet mango, lychee.
Pale malts and wheat quietly have a background influence on the aroma, with these whiffs growing as the beer warms.
On drinking, it's lightly carbonated, and smooth and creamy, helped by the softness of the foam that lingers on top. The body is heavy yet soft, with no signs of tackiness or a syrupy consistency.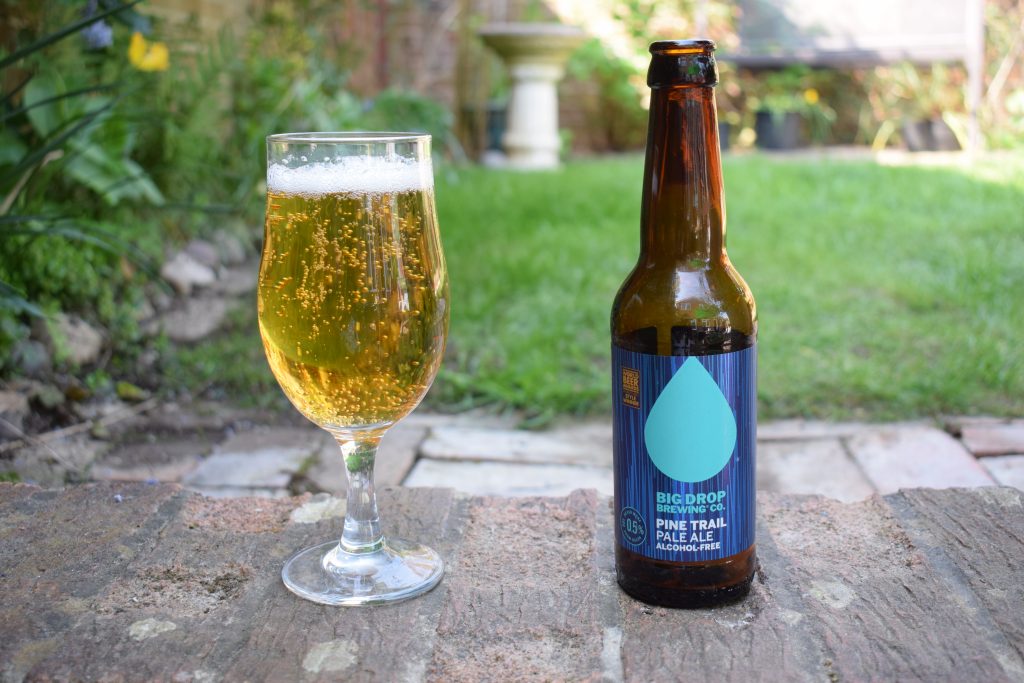 I noted a high amount of bitterness in my original review of Pine Trail. There's only a smidgen of bitterness in this version, which allows the grassy, tropical flavours from the aroma to shine through here.
The pale malts and wheat are also more prominent in the taste leading to a well-balanced flavour with a malty, caramel aftertaste.
There's also a pleasant apple-blossom flavour, which I've noticed is a feature of many of Big Drop's beers. An expert might say it's coming from the yeast the brewery uses on its sub-0.5% beers. Anyhow, it sits nicely with the other flavours to create a distinctive ale.
Verdict
Pine Trail is a fine example of an interesting non-alcoholic beer.
It's refreshing, full of distinctive flavours and aroma and has a great body/mouthfeel.
Key info – Big Drop Pine Trail
Name: Pine Trail
Brewery: Big Drop Brewing
Style: pale ale
Alcohol content: 0.5%
Calories: 62 (per 330ml can/bottle)
Carbohydrates: 11.8g (per 330ml can/bottle)
Sugar: 0.3g (per 330ml can/bottle)
Ingredients: water, yeast, barley, wheat, lactose, lime
Country: UK
Dispense: can and bottle (330ml)
Selected stockists (UK): Amazon*, Wise Bartender*
Selected stockists (Australia): Alcofree, Craft Zero
Selected stockists (US): Big Drop
Selected stockists (Canada): Big Drop