Brewdog's "Nanny State" is a low-alcohol (0.5%) pale ale with malty and plummy flavours and a tropical aroma. Read this review to find out what it's like. There's also info on calories and where to buy it.
Brewdog is almost as famous for its controversial marketing stunts as its beer. It's apt then that its alcohol free offering, "Nanny State", began life as a response to the hysteria that surrounded the launch of its 18.2% ABV beer "Tokyo" in 2009.
Not that Brewdog would say "Tokyo" was a stunt.
Initially a 1.1% beer in 2009, the latest version of Nanny State comes in at just 0.5% ABV, the same as a ripe banana. This makes it alcohol-free by most definitions.
Whether you're a fan of the brand or not, it's hard to deny that Brewdog produces great beers. So how would its alcohol-free offering measure up?
Nanny State pours like a standard ale with a good head. But it's more ruby in colour than your classic pale ale.
Stick your nose in and you get a good hit of sweet malt along with the smell of pine and citrus – they've dry-hopped this one heavily with five types of hop.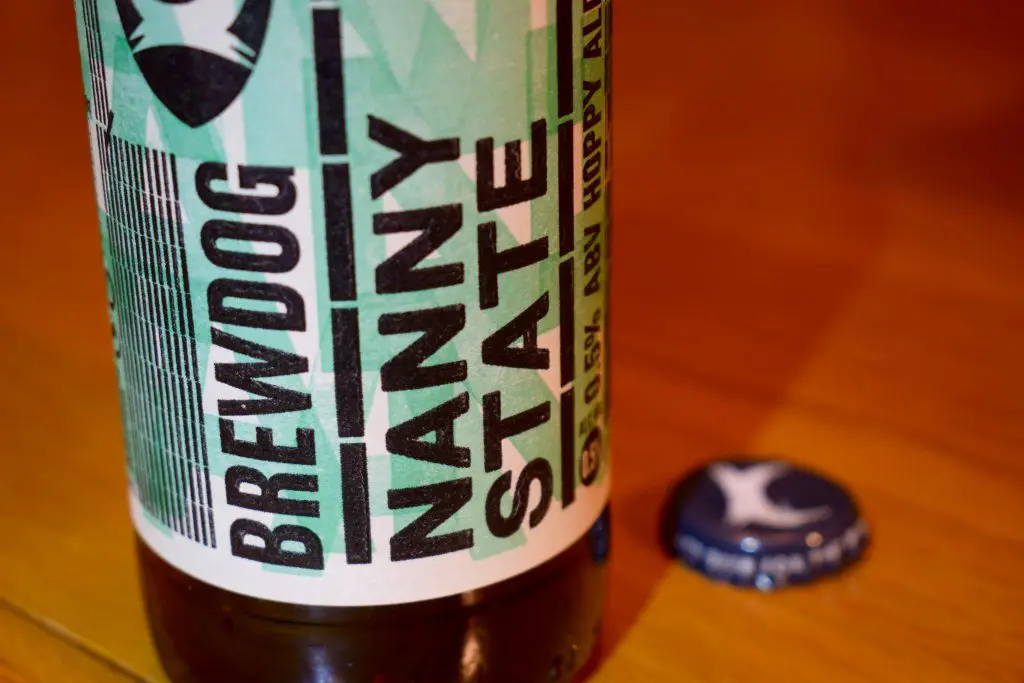 There's a decent thickness in this beer too. Unlike the breweries that have used lactose in their low-alcohol beers to achieve good body, Brewdog has done it by using eight different types of malt. That means Nanny State comes in at only around 26 calories per 330ml bottle. That's similar to the same amount of sugar-free orange squash, without the additives.
The insane amount of hops and malts delivers in the flavour department too. There's a rich, almost plummy, taste at first, which turns into a bitter and citrusy finish. It's certainly very quaffable and another classic beer from Brewdog.
Verdict
This non-alcoholic ale looks and tastes the part.
If you're sceptical about alcohol-free beer, give it a go. I'll wager you'll change your mind.
Interested to see how Nanny State compares to Brewdog's "Punk AF"? Read the Punk AF review here.
Key info – Brewdog Nanny State
Name: Nanny State
Brewery: Brewdog
Style: pale ale
Alcohol content: 0.5%
Calories: 26 (per 330ml bottle)
Carbohydrates: 3.3g (per 330ml bottle)
Sugar: 1.3g (per 330ml bottle)
Ingredients: water, barley, hops, yeast
Country: UK
Dispense: bottle (330ml)
Selected stockists (UK): Amazon*, Wise Bartender*, Booze Free and many supermarkets and convenience stores
Selected stockists (US): Amazon*