This "Pico Nova" beer from the Brussels Beer Project is a 0.3% west coast IPA. Get tasting notes and info on stockists, carbs, calories, sugar and calories in this review.
Belgium – specifically its capital, Brussels – is famous for its quality beer.
But it's not the kind of place where you'd expect to pick up a locally produced west coast India pale ale.
Brussels Beer Project (BBP) is aiming to change that.
Originally set up as a "cuckoo" brewery with no fixed brewing premises, BBP started life in 2013. Its founders Sébastien and Olivier are from Brittany in France and Brussels respectively.
They met in Canada but decided to set up in Olivier's home city. They decided the brewing scene in the city needed an injection of creativity in line with the changes to brewing driven by the craft beer scene in countries such as the UK and US.
Hence the brewery's tagline, "Leave the abbey, join the playground" is a nod to Belgium's long but arguably static history of producing traditional abbey beers.
Of course, there's nothing wrong with those beers. But tastes are changing, and BBP is taking advantage of a trend for modern beers. A trend that includes rising demand for no and low alcohol options.
"Pico Nova" is the brewery's non-alcoholic West Coast India pale ale, launched in 2021. It sits alongside another non-alcoholic IPA in its range, "Pico Bello".
Ingredients and how it's made
West Coast IPAs are known for their high levels of modern, aromatic hops. And that's certainly the case with Pico Nova, which contains Simcoe, Sabro and Pahto.
Along with barley malt, the grain bill includes rye and toasted wheat. It also includes chocolate spelt malt, which is essentially spelt malt that's been roasted until it's dark.
BBP brews its NA beers at De Proefbrouwerij, likely using a low-alcohol yeast strain. So no alcohol would have been removed after fermentation.
Pico Nova is not gluten free and may not be suitable for vegans.
Calories, carbs and sugar
Pico Nova is lower in calories than Pico Bello, with 16 calories per 100ml.
The carbohydrate and sugar counts are lower too. There are 3.5g of carbs per 100ml, of which 1.4g is sugar.
Flavours, appearance and mouthfeel
Pico Nova is amber with a bit of haze. The carbonation generates a small head on pouring.
The aroma is simple with pilsner malt, caramel, grapefruit, sherbet and green banana.
It has a light to medium body and very light carbonation featuring tight bubbles that quickly run of energy, leaving it a bit lifeless.
The texture has a syrupy character. There's a dry finish.
The flavours in the taste have a bit more variety than in the aroma. That lightly roasted pilsner malt features as a base again, with the spelt malt providing some cacao to sit alongside caramel.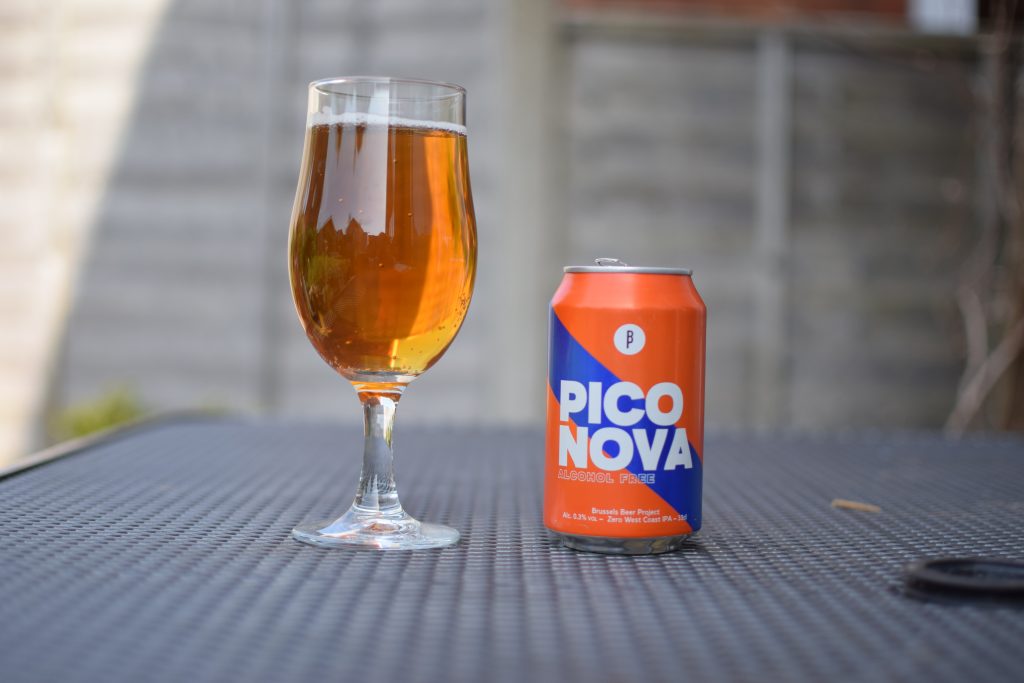 There's a touch of lemon too, which helps balance the bitterness. This grows the more you drink, lasting a decent amount of time after each sip.
Verdict
Pico Nova is an adequate beer, let down a little by low carbonation and slightly odd mouthfeel.
Still, there's lots to be happy with in the understated yet effective flavours.
Key info – Brussels Beer Project Pico Nova
Name: Pico Nova
Brewery: Brussels Beer Project
Style: west coast IPA
Alcohol content: 0.3%
Calories: 53 (per 330ml can)
Carbohydrates: 11.5g (per 330ml can)
Sugar: 4.6g (per 330ml can)
Ingredients: water, barley, oats, wheat, spelt, hops
Country: Belgium
Dispense: can (330ml)
Selected stockists (UK): Wise Bartender*