"Goram IPA Zero" is an ultra-low-alcohol (0.5%) India pale ale from Butcombe Brewing Co. Get tasting notes plus info on ingredients, calories, carbs, sugar and stockists in this review.
In some ways, Butcombe Brewing is responsible for all this – this blog I mean.
If I hadn't moved from drinking mass-produced lager to so-called "real" ale back in the late noughties, my interest in beer would probably have stopped at Carlsberg, Heineken, Budweiser and the like. Eugh.
And it was the availability of Butcombe bitter at a golf club wedding reception that assisted that transition. I got a taste for beer that had taste and found out beer can be interesting. I never looked back. And it was my interest in the beers I discovered over the years that led to me writing about non-alcoholic beer.
The number of breweries in the UK and beyond has ballooned in the last few years. But Butcombe isn't among the young ones.
Founded in the Bristol area of the UK in 1978, the same year as influential brewery Ringwood, Butcombe initially focused on its flagship bitter. Now it brews several beers, including more modern styles. It's also involved in making cider. It runs a handful of pubs too.
Its non-alcoholic beer, Goram IPA Zero (0.5%), was launched in the summer of 2021. It's based on the brewery's 5% ABV (alcohol by volume) Goram IPA, itself named after a giant that features in Bristol folklore.
Ingredients
There's nothing weird in this one, just water, barley, wheat and hops.
The hops in this one hail from the UK, US and New Zealand. But there's no info available on the exact varieties.
There's also no info on malt types, although Marris Otter is a favourite of this brewery.
The ingredients and packaging make it suitable for vegans. It's not gluten-free or gluten-reduced.
Calories, carbs and sugar
There are 22 calories per 100ml in Goram IPA Zero.
There are 4.5g of carbohydrates per 10ml, of which 2.4g is sugar.
So it's about average for an NA beer on the calorie, carb and sugar front.
Flavours, mouthfeel, and appearance
Goram IPA Zero pours a gorgeous tawny colour. The first one I sampled had an impressive beige head, with lacing clinging to the side of the glass as I drank it. The latter ones had no head and little lacing, leaving them looking insipid in the glass.
The aroma is malt-forward, which you might expect from a brewery so associated with classic English bitters. There's the sweetness of lightly roasted barley, that has a slightly smoky character.
The aroma also offers plum, sherbet, cedarwood and grapefruit. The grapefruit could be a sign of a low-alcohol yeast.
Whether it's the combination of these flavours or because of something else, the aroma has a slightly soapy quality.
The mouthfeel with its mid-weight body is good. The carbonation is low but small bubbles give it a creamy base.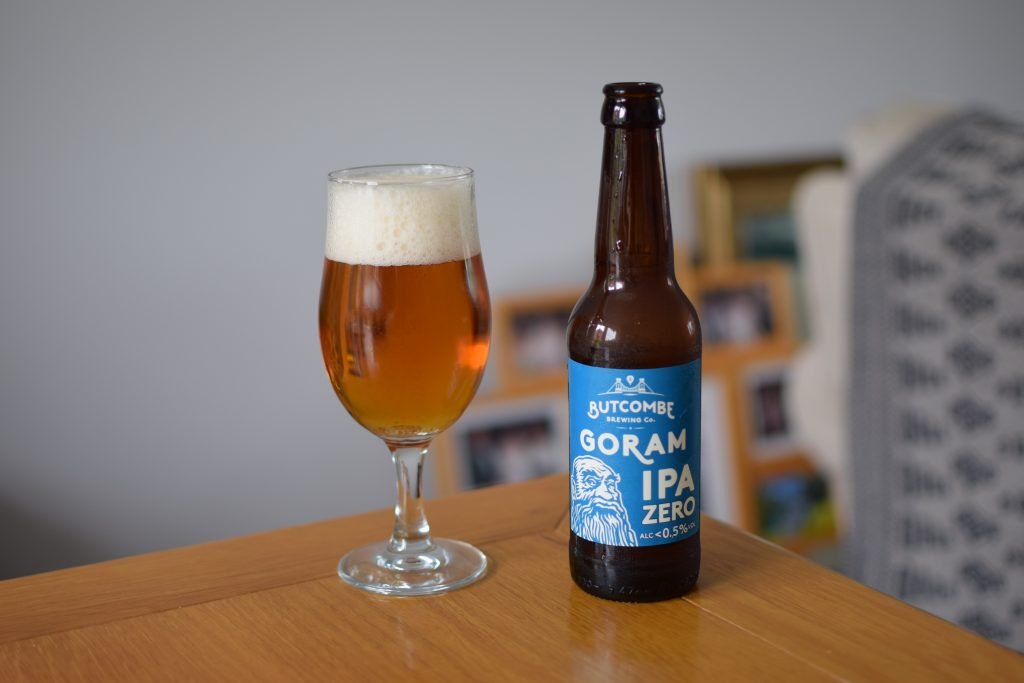 The flavours on tasting are delightfully simple. Lightly roasted barley adds depth, plus there's tropical and citrus fruit – specifically lemon, mango, and grapefruit – to give it some zip. And a pinch of sherbet.
The finish is bitter, but not puckering.
Verdict
Goram IPA Zero is a fine beer, with a superb mouthfeel and great taste.
The only downside is the slightly busy aroma, but the positive characteristics more than make up for this.
Key info – Butcombe Goram IPA Zero
Name: Goram IPA Zero
Brewery: Butcombe Brewing Co
Style: India pale ale
Alcohol content: 0.5%
Calories: 73 (per 330ml bottle)
Carbohydrates: 15.9g (per 330ml bottle)
Sugar: 8g (per 330ml bottle)
Ingredients: water, barley, wheat, hops
Country: UK
Dispense: bottle (330ml)
Selected stockists (UK): Wise Bartender*, Butcombe Brewing Co