Coast Beer Co's "Hazy IPA" is a light, tropical India pale ale style alcohol-free beer. Get tasting notes and find out calorie, carb, and sugar content, and where to buy, in this review.
"You taste with your eyes" as the saying goes. So it wasn't until the invention of beer glasses that drinkers cared what their beer looked like.
Suddenly, they demanded a pint that was clear as day. Anything else meant the beer was off or had a fault.
That's no longer the case. Nowadays hazy or murky beers are in vogue with many drinkers, much to the irritation of some traditionalists.
One of the benefits of hazy beer is that the suspended proteins that provide its haze also add to its body, giving it a heavier mouthfeel. Hence why cloudy beers are popular with producers of non-alcoholic beer, who aim to replicate the fuller body offered by beers that do contain alcohol.
Brewing a hazy beer can also bring down the cost of producing beer because it often takes out the extra step of filtering a beer. Handy in an industry where production costs are usually quite high.
Coast Beer Co's "Hazy IPA" is a non-alcoholic beer that's intentionally cloudy. Coast is based in Scotland but brews its beers at De Proufbrouwerij in Belgium.
More akin to a laboratory than a brewery, De Proufbrouwerij specialises in contract brewing and is a popular destination for "gypsy" brewers including Mikkeller. And its scientific approach to making beer means it's well suited to developing great-tasting non-alcoholic beers.
Ingredients, calories, carbs and sugar
Hazy IPA actually contains a little alcohol – 0.3% – which regular readers will know is about the same alcohol by volume as a ripe banana and considered alcohol-free in most regions.
The grain bill is pilsner malt, wheat, oats and rye while the hops feature three varieties – simcoe, citra and mosaic.
There's a probability that the yeast is the same or similar to the speciality "mikkellensis" alcohol-free yeast De Proufbrouwerij produced with Mikkeller, which produces a passionfruit aroma.
The carb and sugar content is quite high – 4g of carb, 3.9g of which is sugars (per 100ml). The calorie count is about average for a non-alcoholic beer – 16 per 100ml or 53 per 330ml can.
Flavour, appearance and mouthfeel
Hazy IPA isn't actually that hazy, although I'd bet against reading your newspaper through it. It pours a straw colour – pale as you like – with minimal foam that heads straight for the side of your glass to start a trail of lacing.
The aroma is superb when you accept the lack of maltiness. Its dominated by fruitiness from the hops and yeast with passionfruit, grapefruit, lemon and apple blossom hitting your nostrils first. Next, a funky earthiness – a feature of Coast's other beer, "Farmhouse Ale" – melds with the fruity aromas.
The body is light but there's more to it than tap water or squash. The carbonation is gentle and smooth and the mouthfeel is pleasantly sticky.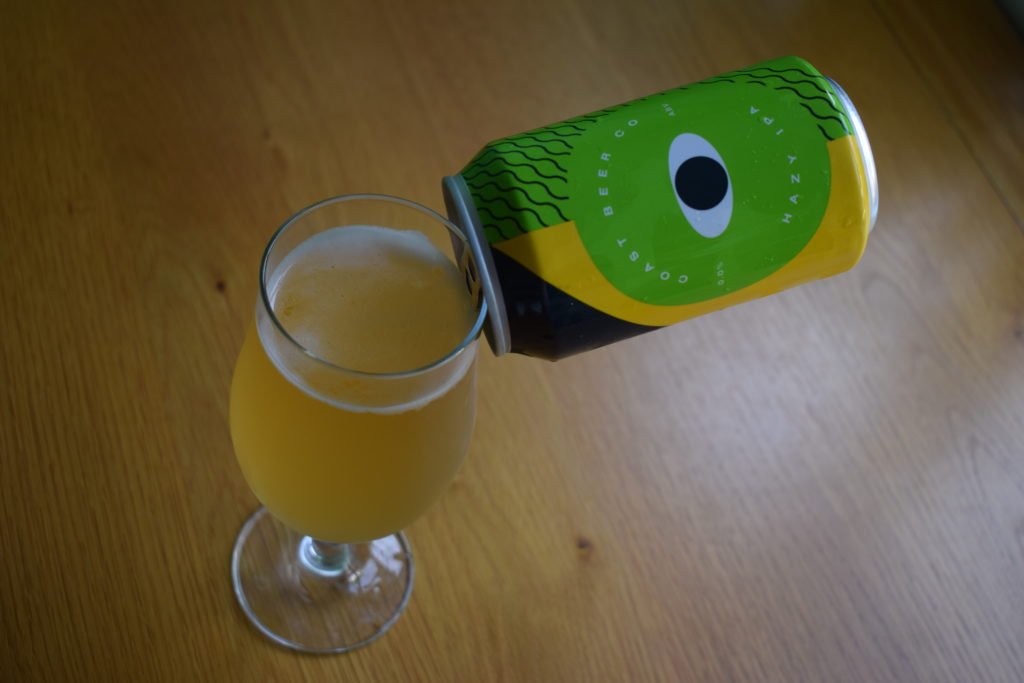 There's minimal bitterness and maltiness in the taste, but it's still balanced with lemon, green apple and lychee offering a little tartness.
Initially it's easy drinking, but the sweetness felt overwhelming with a lack of bitterness to cut through it.
Verdict
Beer, but not as we know it – that's the best way I can describe some of the non-alcoholic brews coming out of De Proufbrouwerij.
This definitely doesn't taste and smell like your standard beer, so give it a miss if that's what you're looking for.
However, if you're a fan of unusual flavours and aromas in a beer, you'll probably love Hazy IPA.
The lack of bitterness also means this will appeal to non-drinkers after a nice-tasting alternative to juice and soda.
Key info – Coast Beer Co Hazy IPA
Name: Hazy IPA
Brewery: Coast Beer Co
Style: India pale ale
Alcohol content: 0.3%
Calories: 53 (per 330ml)
Carbohydrates: 13.2g (per 330ml)
Sugar: 13g (per 330ml)
Ingredients: water, malted barley, yeast, hops
Country: UK/Belgium
Dispense: can (330ml)
Selected stockists (UK): Amazon*, Wise Bartender*, Coast (use the code FIVE at checkout to get £5 off your order)