"Yes" is an ultra-low-alcohol India pale ale from Manchester's First Chop brewery. Get tasting notes and info on stockists, calories, carbs and sugar in this review.
As many as 1 in 10 people now avoid gluten – a protein found in grains like barley and wheat – while around 1 in 100 have coeliac disease, where your immune system attacks your own tissues when you eat gluten.
Fortunately, brewers have now worked out ways to reduce the gluten in their barley and wheat- containing beers to less than 20 parts per million (PPM), which meets the definition of gluten free in most regions.
Yet, there are still few gluten-free beers available, despite the relatively low cost of breaking down gluten in beer .
Still, some brewers have made a big commitment to producing gluten-free beer. One example is Manchester's First Chop, which removes the gluten from most of its range of beers, applying two gluten tests (the pricier bit of the gluten-free process) on the finished beers before they go out the door.
First Chop was founded by restauranteur Rik Garner in 2012, who set the brewery up as a side project to his First Chop restaurant. Within a year, he was brewing full time.
Starting off with cask beer, the brewery soon started packaging its beers in bottles and cans and has found success exporting its beers, especially in the Italian market.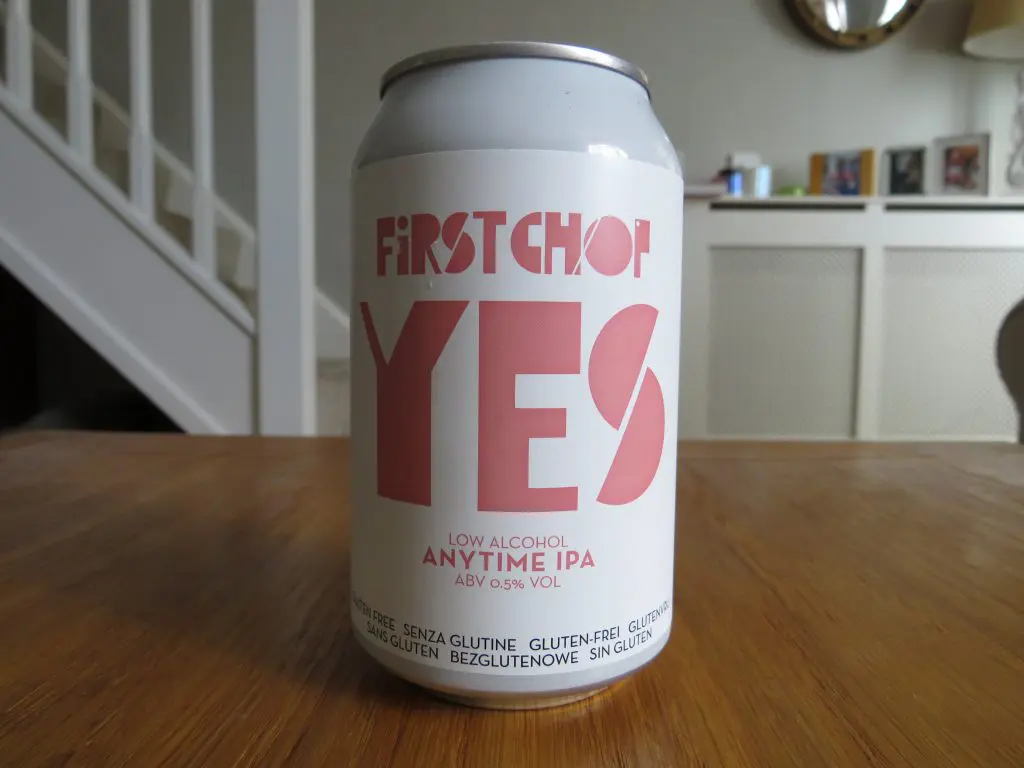 Its branding is designed by famed illustrator Stan Chow.
The brewery launched this "Yes" (0.5%) "anytime" IPA in 2019, and I'm not sure why I've taken so long to give it a whirl.
Ingredients
There are several grains alongside barley in this beer – wheat, oats and rye. Tests confirm there's less than 10PPM of gluten, so like much of the First Chop range, Yes is suitable for a gluten-free diet.
It also contains maltodextrin and yeast. There's no info on the malt or hop varieties.
It's suitable for vegans too.
Calories, carbs and sugar
Disappointingly, there's no info on the packaging about calories, carbs and sugar. So it's probably one to miss if you're concerned about the amount of sugar in your beer.
Flavours, appearance and mouthfeel
Yes pours a hazy gold-tinged amber.
The aroma is juicy and hoppy, led by tropical flavours – pineapple, grapefruit, mango and lemon.
There's a pinch of grass and resinous pine as well, all on a foundation of light malt.
The body is light to medium, befitting the style. The carbonation is prickly but natural-feeling.
The taste isn't as striking as the aroma but features many of the same flavours.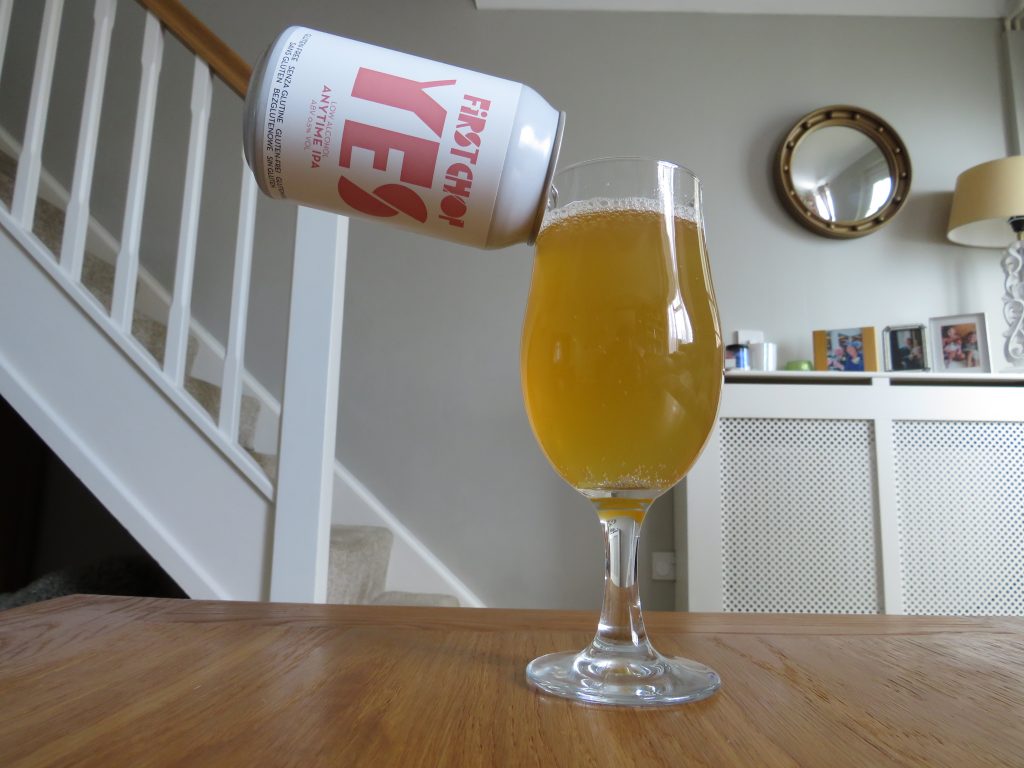 Again, a pale malt foundation gives other flavours – lemon, mango and a resinous grassy-pine character – the chance to shine. There's no caramel or toffee flavours from the malt.
There's a big hit of bitterness while all this is happening, but this melds well with those woody and juicy flavours. So it's not overpowering.
There's a sticky finish that turns dry with the bitterness.
Verdict
Another NA India pale ale in the modern/US style, Yes has a great aroma and mouthfeel and a decent flavour. It's superb. And has the added bonus of being gluten free and suitable for vegans.
The only downside is the lack of info on calories, carbs and sugar.
Key info – First Chop Yes
Name: Yes
Brewery: First Chop
Style: India pale ale
Alcohol content: 0.5%
Calories: unknown
Carbohydrates: unknown
Sugar: unknown
Ingredients: water, barley, wheat, oats, rye, maltodextrin, hops, yeast
Country: UK
Dispense: can (330ml)
Selected stockists (UK): Amazon*, Wise Bartender*