"Coffee Point Five" is a coffee-infused 0.5% New England IPA by Poland's Funky Fluid brewery. In this review, get tasting notes and info on ingredients, calories, carbs, sugar and stockists.
I love beer. And I love coffee.
So it's a cert I love coffee-infused beer, right?
Not always – and it's not to do with the flavour.
Instead, my qualms are to do with caffeine. Gone are the days when I demanded a caffeine hit to keep me going on a night out.
Now, anything that might affect my ability to have a good night's sleep so I can deal with a soon-to-be four-year old's early wake-up calls is a no-no. Not that there's likely to be that much caffeine in a coffee-infused beer.
Still, to be on the safe side, I save coffee beers for the afternoon rather than the evening. A pity seeing as there's a modest influx of coffee-infused non-alcoholic beers hitting the market at the moment.
These include Funky Fluid's aptly named "Coffee Point Five" (0.5%), a beer in the style of a New England IPA (NEIPA) with coffee from the HAYB roastery.
Funky Fluid is based in Warsaw, Poland. Founded in 2018, it was rated the 3rd best new brewery in the world by Rate Beer in 2020.
The brewery focuses on distinctive beers of all styles and strengths, including several others under 0.5% ABV. It produces 0% hop water too.
Coffee Point Five is a variation on its core "Point Five" hazy IPA.
Ingredients
In addition to barley malt, the grains in this one are rye, wheat and oats.
However, there's no ingredients list – just a list of possible allergens – so there may be other ingredients in this beer not listed here.
There's also no info on the type of hops used.
The coffee variety in Coffee Point Five is Ethiopia Malawo, known for blackberries, berries, nectarines, grapes and dark chocolate flavours. The presence of coffee in beer is said to negatively affect head retention, but add texture and weight to the mouthfeel.
Although it's unfiltered and there's no sign of animal products in the ingredients list, the packing doesn't say it's suitable for vegans. It's also not gluten reduced.
Calories, carbs and sugar
There's a moderate amount of calories in Coffee Point Five – 30 calories per 100ml.
The also a moderate amount of carbohydrates and sugar – 6.3g of carbs, including 2.5g of sugars, per 100ml.
Flavours, appearance and mouthfeel
Coffee Point Five has no signs of coffee in the colouring. It's unfiltered and pours opaque, dark yellow in colour. It looks thick.
There's loads of foam, producing a big head that leaves loads of lacing on the glass as it drains.
The aroma is outstanding. There's caramel, toffee, resin, pine, lychee and pineapple with a touch of coffee bean aromas.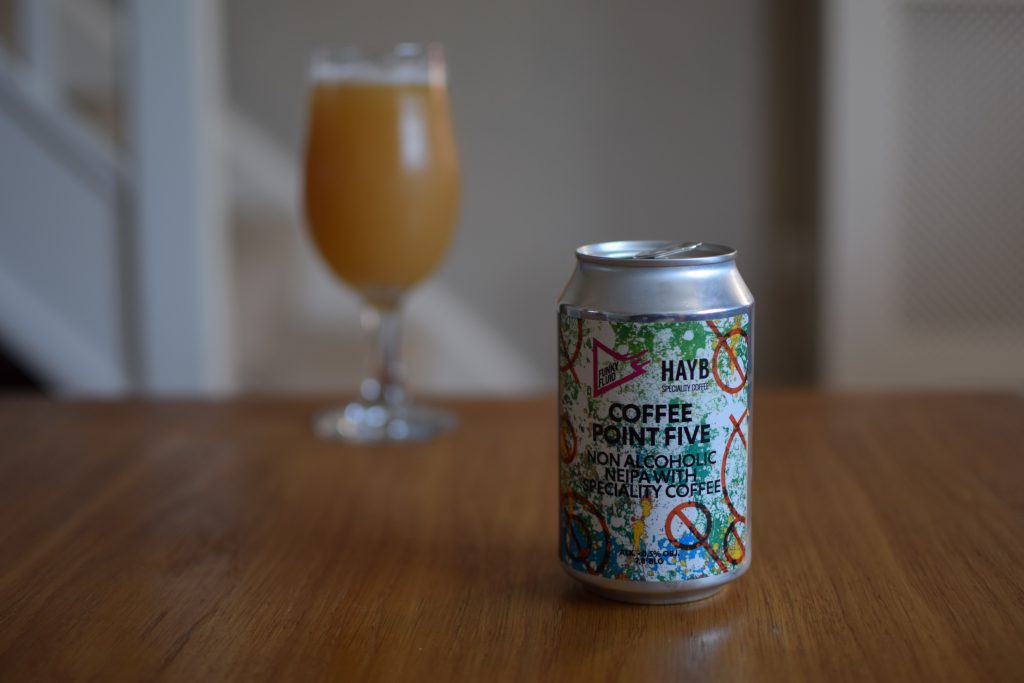 I said it looks thick and it feels thick in the mouth too. It's heavy and viscous with light carbonation and a smooth mouthfeel.
It's a bit too much if I'm honest.
The flavour on tasting is pretty standard for a pale ale that uses new world hops. It features lightly roasted malt, caramel, pine, roasted orange plus an oak-like character.
I didn't detect any coffee flavours in the taste, although the dry bitterness is reminiscent of coffee rather than hop oils.
The bitterness is high, maybe a touch overpowering. It grows after each sip and leaves a lasting impression.
Verdict
A good beer – the aroma is particularly fine – but I'm wondering whether the coffee adds much here.
Still, it's one to check out – especially if you like Funky Fluid's other NA beers.
Key info – Funky Fluid Coffee Point Five
Name: Coffee Point Five
Brewery: Funky Fluid
Style: NEIPA
Alcohol content: 0.5%
Calories: 99 (per 330ml can)
Carbohydrates: 21 (per 330ml can)
Sugar: 8.2g (per 330ml can)
Ingredients: water, barley, rye, wheat, oats, hops, coffee/li>
Country: Poland
Dispense: can (330ml)
Selected stockists (UK): Unknown