"Zed" is an ultra-low-alcohol pale ale from London's Hammerton Brewery. In this review, get tasting notes and info on stockists, calories, carbs and sugar.
Non-alcoholic beer was once the purvey of only the biggest – usually multinational – breweries.
Now – thanks to advances in tech, know-how and ultra-low-alcohol brewing processes, many smaller breweries have been able to produce non-alcoholic beer, some specialising in NA beer and some brewing it alongside their core ranges.
Hammerton is a microbrewery based in Islington, North London. It was originally the name of a brewery founded in the 19th century, which closed in the 1950s.
Lee Hammerton – an ancestor of the original founder Charles Hammerton – opened the revived Hammerton Brewery in 2014.
The new brewery melds modern and traditional techniques to create a range of beers featuring everything from pale ales and IPAs to oyster stouts and pilsners on keg and cask.
Hammerton also produces a couple of 0.5% beers – a peanut butter stout and this "Zed" pale ale.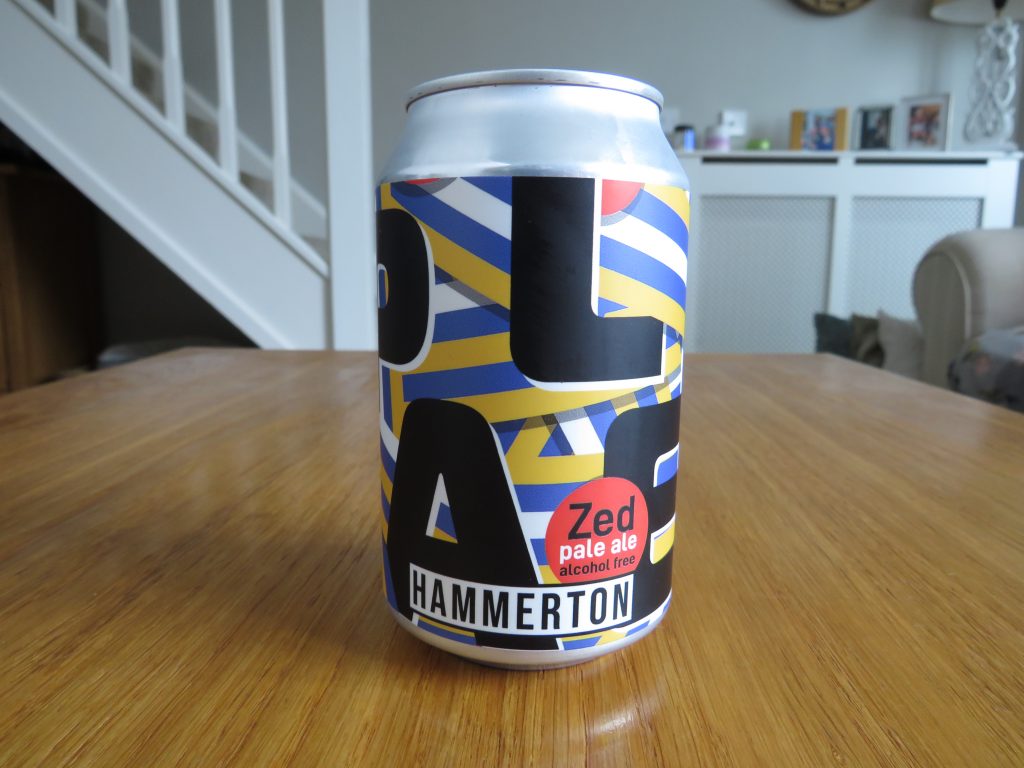 Ingredients and how it's made
At 0.5% and produced by a smaller brewery, it's likely that Zed is made by producing a low-alcohol beer from the off rather than removing alcohol after fermentation.
There's also no info from the brewery on the varieties of malt and hops used in Zed, although wheat is listed on the ingredients alongside barley.
Zed isn't suitable for a gluten-free diet. It also contains lactose – probably to add a bit more body and mouthfeel – so it's not suitable for vegans either.
Calories, carbs and sugar
Zed contains 18 calories per 100ml. There are 4.5g of carbs, including 1.9g or sugar, per 100ml.
So it's not too high in the calories and sugar dept.
Flavour, appearance and mouthfeel
Pouring amber with a haze, Zed has a lot of fizz out of the can with small bubbles that die to leave a slither of a head.
Modern hops present a piney, grassy aroma on a prudent foundation of pale malts. There's a also a big pinch of passionfruit and sulphur with a smaller pinch of peach and speckle of sage.
The lactose provides some synthetic-feeling weight to the body, yet it still feels light on some of the senses. There's an easy carbonation, with small and prickly bubbles.
On tasting, juicier passionfruit, mandarin flavours lead the way with pale malts adding a little caramel before a lack of flavour mid sip. Then the passionfruit and mandarin dials up again.
Bitterness is low, coming at the end of a sip. There's a lingering sweet finish.
Verdict
Hammerton Zed is a respectable pale ale. But it's lacking some of the finer characteristics and strength of flavour of the better NA beers.
Key info – Hammerton Zed
Name: Zed
Brewery: Hammerton Brewery
Style: pale ale
Alcohol content: 0.5%
Calories: 59 (per 330ml can)
Carbohydrates: 14.8g (per 330ml can)
Sugar: 6.2g (per 330ml can)
Ingredients: water, barley, wheat, hops, yeast, lactose
Country: UK
Dispense: can (330ml)
Selected stockists (UK): Wise Bartender*