"Virgin Mary" is an ultra-low-alcohol (0.5%) pale ale beer from Yorkshire's Ilkley Brewery. Find out how it tastes and get info on stockists in this review.
One of the effects of advancements in how low and no alcoholic beer is produced is that expensive equipment is now optional. Hence why small- and medium-sized breweries and start ups have got in on the act.
Yorkshire's Ilkley Brewery is one of the latest smaller breweries to produce a non-alcoholic beer. Set up 10 years ago, the brewery expanded in 2015 after a management buy out.
Now it produces dozens of core and seasonal beer, serving real ale enthusiasts with cask beer as well as those who prefer modern keg ales. Bottled and canned beer for the off trade completes the line up.
If you're based in the north of England, you'll probably have seen Ilkley's beers on the pumps and shelves. The brewery's reputation also leads to forays outside of its home turf and the odd supermarket listing.
Ilkley's flagship beer is "Mary Jane", a 3.5% pale ale. There have also been a few different versions of "Mary" over the years. The latest is this 0.5% ultra-low-alcohol pale ale, "Virgin Mary".
Ingredients and how it's made
Actually, the name is the one of the few characteristics Virgin Mary shares with the original Mary Jane. They don't even share any of the same malt or hop varieties.
So what has gone into Virgin Mary?
The malts in this one are Vienna, Caramalt, Aromatic, Munich and Crystal. A complex bill that aims to make up for the lack of body in a low alcohol beer.
And it's packed with five hop types that you don't see much in any beers, never mind non-alcoholic ones. They are Jester, Taiheke, Motueka, Kolibri and Independence and bring a diverse mix of flavours.
Virgin Mary hasn't had the alcohol removed – it's brewed as a naturally low-in-alcohol beer.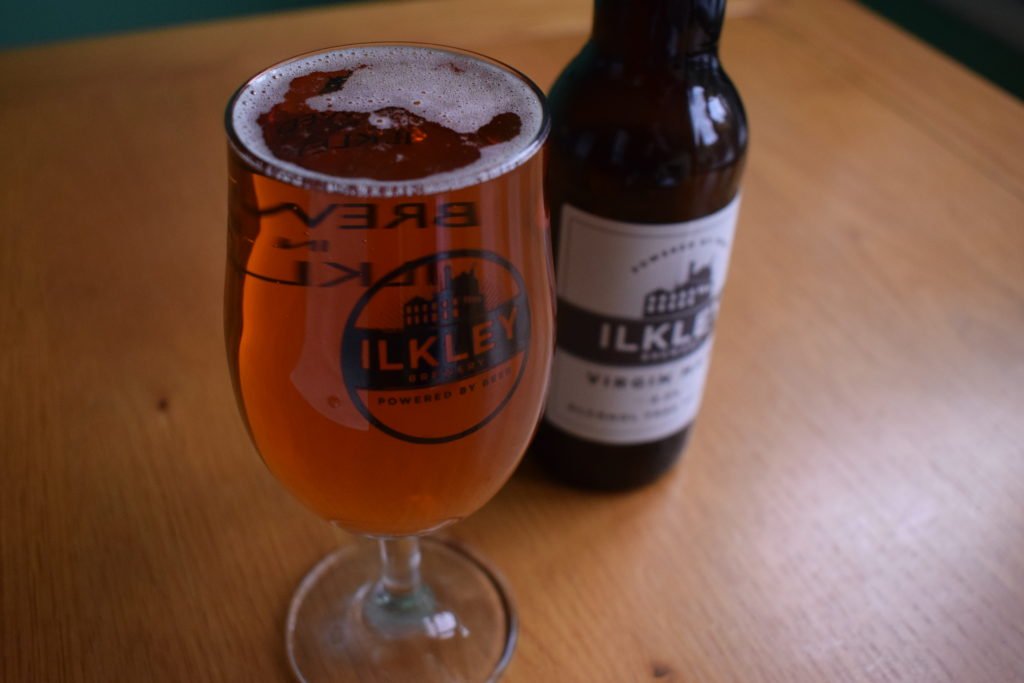 There's 51 calories per bottle but no info yet on carbs and sugar content.
Flavour, mouthfeel and appearance
Virgin Mary pours a clear, rich copper. There's a decent head initially, but it quickly dissolves to a couple of islands of foam that spreads as it tries to cling to the side of the glass.
The aroma is familiar despite the unfamiliar hops with understated and mostly unidentifiable tropical flavours joined by caramel and roasted orange. A sweet and sour aroma hangs in the background, which complements the other flavours well.
The caramel aroma grows as the beer warms, with passionfruit coming to the fore in the tropical aromas.
Meanwhile, there's a decent medium body here, with smooth rather than prickly carbonation despite tight bubbles. The finish is nicely sticky – not tacky or cloying.
The flavour reminded me of a less sickly-sweet Irn-Bru (this is a good thing!). The roasted orange and caramel from the aroma is prominent, with a paler, wheatier maltiness coming though after a few sips.
There's a little sweetness, but not enough to justify much bitterness to balance it out – which is good, because there's just a touch of bitterness that comes through after each sip.
Verdict
Virgin Mary's unassuming yet complex aromas and flavours, along with a decent body and mouthfeel, should make this a firm favourite in the pubs around its Yorkshire – and beyond.
The inspired use of some less known hops varieties is also appealing, especially if you're tired of coming across the same old American hop combinations in your beers.
Key info – Ilkley Brewery "Virgin Mary"
Name: Virgin Mary
Brewery: Ilkley Brewery
Style: pale ale
Alcohol content: 0.5%
Calories: 51 (per 330ml bottle)
Carbohydrates: unknown
Sugar: unknown
Ingredients: water, barley malt, yeast, hops
Country: UK
Dispense: bottle (330ml)
Selected stockists (UK): Wise Bartender*