"Swimmer's" is an ultra-low-alcohol (0.5%) saison-style beer from German brewery Insel. Get info on ingredients, calories, carbs, sugar and stockists – plus tasting notes – in this review.
Saison – a style of beer that was brewed originally to provide farm workers with a refreshing drink during the warmer months – should make an ideal non-alcoholic beer.
Yet, there are few around. I was even surprised to see that I haven't even reviewed one yet.
Saison originated in the farmhouses of a French-speaking part of Belgium in the late winter and spring for consumption in the summer (saison means "season").
To keep farm workers refreshed without getting them inebriated, it was originally brewed to low strength. Modern examples tend to have a higher ABV (alcohol by volume).
When saisons first came about, there was no such thing as refrigeration. Hence, hops were an important preservative. And why hop bitterness and flavour – usually from traditional rather than modern hops – is more detectable in many saisons.
So what of this non-alcoholic saison, "Swimmer's" by Insel Brauerei?
Firstly, Insel isn't a Belgian brewery – it's based on Germany's Rügen island in the Baltic Sea (Insel simply means "Island" in German).
The brewery opened in 2015 with a focus on rare beers. It mainly produces full-strength beers, but has a range of non-alcoholic beers including a pilsner, IPA and summer ale.
It's known for its paper-wrapped bottles, in which it conditions its beers rather than conditioning them in a tank.
Ingredients
As with all the brewery's NA beers, Swimmer's is fermented to be low in alcohol rather than having any alcohol removed.
Alongside barley malt, Swimmer's features wheat, in line with many other non-alcoholic beers.
The brewery doesn't highlight which variety of hops it uses.
This beer also includes '"spices." But again, the brewery doesn't highlight which types of spice.
The packaging doesn't say it's suitable for vegans. It's not gluten-reduced or gluten free.
Calories, carbs and sugar
Swimmer's contains 32 calories per 100ml.
6.4g per 100ml is carbohydrates, of which just 0.5g is sugar.
Flavours, appearance and mouthfeel
Swimmer's pours opaque, with a small ring of beige bubbles atop a rusty, deep-orange colouring.
The aroma is very "farmhouse" with a dank character. It features red-vine vinegar, cedar resin and bready malts with some sherbety sweetness.
The body is quite thin, edging towards the lighter side of medium. The carbonation is gentle but far from flat. Although I prefer my saisons to have more aggressive bubbles.
Wholemeal bread provides the malty backbone to the flavours on tasting. The resin from the aroma is also present, cutting through a sourness provided by cider apple flavours.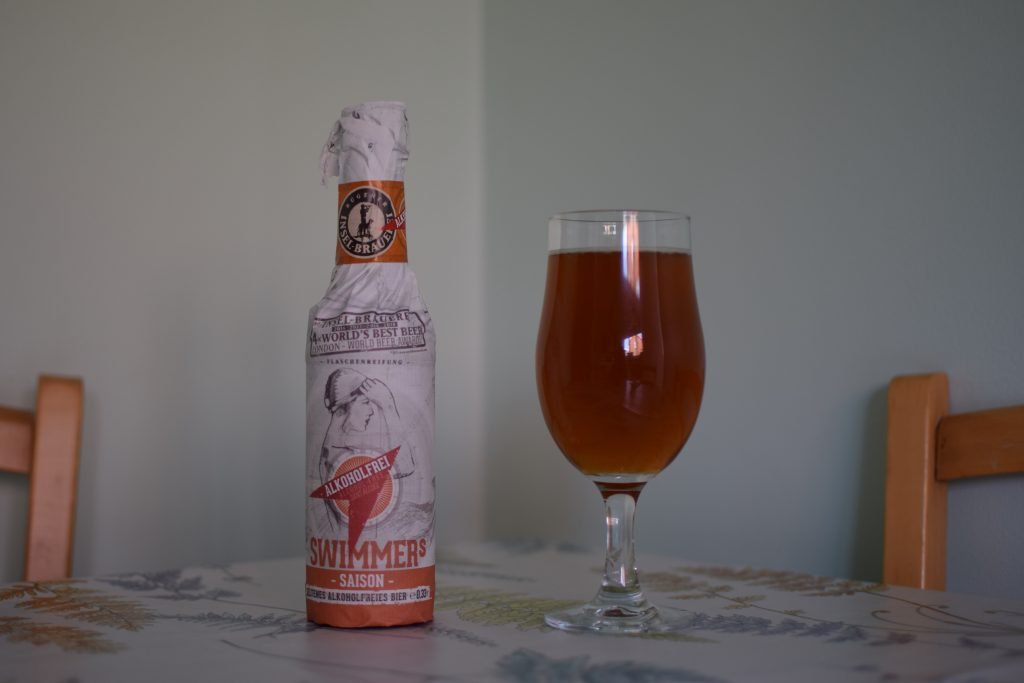 There's a sprinkle of cinnamon flavouring, which gives it a dry finish.
The sourness gives it a wild Belgian feel. The aftertaste is a little sickly.
Verdict
An interesting beer, but a few odd flavours obstruct a decent overall score for this one.
I'd buy it again though. If only for a little variety.
Key info – Insel-Brauerei Swimmer's Saison
Name: Swimmer's
Brewery: Insel-Brauerei
Style: saison
Alcohol content: 0.5%
Calories: 105 (per 330ml bottle)
Carbohydrates: 21.1g (per 330ml bottle)
Sugar: 1.7g (per 330ml bottle)
Ingredients: water, barley, wheat, hops, yeast, spices
Country: Germany
Dispense: bottle (330ml)
Selected stockists (UK): Wise Bartender*