Kehrwieder "ü.NN" is a fruity, unfiltered low-alcohol (0.4%) India Pale Ale (IPA) beer made with Simcoe and Mosaic hops. Find out how it tastes, plus see the ingredients, calories and where to buy.
Kehrwieder brewery's Olli Wesseloh knows a thing or two about beer. Not only does he have more than 20 years' experience as a brewer in Germany and the US, but he's also a former world beer sommelier champion.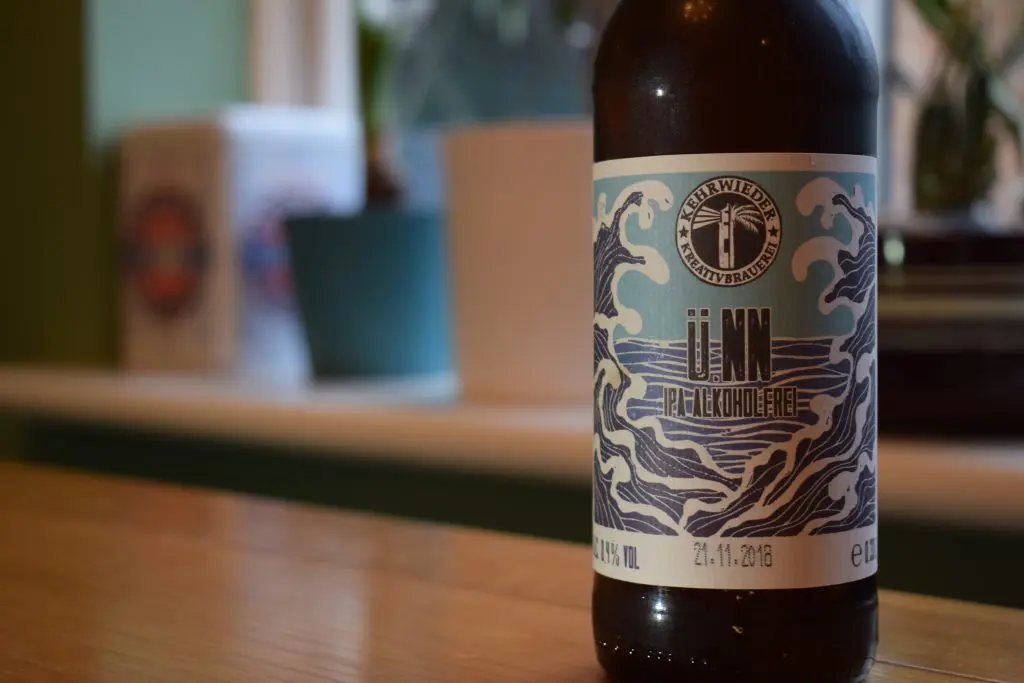 It was his experience immersed in the US beer scene that convinced him to return home to Germany ("Kehrwieder" loosely means "come back" or "return" in English) to set up a craft beer brewery, or "creative brewery" as Olli prefers to say.
Initially a "gypsy brewery" that used other breweries' equipment, Kehrwieder first set itself up in a Bavarian barn with equipment salvaged from dairy farmers. Now the brewery is based in Hamburg.
Olli began developing this low-alcohol IPA in 2015. Rather than removing the alcohol after fermentation, he's used a yeast that stops fermenting early.
To enhance the aroma, this IPA is dry-hopped after fermentation – Olli adds additional Simcoe and Mosaic hops.
Unfiltered before bottling, this beer pours hazy, deep orange colour with an impressive head that looks gorgeous in the glass.
Then the aroma from the Simcoe and Mosaic hops hits you – woody, grassy and citrusy, it certainly stimulates the taste buds.
It's lip-puckeringly bitter on the first sip. But that balances out with a sweet maltiness the more you drink. There's pine, mandarin and lime in the flavour. It has a smooth finish with a slight bitterness at the end.
As expected with an unfiltered beer, the mouthfeel is nice and thick. The sight of the beer in the glass probably plays a few tricks on the mind too. The froth that clings to the side of the glass you quaff it adds to the experience.
Verdict
This is a fantastic and complex low alcohol beer. It looks, tastes and smells amazing. It's not hard to see why this won a silver medal in the Meininger International Craft Beer Awards
There's no way I'd have guessed this was a non-alcoholic beer on a blind tasting. It reminded me of a 6%+ pale ale. All it misses is the alcohol burn at the end.
The only thing that might put some people off its haziness if you're used to crystal-clear beers and lagers. However, I saw this as a bonus rather than a flaw.
Key info – Kehrwieder ü.NN (überNormalNull)
Name: ü.NN (überNormalNull)
Brewery: Kehrwieder
Style: IPA
Alcohol content: 0.4%
Calories: 106 (per 330ml)
Carbohydrates: 22.4g (per 330ml)
Sugar: 11.2g (per 330ml)
Ingredients: water, malt, hops, yeast
Country: Germany
Dispense: bottle (330ml)
Selected stockists (Australia): Dan Murphy's, Alcofree, Craft Zero