"No Worries" is a 0.5% pale ale from Norwegian brewer, Lervig. In this review, get tasting notes and info on ingredients, calories, carbs, sugar and where to buy.
It all sounds so simple. Big beer conglomerate buys town brewery, relocates it to another town. Townspeople take over brewery, becomes massively successful brewery of craft beer.
That's the TLDR version of the Lervig brewery story. But it didn't just move to brewing a multitude of craft beers overnight.
From its conception in 2003 until 2010, its main beer was a pilsner similar to the beer produced by the previous brewery. It wasn't until former home brewer Mike Murphy joined the fold in 2010, that it branched out into other styles.
Its first new beer was a pale ale, which became "Lucky Jack", its 4.7% flagship beer. It's added countless beers to its portfolio over years and is now one of Norway's biggest craft beer exporters, helping it regularly appear on lists of the world's best breweries.
Like many breweries, Lervig has slid into the alcohol-free space with the release of a 0.5% beer "No Worries" a few years back. It has also produced fruit-infused variations including versions featuring grapefruit and mango.
For some reason, I've only just managed to get my hands on a few cans of No Worries. So was it worth the wait?
Ingredients and how it's made
No Worries is brewed with a "lazy" yeast that doesn't ferment maltose (the majority of the fermentable sugar created during the brewing process). So the brewers don't need to remove any alcohol to hit less than 0.5% ABV.
Along with water, the other ingredients are typical – barley malt, wheat and hops.
Calories, carbs and sugar
There are 22 calories per 100ml in No Worries, which is about average.
The carb count is 4.9g per 100ml. Most likely because of the brewing process where that yeast is giving the maltose a free pass, the sugar content is high for an AF beer – 4.5g per 100ml of those carbs are sugar. That's 14.8g of sugar per 330ml can.
Flavours, appearance and mouthfeel
No Worries pour opaque. It's an apricot colour, with lots of luxurious-looking foam generated from a fair bit of carbonation.
The foam never fully dies, leaving a cushion of foam on top as you sip.
The hops dominate the aroma, although there's a foundation of pale malts.
An initial grass and pine character gives way to passion fruit, grapefruit and pineapple aromas. It's sweet and juicy on the nose, but the lack of malts is noticeable.
The mouthfeel is superb, with the haze supporting heavy but medium body. The carbonation is soft and gentle but lively.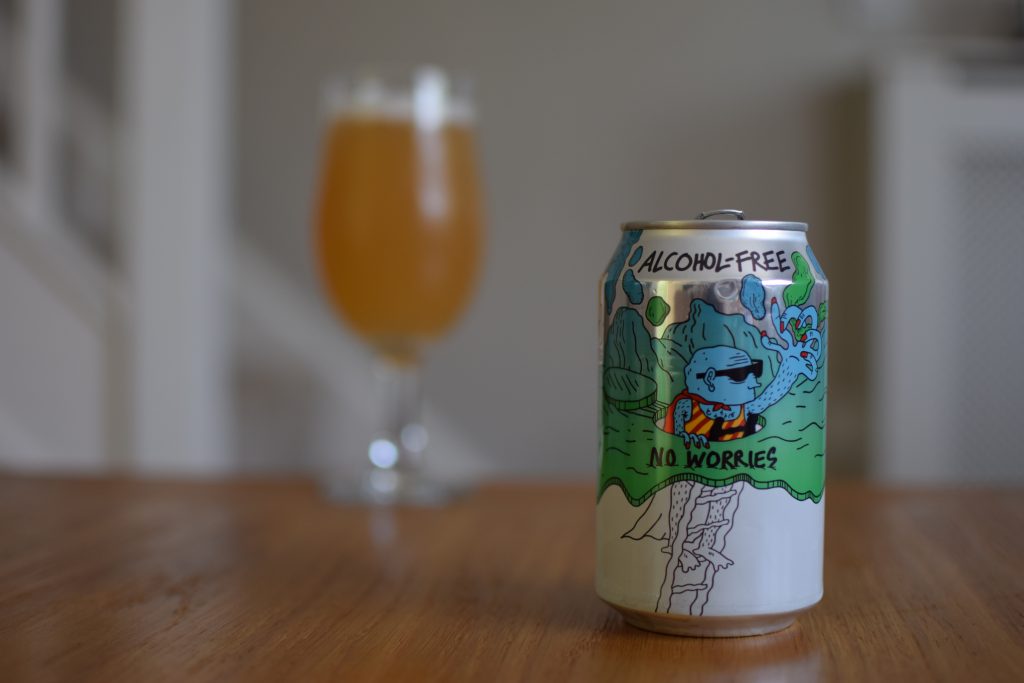 There's less fruit in the taste than in the aroma with only the grapefruit – probably esters from fermentation – standing out initially, although a little mango joins it as it warms.
The malt in the taste is clean, simple and unobtrusive. The hops provide a little pine too.
The bitterness starts low but grows with each sip, overwhelming the sweeter flavours eventually.
There's' a dry finish.
Verdict
This is one of the better non-alcoholic pale ales.
The taste could be more flavoursome, but a lovely aroma and superb mouthfeel bring up its score.
It's just a pity it's so high in sugar. But one is enough anyway.
Key info – Lervig No Worries
Name: No Worries
Brewery: Lervig
Style: pale ale
Alcohol content: 0.5%
Calories: 73 (per 330ml can)
Carbohydrates: 16g (per 330ml can)
Sugar: 14.8g (per 330ml can)
Ingredients: water, barley malt, wheat, hops, yeast
Country: UK
Dispense: can (330ml)
Selected stockists (UK): Wise Bartender*