This review looks at Marks and Spencers' low-alcohol pale ale, produced with the Adnams brewery. Get tasting notes, plus info on carbs, sugar and calories.
While it's not unusual for a supermarket to team up with an established brewery to create an own-brand beer, it is rare for one to be open about its partnerships.
Take Aldi's "Sainte Etienne" or Sainsbury's "Session Ale" – there's no nod on the packaging or promotional materials to where they're made. Which is no different to any of their other own-brand products to be fair.
Marks and Spencer usually takes a different approach with its own-brand beers, opting to mention its partner breweries prominently. But it probably helps that their partners have a strong brand identity.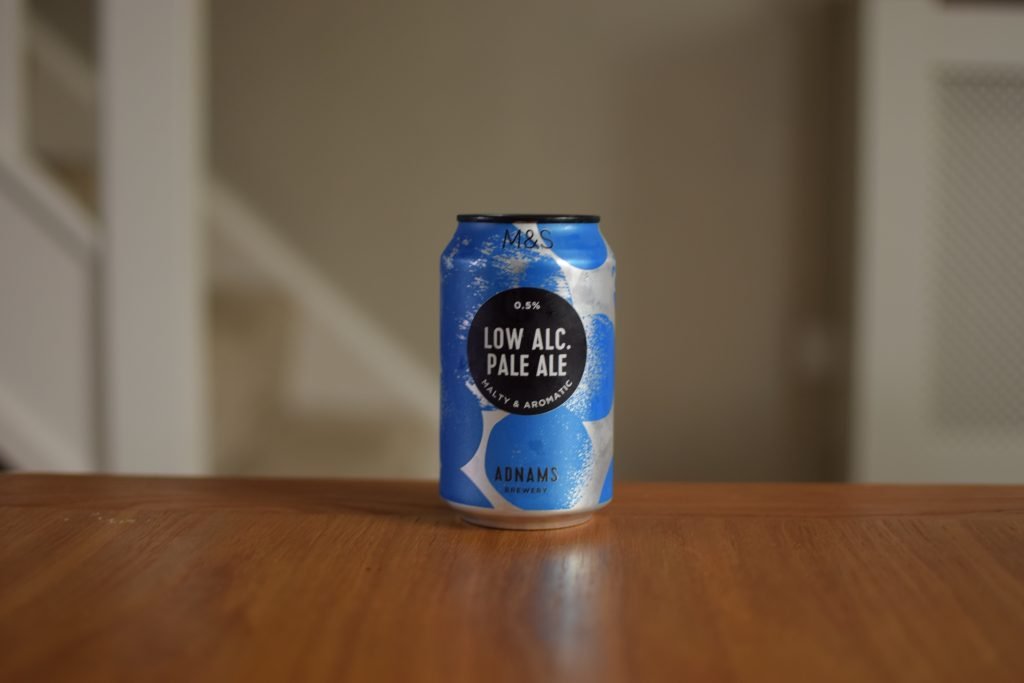 One of these is Adnams, the mid-sized regional brewery located on the Suffolk coast. M&S has been working with this 150-year-old brewer since around 2007.
Starting with full-strength brews, the partnership has more recently benefited from Adnams' expertise in the ultra-low-alcohol space with its "Southwold" low-alcohol (0.5%) pale ale.
Its newest non-alcoholic beer – which may be a replacement for Southwold in the long term – is this "Low Alc Pale Ale" (0.5%).
Ingredients
There's nothing unusual in Low Alc Pale Ale's ingredients. There's rye along with the standard barley in the grain bill, plus the standard yeast and hops.
The brewers have injected carbon dioxide into the beer following fermentation, rather than relying exclusively on natural carbonation.
Calories, carbs and sugar
Low Alc Pale Ale is low in calories and sugar.
There are 18 calories and only 0.1g of sugar, per 100ml.
The overall carbohydrate count, including those sugars, is 4.2g per 100ml.
Flavours, appearance and mouthfeel
Low Alc Pale Ale pours clear amber. There's plenty of fizz, yet it settles to leave no head.
The aroma combines roasted orange, sherbet, blackcurrant and cedarwood with the slightly unpleasant smell of the chemical added to natural gas (mercaptan). Fortunately, the nicer aromas tend to overwhelm the gassy character.
The body is fuller than it looks to the eye, but it's still quite light. The carbonation is gentle despite the copious bubbles when it's initially poured.
The mouthfeel syrupy and tacky traits. It offers a dry finish.
There's more variety in the taste than in the aroma. Neutral pale malt flavours provide a foundation for cranberry, roasted orange and caramel.
The bitterness is modest, but it grows with each sip, complementing the fruit and malt flavours.
Verdict
Fruitier and less malt-forward than M&S and Adnams' other NA collab "Southwold", Low Alc Pale Ale is a nice option if your alternatives are sugary soft drinks or water.
That gassy mercaptan character in the aroma is an issue though, and there are better NA beer options in most M&S stores.
Key info – M&S/Adnams Low Alc Pale Ale
Name: Low Alc Pale Ale
Brewery: M&S/Adnams
Style: pale ale
Alcohol content: 0.5%
Calories: 59 (per 330ml can)
Carbohydrates: 14g (per 330ml can)
Sugar: 0.3g (per 330ml can)
Ingredients: water, barley, rye, hops, yeast, carbon dioxide
Country: UK
Dispense: can (330ml)
Stockists (UK): M&S