"Classic IPA" (formerly "Sutra") is the Nirvana Brewing Co's 0.5% ABV IPA. In this review, find out how it tastes and where to buy it. Plus get info on nutritional content and ingredients.
Originally, IPAs (India pale ales) were apparently brewed to a medium strength (6% or more) to survive the arduous journey from British Isles to the UK.
Nowadays though, while many brewers are still producing IPAs to similar strength, there are quite a few brewing session IPAs too.
London brewery Nirvana has taken the concept of a low-strength IPA a step – well, several steps – further with "Classic IPA".
This ale breaks all the previous IPA rules at just 0.5% ABV – ironic seeing as sutra (its previous name) loosely translates to "rules" in Sanskrit literature.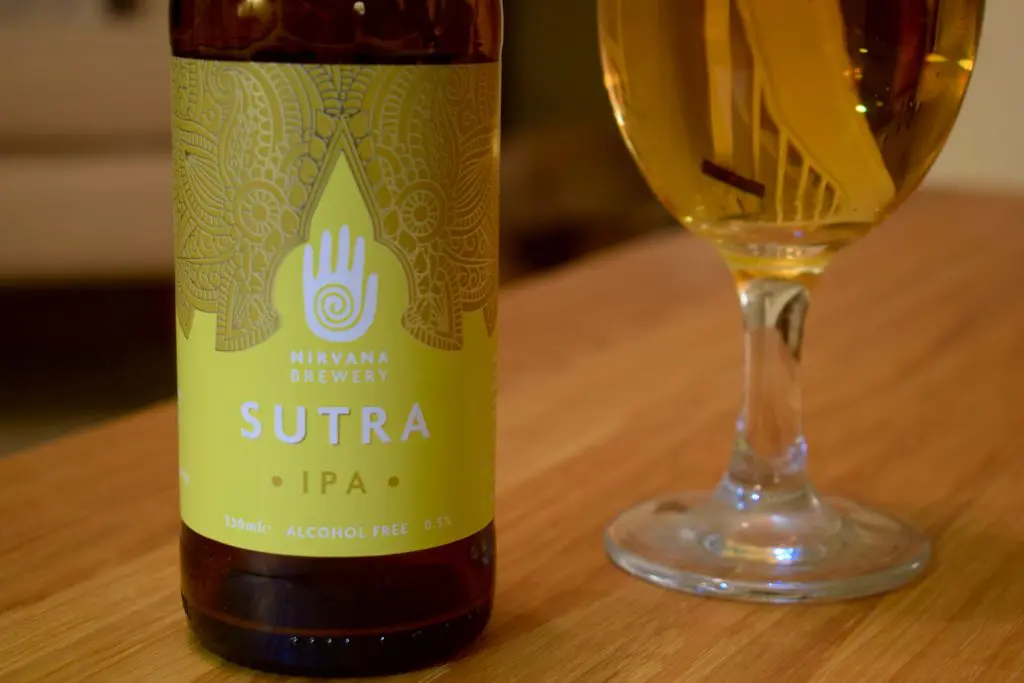 Classic IPA has a cracking aroma when you pop it open, with mango and grapefruit and a smidgen of floral hoppiness.
It's pretty lively straight from the bottle, but loses its head quickly with only a little lacing. It pours a clear golden colour.
Classic IPA is quite watery, which makes it a thirst-quenching drink. However, its consistency means it gives itself away as a low-ABV beer before taste comes into play. Which is a shame as there's some good flavours there – peach, grapefruit and hops – complemented by a hint of bitterness.
The finish is quite abrupt though. I also detected a minor chemical aftertaste. But this was oddly not unpleasant and not really a flaw.
Verdict
At just 0.5% ABV, this IPA wouldn't have survived a long trip around the Cape of Good Hope. And it probably won't survive long in your fridge either.
That said, I much prefer Nirvana's pale ale – "Classic IPA" was a little too bland for me.
Still, it's way better than a soft drink and a great option as a low alcohol beer. And at just 33 calories a bottle, a great option as a healthy drink too.
Key info – Nirvana Classic IPA
Name: Classic IPA
Brewery: Nirvana Brewery
Style: IPA
Alcohol content: 0.5%
Calories: 33 (per 300ml)
Carbohydrates: 5.6g (per 330ml)
Sugar: 0.3g (per 330ml)
Ingredients: water, barley, hops, yeast
Country: UK
Dispense: bottle (330ml)
Stockists (UK): Amazon* and selected M&S stores
Selected stockists (Australia): Craft Zero