"Hoppy Pale Ale" (formerly "Karma") is a 0.5% ABV pale ale from east London's Nirvana Brewery. Get tasting notes, stockist info and nutritional info in this review.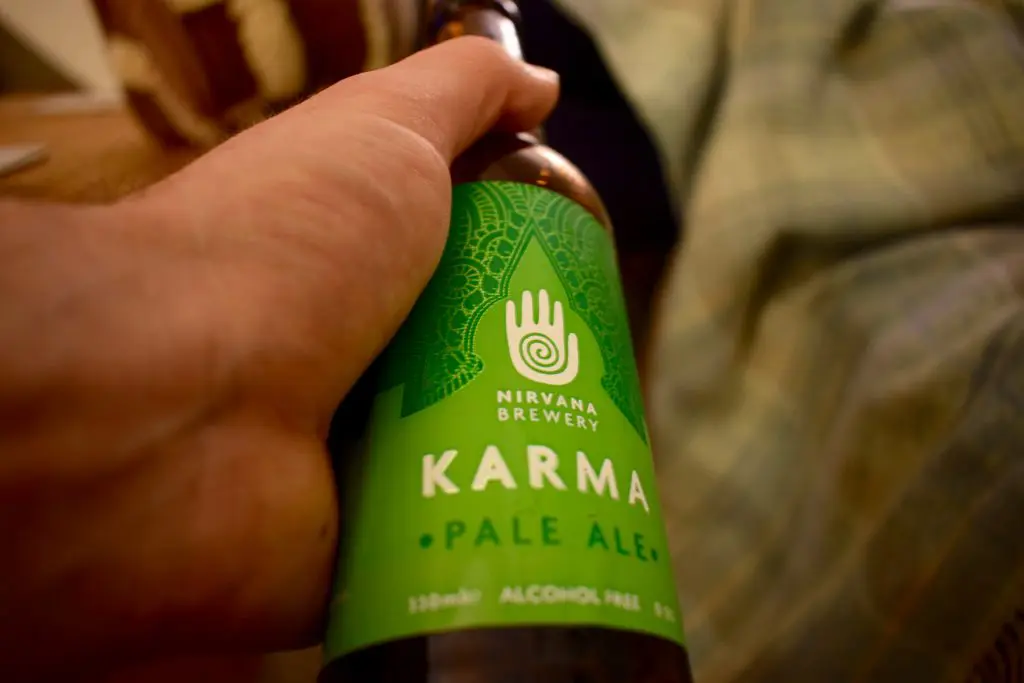 Drinking a lot of beer is like the concept of karma. Except it's tomorrow morning, rather than in your next life, that the impact of your actions catches up with you.
I don't think that was the reason why Nirvana Brewery first named this hangover-free 0.5% Hoppy Pale Ale "Karma". But it's apt nonetheless.
Nirvana specialise in low and zero alcohol beers. This is currently one of four regular brews under 0.5% ABV along with "Sutra" (0.5%), "Kosmic" stout (0%) and "Tantra" (0%).
Unlike other some other specialist low alcohol breweries, Nirvana doesn't use lactose in its beers. So this one's suitable for vegans.
The first thing to say about this beer is it's a little lively out of the bottle – a little beer came bubbling out of each of the bottles I tried. So don't open this on your lap.
It pours a straw colour and it doesn't take long for a bitter aroma of citrus and mango to reach your nose. The smell's lovely.
Despite the fizz in the bottle, there's only a little head once in the glass and no extra foam. There's a bit of lacing on the glass but it looks quite thin, which is understandable for a low alcohol brew.
The beer feels better in your mouth. It's not as thick as a standard beer. But the consistency complements the refreshing smell and taste, which continues on the citrus and mango theme.
This is balanced with a decent amount of bitterness. Plus there's a pleasant tingle on the tongue from the carbonation, which is more like a cask ale than a keg beer.
The finish is a little bitter and a little dry.
Verdict
This is a superb beer, that has a decent body for a low alcohol beer along with great aromas and flavour.
Despite a little bitterness and a dry finish, it's refreshing – I can see myself downing a few of these in the back garden in the sunshine.
With hardly any calories (around 30 per bottle), it's a great option as a diet beer too.
Key info – Hoppy Pale Ale
Name: Hoppy Pale Ale
Brewery: Nirvana
Style: pale ale
Alcohol content: 0.5%
Calories: 30 (per 330ml)
Carbohydrates: 4.6g (per 330ml)
Sugar: 0.3g (per 330ml)
Ingredients: water, barley, hops, yeast
Country: UK
Dispense: bottle (330ml)
Selected stockists (UK): Amazon*, Wise Bartender*
Selected stockists (Australia): Craft Zero