"Holy Faith" from Leeds' Northern Monk brewery is a 0.5% hazy pale ale. Get tasting notes and info on stockists, carbs, calories, sugar and calories in this review.
Northern Monk is the only brewery that produces non-alcoholic beer I've managed to visit.
This was on a trip to Leeds in 2017, which mostly revolved around pubs and beer – and a little culture.
These were the days before I'd discovered the joys and convenience of non-alcoholic beer.
One abiding memory of my stop at the Old Flax Store bar, situated above the brewery, was my surprise at enjoying a 3% ABV (alcohol by volume) beer. Back then, I was yet to find any good beers under 3.6%.
How times change!
Despite its status as a Yorkshire institution, Northern Monk started up as recently as 2013.
It's now spread over two brewery sites, exporting beer around the UK and to countless places overseas. It's placed in the world's top 100 breweries by Rate Beer.
The brewery focuses mainly on full-strength brews, producing hundreds of different beers over the years.
It delved into the non-alcoholic beer space with a limited run of a beer called "Super Stredge" (0.5%), which was an ultra-low-alcohol version of its 2.8% IPA, "Striding Edge".
This "Holy Faith" (0.5%) beer is described on the brewery website as a limited edition beer, but it's now available in major supermarkets as well as independents. So my guess is that it will be around for a while.
Holy Faith is in the style of a hazy pale ale, based on the brewery's 5.4% "Faith" beer.
Ingredients and how it's made
With a low original gravity, it's likely this beer is brewed to be ultra low in alcohol from the off, rather than having the alcohol removed after fermentation.
The ingredients feature oats and maltodextrin alongside barley malt, hops and yeast.
The hops in this one are El Dorado and Citra Cyro. (Cyro hops are hops in pellet form that have been processed and packaged to include more of the bits that create desirable aromas and flavours.)
Holy Faith is suitable for vegans but isn't gluten reduced.
Calories, carbs and sugar
Disappointingly, there's no info on the packaging about the calorie, carbohydrate or sugar content of Holy Faith.
So it's worth bearing in mind that NA pale ales sometimes have a tendency to be high in sugar.
Flavours, appearance and mouthfeel
Holy Faith pours the shade of pineapple juice. It's opaque and generates a ring of bubbles rather than a substantial head.
There are few signs of life once the initial pour calms.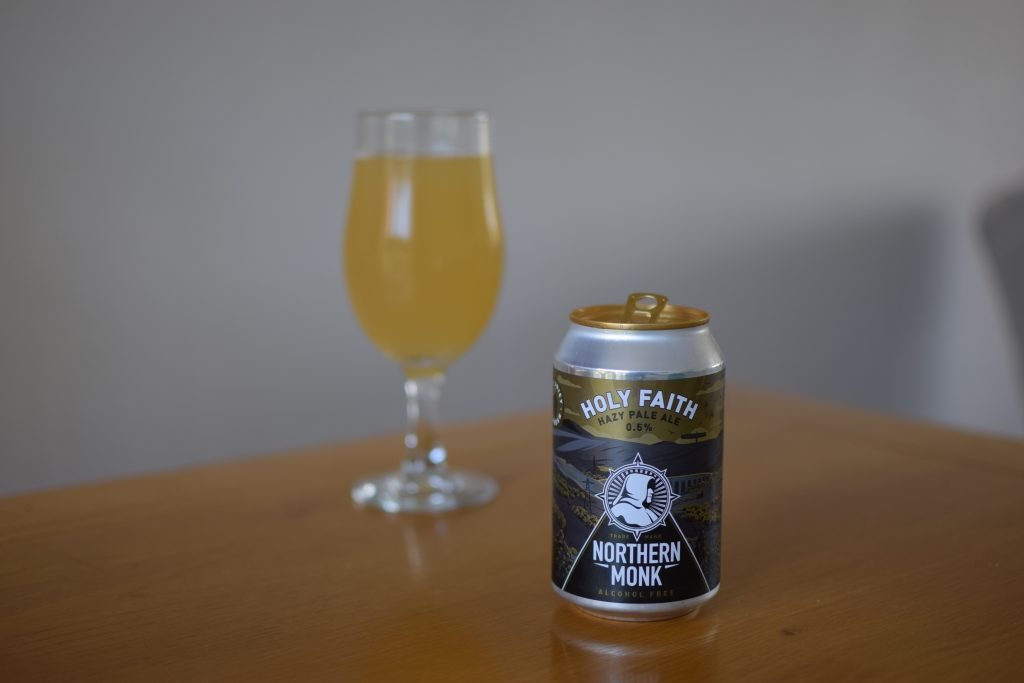 Those hops feature heavily in the aroma with only the slightest hint of lightly roasted barley making way for floral orange and lemon plus pineapple, grapefruit, oak and pine.
The mouthfeel has an odd quality. It's filmy and a little thin. And while it's not flat, it's very lightly carbonated.
The finish is dry.
Hops are the big feature in the flavours on tasting too. Again, the lightest of light malts provides a base. Again, it's floral and woody hop qualities (think perfume and pine) that provide the main flavours.
The bitterness is high and lingers into the next sip.
Verdict
Holy Faith is a pretty average NA beer, which makes it one of the better choices in the supermarket.
There are some OK flavours in the aroma and taste. But it's bit one dimensional with the hops providing too much of the flavour.
Key info – Northern Monk Holy Faith
Name: Holy Faith
Brewery: Northern Monk
Style: hazy pale ale
Alcohol content: 0.5%
Calories: unknown
Carbohydrates: unknown
Sugar: unknown
Ingredients: water, barley, oats, maltodextrin, yeast, hops
Country: UK
Dispense: can (330ml)
Selected stockists (UK): Wise Bartender* plus some supermarkets