"Dodgeball" is an ultra-low-alc India pale ale from dutch brewer Oersoep. In this review, get tasting notes, plus info on carbs, sugar, calories and stockists.
It sometimes seems the thing that defines craft brewing is modern methods and ingredients.
Not so with the Netherlands' Oersoep brewery. While this Nijmegen-based producer certainly has many of the facets you'd expect from a craft brewery – think small batches, modern hops, funky labelling designed by local artists – it also draws on traditional methods to make many of its beers.
This is reflected in the brewery's name, which is translated as "primordial soup" – the set of conditions present on the earth billions of years ago that supposedly led to the origin of life. Deep stuff.
In particular, Oersoep claims to be the only brewery in the Netherlands producing beer using spontaneous fermentation – essentially allowing wild yeasts to ferment the wort, rather than pitching it manually. It also produces barrel-aged beers, maturing them in wooden barrels for up to three years.
The brewery's first non-alcoholic beer, "Dodgeball" (0.3%) isn't made in this way, but it does use traditional methods thanks to a low-alcohol yeast. This means its brewed to be naturally low in alcohol, rather than having the alcohol removed after fermentation.
Dodgeball is an IPA-style beer. It sits in the brewery's core range alongside a 6% IPA, 7% Blond, 5% saison and 8.5% Tripel.
Ingredients
Dodgeball's ingredients are simple and traditional – water, yeast, barley malt and hops.
The malt is Maris Otter, a staple in many classic UK ales. The hop varieties are Cascade, Mosaic and Citra.
Dodgeball isn't gluten reduced or gluten free. And the labelling doesn't indicate that the methods used to produce it are suitable for vegans.
Calorie, carbs and sugar
Dodgeball is low in calories, with 16 per 100ml.
It's higher in carbohydrates and sugar with 3.7g per 100ml, of which 3.6g is sugar.
Flavours, appearance and mouthfeel
Dodgeball pours cloudy amber. It quickly settles and there's little in the way of a head.
The aroma isn't surprising for an ultra-low-alcohol IPA-style beer. There's pine, grapefruit, lemon and sherbet with the lightest of light malt. The distinctive grapefruit aroma from the low-alcohol yeast overwhelms the other flavours slightly.
It's no surprise the carbonation is light. The body is sticky and on the lighter side of medium.
As with the aroma, fruits feature heavily in the taste although there's slightly less variety.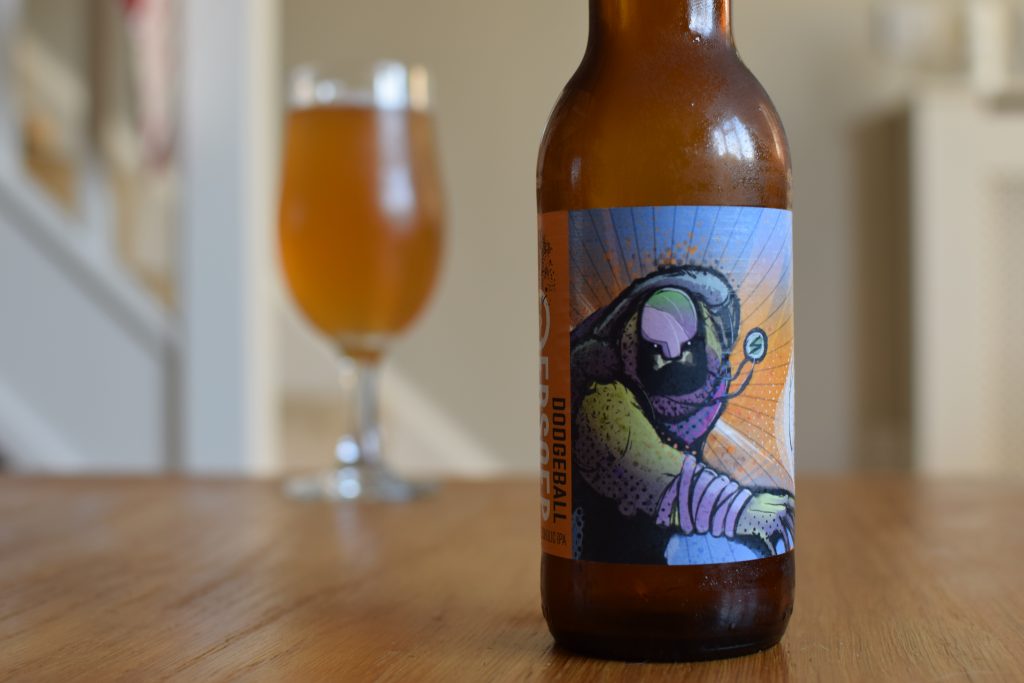 Again, there's a foundation of pale malt. Lemon and grapefruit make up the other flavours.
The bitterness is low, with the grapefruit providing a little sourness to the finish, which is dry despite the stickiness in the mouthfeel.
Verdict
Good, but not exceptional, Oersoep's Dodgeball is worth adding to your shopping basket if you see it.
The flavours will be familiar if you drink a lot of IPAs made with low-alcohol yeast. A little more maltiness would be welcome.
Key info – Oersoep Dodgeball
Name: Dodgeball
Brewery: Oersoep
Style: IPA
Alcohol content: 0.3%
Calories: 53 (per 330ml bottle)
Carbohydrates: 12g (per 330ml bottle)
Sugar: 11.5g (per 330ml bottle)
Ingredients: water, barley, yeast, hops
Country: Netherlands
Dispense: bottle (330ml)
Selected stockists (UK): Unknown