Shipyard "Low Tide" is a 0.5% American pale ale style beer. Get tasting notes, plus info on stockists, ingredients, calories, carbs and sugar in this review.
Small batch brews, funky branding, big on hops, quality over quantity… in the UK, everyone has their own definition of what makes a craft brewery.
In the US, the definition is clear – a craft brewery is small with no more than 25% of it owned by a non-craft brewery.
But how small is small? Well, small in this context is a brewery that produces less than 6 million barrels a year (around 205 million pints). Not that small then.
This means that Maine's Shipyard Brewery easily meets the craft criteria, producing around 100,000 barrels of a beer a year – 5.9 million barrels short of the cut off point.
The brewery was founded in 1992 as part of a brewpub. It expanded and took on the Shipyard name in 1994.
Originally supplying the local area, its beers are now available across much of the USA. They're also available in the UK, where the Marston's brewery group has produced them under licence in the Midlands since 2013.
The link between Marston's and Shipyard goes back to the early 80s. One of the founders of Shipyard, Alan Pugsley, learnt to brew commercially at the Ringwood Brewery in Hampshire, which Marston's took over in 2007.
When Alan left Ringwood to go to the USA in 1986, he took with him not only the brewing know-how he had developed but also the brewery's distinctive yeast strain.
The result was that Alan played a big part in kick-starting the fledgling craft beer movement in the US, helping set up dozens of breweries using the Ringwood set-up before becoming a partner in the Shipyard Brewery.
Introducing Shipyard Low Tide
Shipyard's new 0.5% beer "Low Tide" is currently a UK-only brew.
Naturally, it's a hop-forward American-style pale ale, which also includes wheat and lactose (milk sugar) in its ingredients.
There's 85 calories a bottle with 15.9g of carbs and 13.9g of sugar – a little higher than average for a typical alcohol-free beer.
There's no info around on how it's made but the inclusion of wheat and lactose indicates it's fermented to produce naturally low levels of alcohol (rather than removing the alcohol from a full-strength brew).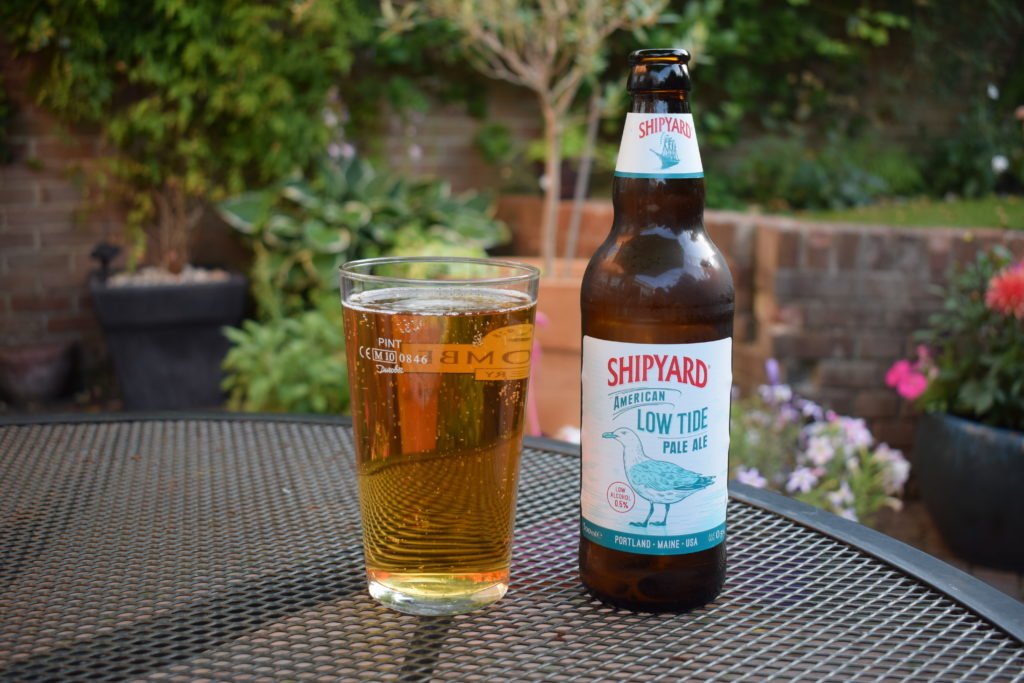 Flavours, appearance and mouthfeel
"Low Tide" pours bright and clear amber, with a poor excuse for a head making it look a little flat.
The aroma isn't helped by the low carbonation and it takes a few swirls in the glass to tempt it to your nostrils. It's led by a tropical fruitiness – passionfruit if I had to stake my house on it – and backed up by caramelised malts and burnt orange.
Despite the wheat and lactose, there's still a lack of body in this beer and only a tickle of carbonation making it feel watery. A slight stickiness combines well with the fruity flavours.
The grains start and end the taste, with a caramel maltiness on sipping and in the finish with a touch of tropical fruitiness in-between.
There's a wee bit of bitterness at the end, which combines well with the caramel and fruits. So it's ideal for those who like their bitterness low to non existent.
Verdict
Shipyard Low Tide is a respectable non-alcoholic pale ale that will please most palates. But it's missing a few characteristics that the best NA beers enjoy, namely a medium body and complex aroma and flavour.
Still, it should be pretty easy to get hold of, especially if you shop in Morrisons. So don't give it a miss if you do see it.
Key info – Shipyard Low Tide