"Sportzot" by Bruges' De Halve Maan brewery is a non-alcoholic Belgian blonde beer. Get tasting notes, plus info on stockists, and calorie, carb and sugar content, in this review.
As an outsider looking in, it feels to me like Belgium has a healthy relationship with beer, despite the majority of its brews clocking in on the higher end of the ABV spectrum.
I've visited the country a few times, but I never saw anyone visibly drunk.
I even managed to absorb myself into the drinking culture by making 30cl glasses of 8% ale last me an hour or so – unheard of back home.
Low-alcohol table beer was even available in Belgian schools until the 1960s, and a short-lived program in the early 2000s attempted to resurrect this tradition (the idea being that low-alcohol beer is healthier than sugary soft drinks).
The idea didn't stick, but kids only have to wait until they're 16 to buy beer anyway.
Despite a healthy and patient attitude to drinking, Belgians do still manage to down a fair bit, coming in as mid-tablers in the European alcohol consumption leagues.
Like their European neighbours, they're also becoming more health conscious. After all, it's a challenge to get to the gym if you've been sipping on a couple of Trappist beers with your moules-frites lunch.
This is why Belgian breweries are finally catching up with their counterparts in Germany, Spain and the UK and producing non-alcoholic beers like "Sportzot", a 0.4% beer from Bruges' De Halve Maan brewery.
In various guises, De Halve Maan have been brewing beer in Bruges for more than 500 years.
As well as being famous for its beers – including the flagship "Brugse Zot" blonde beer – the brewery is known for having a two-mile pipeline that carries its beers through the city to the bottling plant.
Ingredients and how it's made
De Halve Maan launched Sportzot in 2009. It features four varieties of malt and two types of hops. As well as water and yeast, there's also added sugar.
It's brewed as a standard alcoholic Brugse Zot beer, with the alcohol filtered out.
The label says it's bottle conditioned, which is novel for a non-alcoholic beer. Maybe the brewery adds a little sugar and yeast in the bottle to carbonate it and create the 0.4% alcohol? I don't know.
Calories, carbs and sugar
High in calories and carbs, Sportzot certainly makes a good sports recovery drink. But the calories and carb count might alarm you if you're used to low carb and calorie non-alcoholic beers.
There's 135 calories and 28g carbohydrates in a 330ml bottle. It's pretty low in sugar considering the high carb count – there's less than 3g per bottle.
Flavour, appearance and mouthfeel
Sportzot pours hazy with a rusty orange colour, plus lots of foam and lacing.
The aroma is entwined with the smells that ooze from the nooks and crannies of a typical Belgian bar. Initially sour, there's lots going on – ripe banana, green herbs, liquorice, wheat, light malt, sherbet lemon – and, bizarrely, ethanol.
The mouthfeel is a little thin, and lacks tack. It would feel soft, but the bubbles are pretty tight and harsh.
On tasting, there's a sweet, fruity smack followed by many of those flavours from the aroma leading to a taste that's full of variety if a little unbalanced.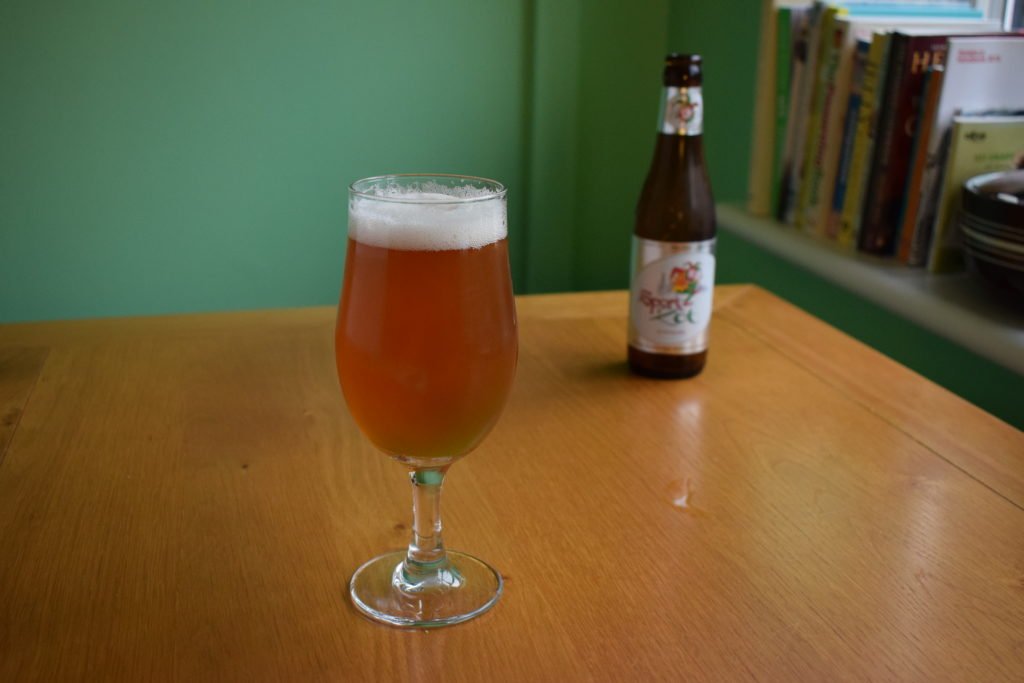 A musty, funky straw and wheat flavour is prominent with lager malt and liquorice. The sweetness hangs around in the background, followed by a sour finish.
Verdict
There's no doubt Sportzot has bagfuls of character and flavour. It's just how those flavours meld that could be a problem for some palates.
I enjoyed the variety, but I don't think I'd be able to sink too many of these in one session. Still, it made for a decent sipper. And if you're after a taste of Belgium without the alcohol, it's perfect.
Key info – De Halve Maan Sportzot
Name: Sportzot
Brewery: De Halve Maan
Style: Belgian blonde
Alcohol content: 0.4%
Calories: 135 (per 330ml)
Carbohydrates: 28g (per 330ml)
Sugar: 3g (per 330ml)
Ingredients: water, malted barley, yeast, hops, sugar
Country: Belgium
Dispense: bottle (330ml)
Selected stockists (UK): Wise Bartender*, Booze Free