"Pale Ale" is a 0.5% beer from Aussie brewery, Upflow. Get tasting notes and info on calories, carbs and ingredients and where to buy in this review.
Alcoholic drinks like beer and wine have been produced commercially in Australia since the 1820s.
But it wasn't until the 70s that alcohol consumption peaked. Since then, consumption of alcohol in Australia has gradually fallen, despite a brief increase in the 2000s.
And it's the brewing industry that's taken the brunt with the average Aussie drinking 67% less alcoholic beer in 2018 compared to 1974. This is all while wine has increased in popularity.
The upshot to the declining demand for alcoholic beer is a burgeoning non-alcoholic beer industry. In 2018, Melbourne-based Carlton launched its "Zero" beer.
But it's not just brewing behemoths (Carlton is owned by the Asahi group) tapping into Aussie thirst for NA beer – smaller, specialist producers have popped too.
These include another Melbourne-based brewery, Upflow Brewing, which sells its beers in the UK as well as its home country.
This "Pale Ale" is one of several NA beers Upflow produces, and one of two currently available in the UK.
Ingredients and brewing process
Upflow brews an ultra-low alcohol beer from the off, using only water, malt, yeast and hops.
The barley malt in its pale is the Munich variety, while the hops are Saaz and Hallertau, so-called "noble hops" and common in Belgian-style ales and lagers.
No alcohol is removed following brewing.
Calories, carbs and sugar
There's no info on the packaging about calorie, carbohydrate and sugar content.
Flavours, appearance and mouthfeel
Pale Ale pours a hazy, rich amber, with a small head that settles quickly to leave a few little islands of bubbles on top. There's a lot of fizz initially, but a lack of activity once the initially burst of activity calms.
The aroma consists of lightly roasted malts backed by peach and apricot and a dash of sagey grassiness.
The body is full, though it looks quite thin. The carbonation produces some tiny bubbles, but these are smooth and gentle.
It clings lightly to your throat as you sip, without any sickly stickiness.
The light barley malts lead the flavours on tasting, creating a wispy, pleasant wheat-like base for those noble hop flavours, this time with the peach and apricot elbowing out the grass and herbs.
The bitterness is low, only coming through after several sips. The malts also feature in the aftertaste.
Verdict
Technically a pale ale, this reminded me more of a German or Czech pilsner-style beer with those Saaz and Hallertau hops adding lots of European character.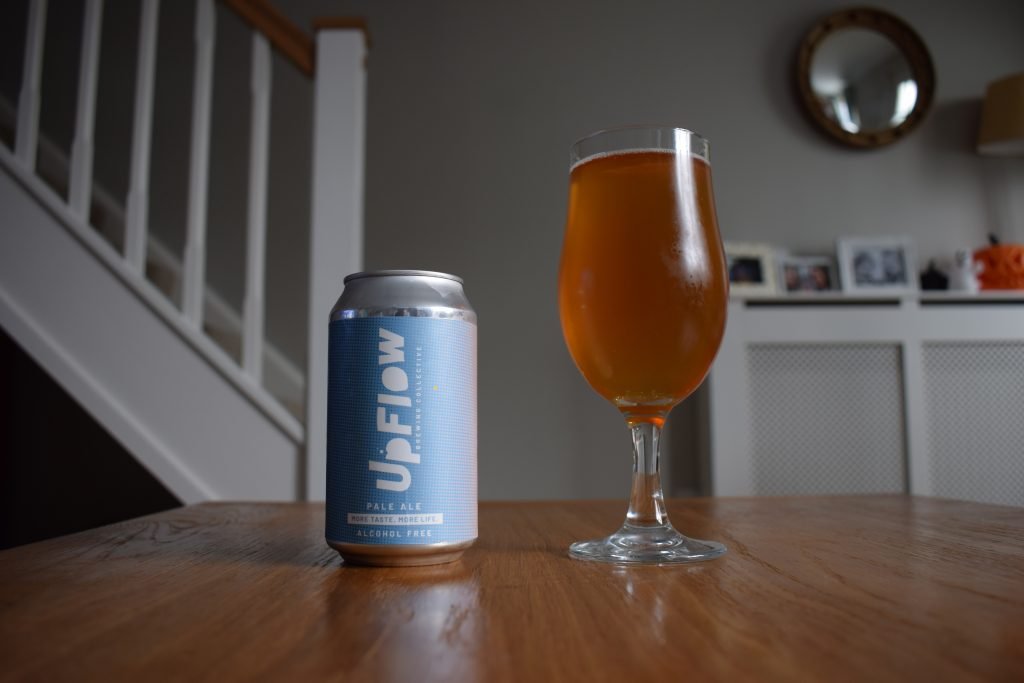 A pretty good drop.
Key info – Upflow Pale Ale
Name: Pale Ale
Brewery: Upflow
Style: pale ale
Alcohol content: 0.5%
Calories: unknown
Carbohydrates: unknown
Sugar: unknown
Ingredients: barley malt, yeast, hops, water
Country: Australia
Dispense: can (355ml)
Selected stockists (UK): Wise Bartender*, Upflow
Selected stockists (Australia): Beer Cartel, Upflow, Craft Zero