"Solo" is a low-alcohol (0.5%) pale ale from West Berkshire Brewery. Get tasting notes plus info on stockists, calories, carbs, sugar and ingredients, in this review.
Finally, a brewery that's local to me is producing non-alcoholic beer.
OK, West Berkshire Brewery (WBB) is an hour's drive so it's not that local. But it's a start.
Before I cut down on my alcohol intake a couple of years ago, I was on bit of a mission to sample ales from as many local breweries as possible at beer festivals, pubs and the like.
So I was a bit surprised to have not heard of WBB before. Is it new?
Nope, far from it. WBB has been around since 1995. That is well before the UK's microbrewery boom, which started when the Government cut beer duty for smaller producers in the early 2000s and accelerated with the growth of craft beer in the late 2000s and early 2010s.
Now, after several expansions and buy outs, WBB is a more than a microbrewery, with a tap room and kitchen on site, and a stake in four pubs dotted around the south east of the UK.
Its non-alcoholic beers – two pale ales and a pilsner – don't seem to be one offs either with this "Solo" NA pale ale featuring in its core beers alongside cask ales and keg beers.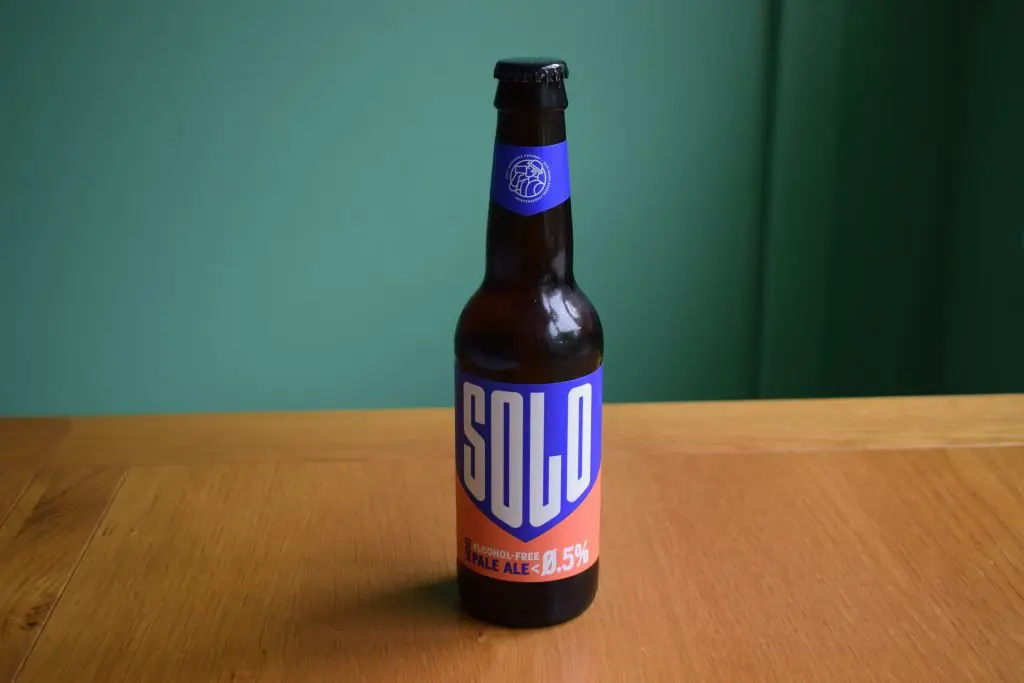 WBB launched Solo Pale Ale earlier this year. It's available in bottles and cans. You might also be lucky enough to find it on draught once the pubs and bars re-open.
Ingredients
There's no nasties in Solo Pale Ale. Along with water, the ingredients are malted barley, wheat, hops and yeast.
I couldn't find any info on how it's made, but I'd wager it's brewed as a low-alcohol beer from the off rather than having the alcohol removed post fermentation.
Calories, carbs and sugar
The calorie count and sugar in non-alcoholic beers varies, with some bottles of NA beer containing more than half the recommended daily amount of sugar.
Disappointingly, there's no info on calories, carbs or sugar on the labelling or on the WBB website.
Flavour, appearance and mouthfeel
Solo Pale Ale is lively out of the bottle, so don't open it next to your favourite piece of upholstery.
It pours clear amber with a large head of foam that still leaves a huge wedge of fluff when it calms down.
The aroma is sweet, led by tropical fruits – pineapple, mango, passionfruit – and a touch of pine. A little toffee and caramel maltiness slides into the aroma too.
The bubbles in the carbonation are much tighter and harsher than the fluffy head suggests, but a soft mouthfeel takes the sting out of it.
It's maybe a little on the thinner side of a having a medium body, with a dry mouthfeel that oddly works well with those fruits in the aroma.
There's more malts in the taste, again with caramel and toffee easing into fruity esters and hop flavours. Passionfruit in the dominant fruit flavour.
The bitterness is high but now overpowering when melded with all those other flavours.
The finish is dry.
Verdict
Solo Pale Ale is a fine, well-balanced NA beer. The aroma is outstanding, and it's backed up by a solid flavour and a good mouthfeel.
It looks like I've found myself a good local (ish) non-alcoholic beer.
Key info – WBB Solo Pale Ale
Name: Solo Pale Ale
Brewery: WBB
Style: pale ale
Alcohol content: 0.5%
Calories: unknown
Carbohydrates: unknown
Sugar: unknown
Ingredients: barley malt, wheat, water, yeast, hops
Country: UK
Dispense: bottle (330ml)
Selected stockists (UK): Amazon*, Wise Bartender* West Berkshire Brewery
Selected stockists (Australia): Craft Zero