Tempest "Drop Kick 0.5%" is an ultra-low-alcohol sour pale ale. Get tasting notes and info on stockists and ingredients in this short review.
I've always thought it was the introduction of progressive beer duty in 2002 – giving small breweries tax breaks – that kicked off the craft beer revolution in the UK.
Yet when you start looking into the background of many UK craft brewers, it was trips to north America, with its more mature craft beer scene, that encouraged many new brewers to produce more than just best bitters and low-ABV stouts.
This is also a theme in Europe, where many countries also use progressive beer duty. Take Kehrwieder brewery's Olli Wesseloh as an example. Despite hailing from Germany, a country famous for the quality of its beer, it was Olli's experiences in the US that led him to return home to set up a craft brewery.
Back in the UK, Tempest Brewing Co is another craft brewery that has roots in north America, this time Canada. Founders Gavin and Annika Meiklejohn first met while working in a brewpub at the Whistler ski resort in British Columbia and it was the standard of the beers that inspired Gavin to start brewing.
After a brief stop in Annika' homeland of New Zealand, Gavin and Annika returned to the UK in the late 2000s and founded Tempest Brewing Co in 2010 in Scotland.
Drop Kick 0.5%
Alongside its core range of more than 10 beers, the brewery has created scores of limited edition and seasonal beers over the years.
One of its seasonal brews is "Drop Kick 0.5%", an ultra-low-alcohol version of its 5.2% "Drop Kick Me Jesus" sour pale ale.
Drop Kick 0.5% ingredients
Drop Kick 0.5% is a pale ale so the ingredients are water, yeast, grain and hops.
The hops varieties are Mosaic and Citra, which are both known for their tropical aromas and flavours.
The grain bill includes Golden Promise malt and wheat. There's also some dextrin malt, which improves head retention and gives the beer a heavier mouthfeel – characteristics that are often found wanting in non-alcoholic beer.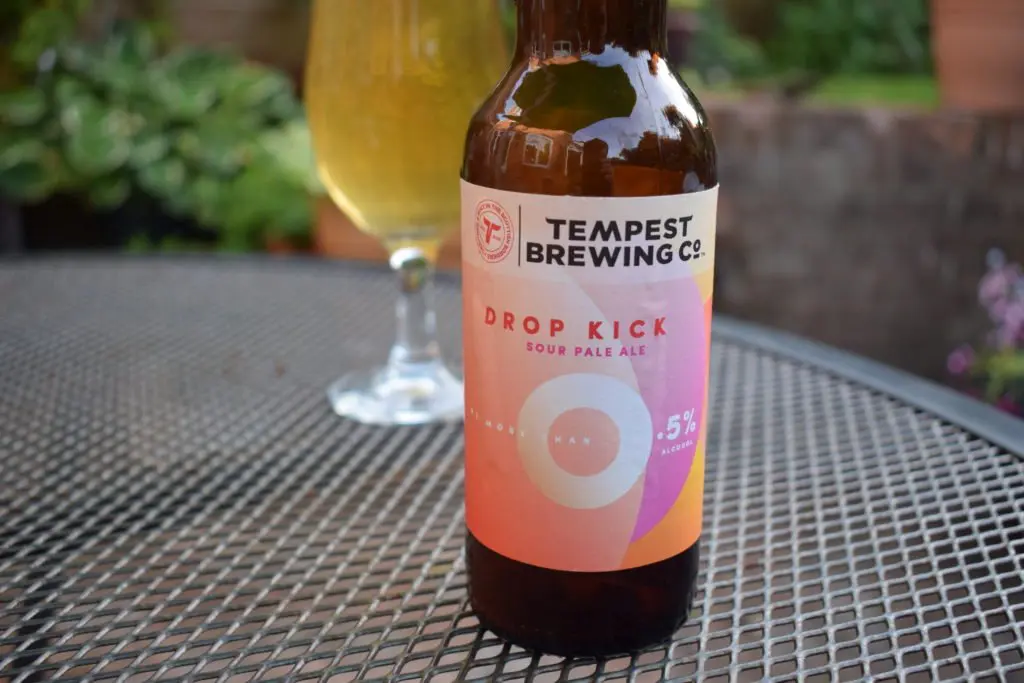 Drop Kick 0.5% is a kettle sour, which means souring takes place over a few days in the brewer's kettle before the wort is boiled and fermented into beer.
Microbes like Lactobacillus, Brettanomyces, and Pediococcus aren't listed on the ingredients so it's likely the brewers intentionally "contaminate" the beer to introduce souring bacteria, for example by dipping a bag malt in the beer.
Flavours, mouthfeel and appearance
Drop Kick 0.5% pours a clear straw-colour.
It's highly carbonated on opening, so produces a big head if you don't angle the glass correctly on pouring. It soon settles though, leaving a double slither of foam showing that the dextrin and wheat is doing its job on the head retention front.
The aroma is complex and varied. At first, it reminded me of an elderflower cordial with a sweet floral whiff mixed in with snatches of white vinegar.
This is backed by tropical fruit – lychee and grapefruit mainly. Plus a constant hit of yeasty light malts that on its own might be what you'd expect in a traditional bitter.
Although the body is light, the mouthfeel has a surprising soft and creamy with just the bubbles feeling jagged as it slips down.
The flavour is initially fruity, with the mouth-watering acidity only unleashing itself towards the end of each sip. The fruit flavours still have a tropical theme but this time it was mango and pineapple I detected on my tastebuds. This along with the same pale malt flavours from the aroma.
The finish is try and tacky, so you naturally feel like sipping some more. There's little bitterness. But it's not needed here.
Verdict
Drop Kick 0.5% is a fine sour beer with varied and interesting flavours on the nose and in the mouth and an unusual but effective mouthfeel. I especially enjoyed the strong pale malt flavours, which you don't find enough in NA and AF beers.
However, with its high acidity, I don't think this one's suitable as a session beer unless you can alternate it with something a bit less intense. So savour each sip.
Key info – Tempest Drop Kick 0.5%
Name: Drop Kick 0.5%
Brewery: Tempest Brewing Co
Style: sour beer
Alcohol content: 0.5%
Calories: unknown
Carbohydrates: unknown
Sugar: unknown
Ingredients: water, hops, barley malt, wheat, yeast
Country: UK
Dispense: bottle (330ml)
Stockists (UK): Wise Bartender*, Tempest Brewing Co