"0.0" is the non-alcoholic version of Hoegaarden's famous wheat beer. Get tasting notes and info on ingredients, calories, carbs, sugar and stockists, in this review.
Back in my student days, Hoegaarden was our group's go-to beer when we wanted to "posh it up" – in other words, treat ourselves to something other than standard mass-produced lager.
Served with a slice of lemon in a hexagonal glass, this white beer made with coriander and orange peel felt to me like the ultimate in beer sophistication. And compared to usual tipple (Foster's, Carling), this was probably true.
The original recipe for Hoegaarden was conceived in the middle ages and there were soon more than 30 breweries in the village after which the beer takes its name.
Yet by the 1950s, all the breweries had closed. Then Pierre Celis, a local man who had helped out at one of the last breweries to shut its doors, set up a small brewery in Hoegaarden producing beers to the traditional recipe.
A fire in the 1980s led to Celis taking a loan from Interbrew, which is now part of beer behemoth AB-Inbev, owners of brands such as Budweiser, Beck's, Corona and Leffe.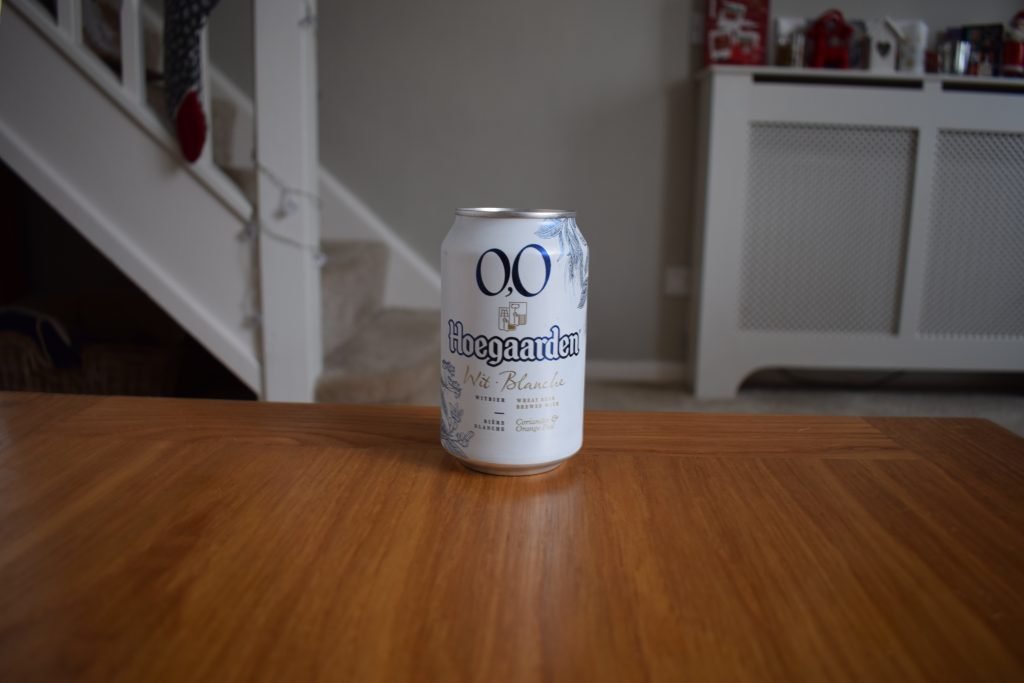 Celis left the brewery in the late 80s. So by the time I was drinking it in the early 2000s, his influence on the production had all but disappeared.
AB-Inbev launched this non-alcoholic 0% version of Hoegaarden in 2019, distributing it in countries including the UK, India and the USA.
Ingredients
The ingredients list for Hoegaarden 0.0 is a long one.
There's water, barley malt, wheat, hops, coriander seeds and orange peel as expected.
It also contains sugar, flavouring, citric acid and apple extract.
The flavouring, citric acid and apple extract don't seem to feature in the full-strength version.
Calories, carbs and sugar
There's 27 calories per 100ml in Hoegaarden 0.0.
It's high in carbs and sugar with 7.4g of carbs per 100ml, of which 3.7g is sugar.
Flavours, appearance and mouthfeel
Like its alcohol-containing sibling, Hoegaarden 0.0 pours an opaque straw-colour. It starts with an impressive white head, but soon reduces to a ring of foam with the odd speck on top.
Light malts lead with the aroma, followed by an overly sweet and random mix orange peel, banana, apple, and grassy hops with a backing of coriander.
It's very lightly carbonated and has lost almost all its fizz by the time it settles in your glass. The medium body's good enough but it has a syrupy texture that leaves an unwanted film in your mouth after each sip.
The sweet theme continues on tasting, with a sickly bubblegum-banana flavour overpowering any malts, which is definitely needed here for balance.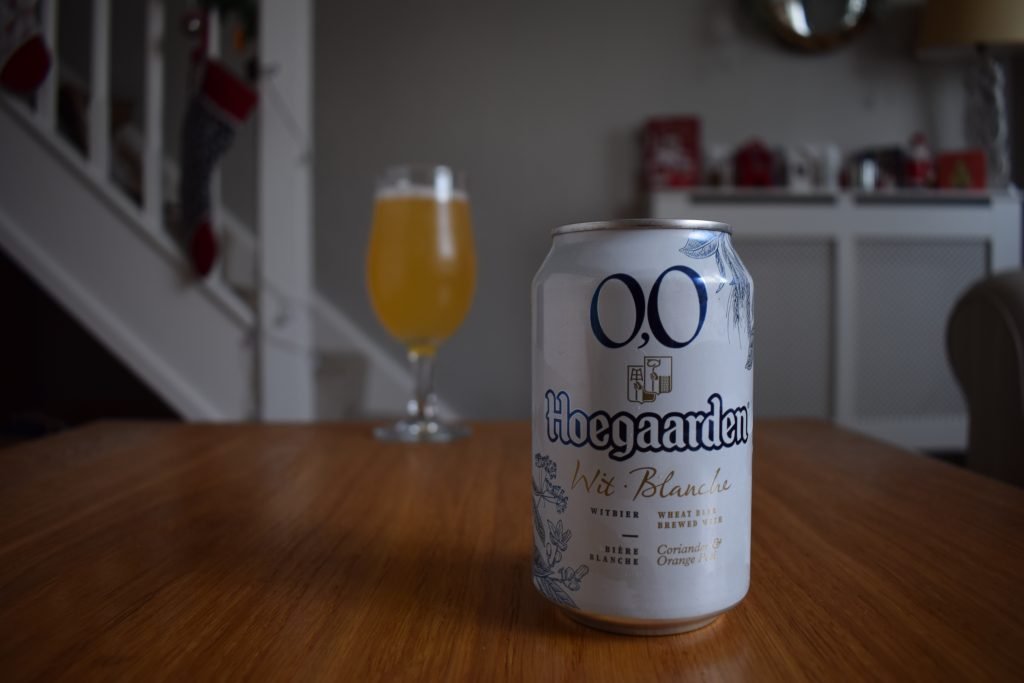 There's little sign of the more intense lemon, orange and other citrusy flavours found in the original Hoegaarden
The bitterness is low, giving the sweet flavours more welly.
Verdict
The original Hoegaarden may be a classic but this 0.0 version won't be. Sweet and sickly, I could only just about manage my 330ml serving.
A better choice if you're after a spice and citrus infused wheat NA beer is Lowlander's "Wit".
Key info – Hoegaarden 0.0
Name: 0.0
Brewery: Hoegaarden
Style: wheat beer
Alcohol content: 0%
Calories: 90 (per 330ml can)
Carbohydrates: 24g (per 330ml can)
Sugar: 12g (per 330ml bottle)
Ingredients: water, barley malt, wheat, sugar, flavours, citric acid, coriander seeds, hops, orange peel, apple extract
Country: Belgium
Dispense: can (330ml)
Selected stockists (UK): Selected supermarkets