"Are Wheat There Yet" is a low-alcohol American wheat beer from Lowtide Brewing Co. In this review, get tasting notes and info on stockists and ingredients.
Specialist low/no producer Lowtide Brewing isn't shy when it comes to tackling diverse beer styles.
Its past efforts have included a double India pale ale (DIPA), a honeycomb and chocolate stout, a gose and a Belgian brune – as well less adventurous styles like pilsners and pale ales.
The Lowtide beer I'm reviewing today – named 'Are Wheat There Yet?" – is a 0.5% American wheat beer.
The recent popularity of non-alcoholic beer is due in part to German wheat beers from the likes of Erdinger and Paulaner. But American wheat beers, popularised during the US craft beer boom, have some differences from their German relations.
The main difference is they don't tend to showcase any of the yeast flavours found in German wheat beers, such as clove, nutmeg and banana. Instead, they rely more on the grains – barley and up to 50% wheat malt – and hops for flavour.
They also tend to be produced in, well, the US. But that's obviously not the case with Bath-based Lowtide's beers.
Ingredients
As well as water, barley, wheat, hops and yeast, Are Wheat There Yet? includes oats – and perhaps surprisingly for an American wheat beer – coriander and orange peel.
Calories, carbs and sugar
There's no info on calories, carbohydrates and sugar on the label.
Frustrating if you're watching your intake.
Flavours, appearance and mouthfeel
Are Wheat There Yet? pours a straw colour with a slight haze. It develops a fluffy and modest head of foam.
The gentle aroma showcases roasted barley, bubblegum, bread dough and some floral hoppiness. lemon, toffee and orange aromas also push through after a few sniffs. But I didn't detect coriander.
The body is smooth and on the lighter side of medium with a touch of carbonation producing small, aggressive bubbles.
Flavours on tasting are backed by a floury, doughy character, with toffee, pilsner malt, bubblegum, floral hops, lemon, orange and a sprinkling of coriander seed.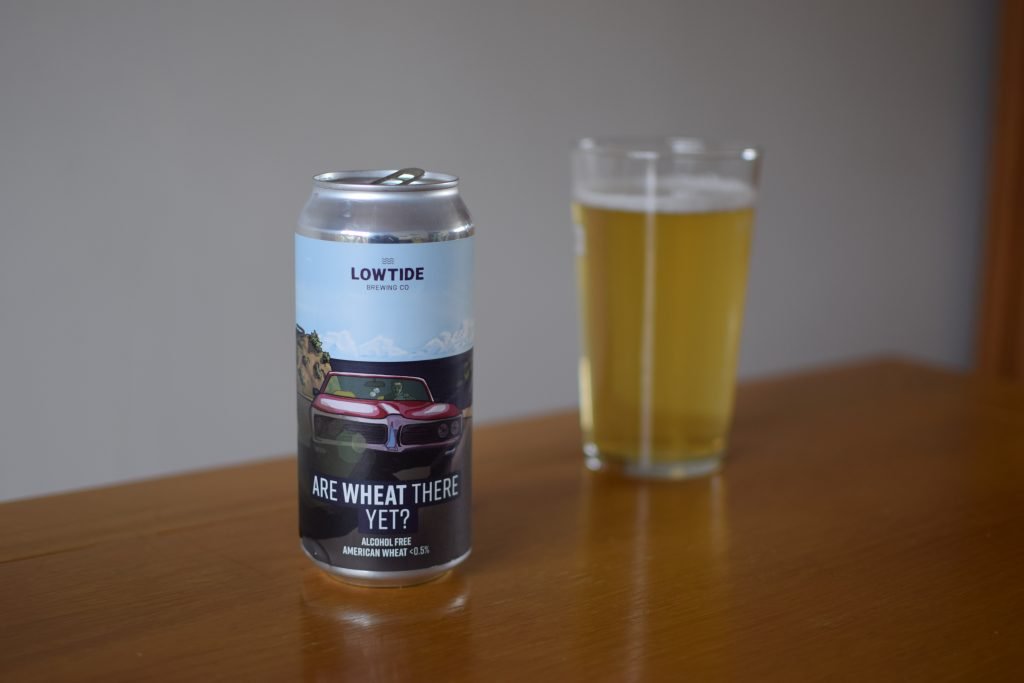 The bitterness is high, helping to take the edge from the sweeter flavours such as the bubblegum and citrus.
Verdict
Despite the addition of coriander and orange peel deviating it from a true American wheat beer, Are We There Yet is a fine drink.
Easy to consume, there are loads of great flavours and a pleasant mouthfeel.
Key info – Lowtide Are Wheat There Yet?
Name: Are Wheat There Yet?
Brewery: Lowtide Brewing Co
Style: American wheat beer
Alcohol content: 0.5%
Calories: unknown
Carbohydrates: unknown
Sugar: unknown
Ingredients: water, barley, wheat, oats, orange peel, coriander, hops, yeast
Country: UK
Dispense: can (440ml)
Selected stockists (UK): Wise Bartender*