Bitburger Drive is a varied and complex alcohol-free lager based on the brewery's full-strength pilsner. Read this review to get tasting notes plus info on calories, carbs, sugar and alcohol content.
In the 1950s, German brewery Bitburger sold its beer with the slogan "abends Bit, morgens fit", which loosely translates as, "Bit in the evening, fit in the morning".
Unsurprisingly, this messaging fell out of favour down the years. along with other questionable advertising slogans like "Guinness is good for you".
But it maybe should have made a comeback when Bitburger released its alcohol-free beer in 2007. Now, a "Bit" in the evening really does mean you're fit in the morning. Well, less unfit than you would be after a few alcoholic drinks.
Not that Bitburger needs to use clever slogans to market itself these days. Over the years, it has sponsored a championship-winning Formula 1 team and the German Football Association. Now, it's one of the biggest selling beer brands in Germany and available in more than 70 countries. And it's still family owned.
Is Bitburger Drive really alcohol-free?
The brewery's alcohol-free beer is known as "Drive" in English-speaking countries. It's made by brewing a full-strength pilsner lager then carefully removing the alcohol once the beer has matured.
So Bitburger Drive really is alcohol-free – officially 0.05% ABV as it's difficult to remove all traces of alcohol from any food or drink product.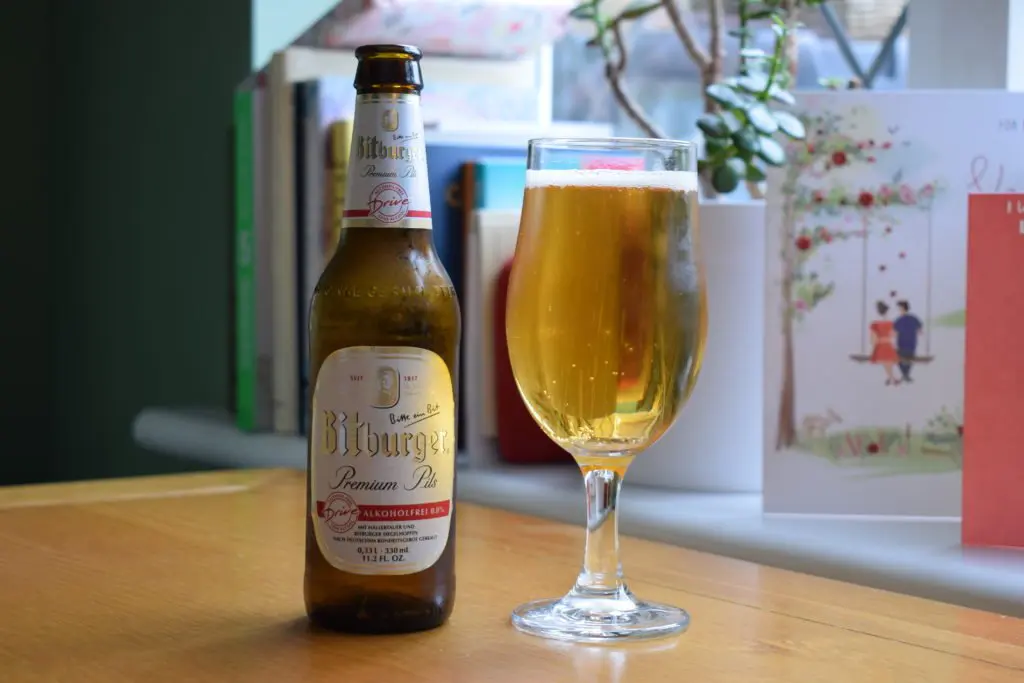 Ingredients, calories, sugar and carbs
The ingredients are mostly locally sourced with hops and barley from around the brewery's home city, Bitburg complemented by Hallertau hops from Bavaria. The brewery malts the barley in its own malthouse.
The calorie count isn't as low as some light alcohol-free beer but there's still only 73 calories in a 330ml bottle. There's no sugar in the carb count of 16.8g per 330ml.
Appearance, mouthfeel and aroma
Bitburger Drive pours amber and clear. The fizz produces a thin white head that lasts throughout.
On the nose, it's dominated by a clean light malt aroma as you'd expect, with the Hallertau hops imparting a floral smell.
It's also slightly sour and fruity, reminiscent of over-ripened grains. This combines nicely with the maltiness to provide a varied aroma missing in similar alcohol-free pilsners.
The body of Bitburger Drive is medium, with light carbonation that feels tingly rather than gassy. It's a dry beer in the mouth, which leaves you wanting further sips.
The clean and crisp maltiness from the aroma is also present in the taste, which is backed by a light bitterness. That fruity sourness from the aroma pops into the flavour after a few mouthfuls, which again combines well with the other flavours.
Verdict
Although lager isn't usually my drink of choice, I really enjoyed Bitburger Drive. The aroma and taste are interesting and varied and it has a good body that isn't too gassy.
Importantly, there's none of the soapiness and wortiness that characterises so many alcohol-free pilsners.
Key info about Bitburger "Drive"
Name: Drive
Brewery: Bitburger
Style: pilsner
Alcohol content: 0%
Calories: 73 (per 330ml)
Carbohydrates: 16.8g (per 330ml)
Sugar: 0g (per 330ml)
Ingredients: water, hops, yeast, hop extract, barley malt
Country: Germany
Dispense: bottle (330ml)
Selected stockists (UK): Amazon*, Wise Bartender*, Booze Free
Stockists (US): Amazon*