San Miguel "0.0" is an alcohol-free (0%) pilsner-style lager. Find out how it tastes, plus get nutritional and stockist info in this review.
Ask anyone to name a Spanish beer and most people will likely say San Miguel.
After all, the name sounds Spanish and its seemingly available in every bar when you go on holiday to Spain. It's also the subject of one of my favourite "jokes". (I can only speak a few words of Spanish – "Dos San Miguel, s'ils vous plait". Sorry.)
Its roots though lie in Manilla in the Philippines when it was still a Spanish colony. With a royal grant from Spain, San Miguel brewery – which took its name from the district it was situated in – started selling beer in 1890. It wasn't until 1954 – more than 50 years after the Spanish left the Philippines – that San Miguel beer made its way to Spain.
These days, its brewed under licence in various locations including by Carlsberg in the UK.
San Miguel launched its alcohol-free beer, "0.0" in Spain in 2001, where it's the most popular non-alcoholic beer in the country. It's been available in the UK since 2015.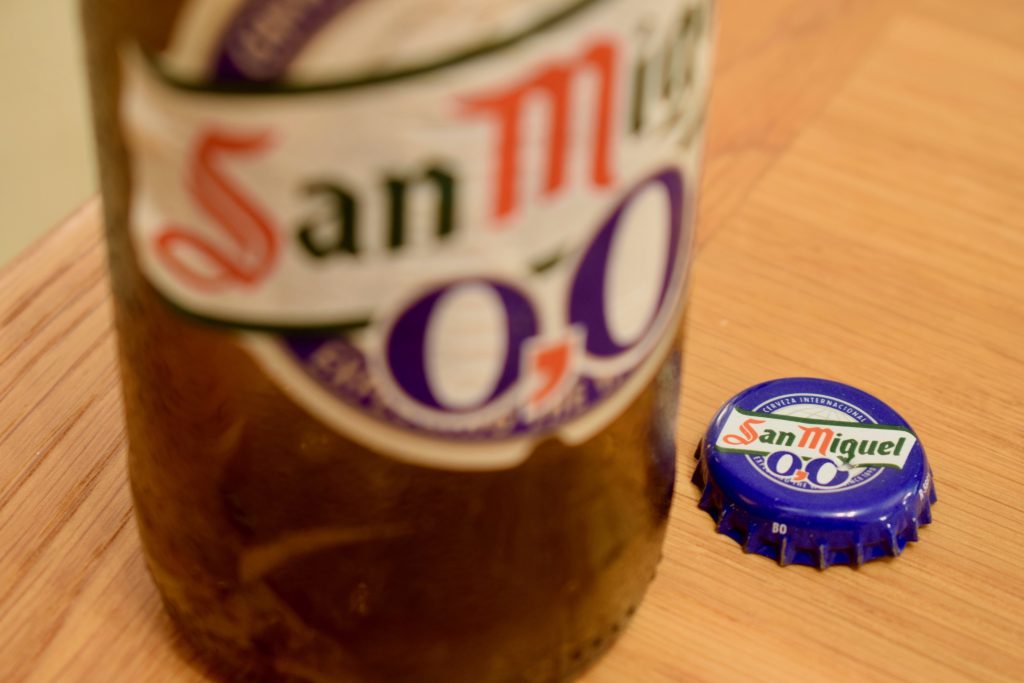 It's not clear how the brewery makes this beer but some sources* say the it makes it with a grain bill that produces less fermentable sugars that limits alcohol production. The ingredients also list "flavourings" alongside water, hops and barley malt. So you might want to avoid this beer if you like to know exactly what you're drinking.
0.0 pours a clear amber colour with an impressively fluffy white head, which leaves a little lacing down the glass after each sip.
There's an initial hit of sweet wort on the nose but a sour, wholemeal aroma soon takes over. This gets more prominent as the beer warms up. The aroma is interesting, but not what I was expecting from a European-style pilsner.
I was also surprised that this beer had quite a heavy, creamy body accompanied by a gentle tingle rather than a sharp fizz in the mouth.
The wortiness continues in the flavour, with only a morsel of bitterness to cut through the sweet taste of wholemeal bread. Again, not what I expected from this beer style. But this could be down to my tasting experiences rather than any fault with the beer. The finish is medium dry.
Verdict
0.0 is a lot more interesting than I expected it would be. And while the wortiness in the aroma and taste is a telltale sign it's non-alcoholic, it's an OK drink if you're short on options.
With its low carbonation and creamy mouthfeel, it might even appeal if you like hearty, malty ales.
Key info – San Miguel "0.0"
Name: 0.0
Brewery: San Miguel
Style: pilsner
Alcohol content: 0%
Calories: 79 (per 330ml)
Carbohydrates: 18g (per 330ml)
Sugar: 5.6g (per 330ml)
Ingredients: water, barley malt, hops, yeast, flavourings
Country: Philippines/Spain
Dispense: bottle (330ml)
Stockists (UK): Amazon*, Wise Bartender* Booze Free and many supermarkets