Drink'in the Snow is a fruity dark winter-style beer. Get tasting notes, stockists and nutritional info in this short review.
Yeast is an essential ingredient in beer. Without it, there would be no alcohol and all you'd be drinking is sweet, unfermented wort.
Yet, alcohol isn't the only thing yeast adds to beer. Notably, different yeasts create different flavours and aromas to go alongside the flavours provided by malt, hops and other ingredients.
Take Mikkeller's own yeast strain, mikkellensis, which you'll find in most (probably all) of the brewery's non-alcoholic beers.
This yeast is known for its fruity, tart and lemony flavours. Which makes me wonder if Mikkeller have used it in "Drink'in the Snow", a beer that has all the characteristics – from the appearance and packaging at least – of a malty porter or stout.
Like the other non-alcoholic beers in its range, Drink'in the Snow is brewed at the De Proefbrouwerij in Belgium as Mikkeller – a Danish gypsy brewery – has no permanent home.
As well as the usual beer ingredients of barley malt and hops, the brewers have added cassonade sugar, orange peel and coriander seeds.
Despite the addition of sugar, the overall content is low – about 1.5g (less than half a teaspoon). Calories are high though – around 106 per bottles.
The alcohol level is just 0.3% ABV.
Drink'in the Snow pours dark ruby – black if you hold it away from significant light. As with Mikkeller's other alcohol-free beers, there's a gigantic head that fluffs up as you pour it into your glass.
There's some yeast suspended in the bubbles, so pour carefully if you don't like the bits – not that you can feel anything in your mouth.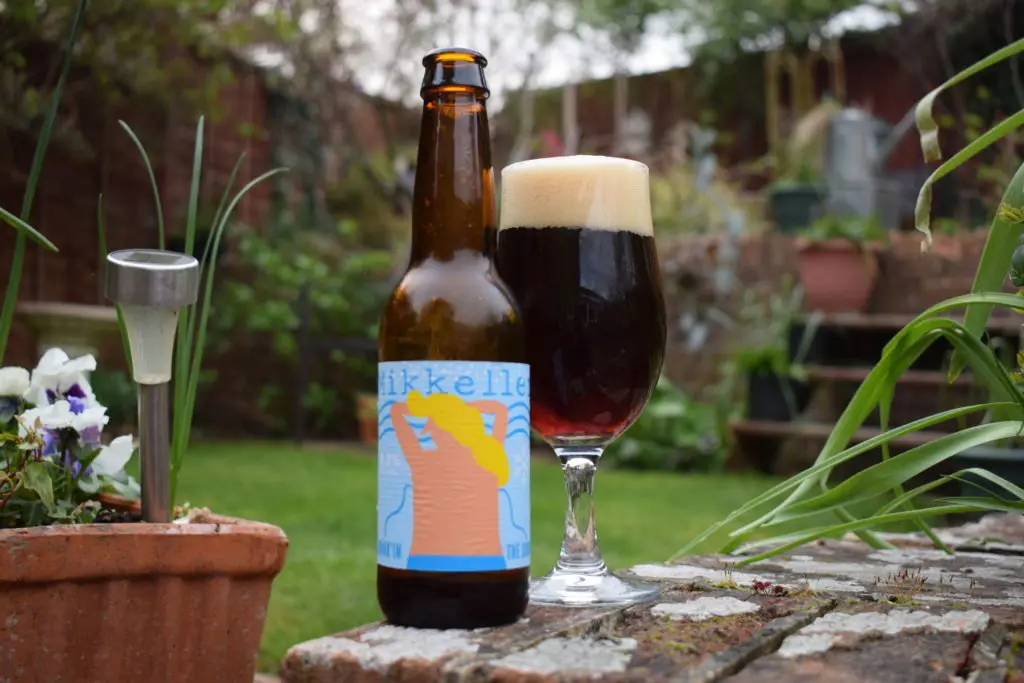 A slight wortiness reaches your nostrils as you take the first sniffs. But it's soon replaced by the unusual concoction of cocoa, coffee and lemon. Then light malts, which reminded me of a pilsner rather than a dark ale. The lemony aromas come to the fore as you work your way through the glass.
In the mouth, the body is on par with a low-ABV beer and there's soft carbonation that gives it some life without being a fizz fest.
The flavour in the taste is initially roasted coffee with a hit of tarty fruitiness that tricks your brain after staring down into the darkness. The non-specific fruitiness turns into a more recognisable lemony flavour. This hints at the use of that mikkellensis yeast in this brew, but could also be the flavours from the added orange peel.
As with the aroma, the lemony flavours in the taste get more prominent the more you sip. It's refreshing, with a dry finish provided by the dark malts. There's low bitterness.
Verdict
Drink'in the Snow is a fun drink. But it won't be to everyone's tastes, especially those expecting this to be a standard malty ale or stout.
The aroma and flavours are varied and interesting and it looks great too. And it's not just a drink for winter – the citrusy flavours make it ideal for summer too as an alternative to fruity pale ales and lagers.
Key info – Mikkeller Drink'in the Snow
Name: Drink'in the Snow
Brewery: Mikkeller
Style: winter ale
Alcohol content: 0.3%
Calories: 106 (per 330ml)
Carbohydrates: 27g (per 330ml)
Sugar: 1.5g (per 330ml)
Ingredients: water, barley malt, wheat flakes, cassonade sugar, hops, orange peel, coriander seeds
Country: Belgium
Dispense: bottle (330ml)
Stockists (UK): Wise Bartender*, Booze Free