This is a review of Stella Artois Alcohol Free lager. Get tasting notes and info on stockists, carbs, calories, sugar and stockists.
I can't vouch for other parts of the world, but Stella Artois has a terrible reputation in the UK.
That's despite upmarket advertising campaigns with slogans like "Perfection has its price" and "Reassuringly expensive", sponsorship of upmarket events including the Cannes Film Festival and Wimbledon (The Championships not the football team), and upmarket branded "chalice" serving glasses.
Not that the reputation has had too much of an impact on sales. Supported by that marketing and advertising, Stella was still one of the UK's top 10 beer brands in 2019. And it's gaining market share around the rest of the world too, growing 6.5% in the same year.
Stella isn't as strong as it used to be – it's usually 4.8% ABV in the UK, compared to 5.2% 10 or 15 years ago.
Now there's an alcohol-free version too, which is one of more than 80 no and low alcohol beers produced by parent company AB-Inbev.
Ingredients and how it's made
One of Stella's aforementioned advertising campaigns boasted how the beer is made of just four ingredients – water, malted barley, maize and hops. But that's not the case with Stella Artois Alcohol Free.
This one contains water, hops and malted barley, plus sugar and natural flavourings. The hops are likely to be Saaz, the same as used in standard Stella.
There's no indication how it's made on the packaging, but it's likely brewed as a full-strength beer with the alcohol removed before packaging.
Stella is still made in Belgium, unlike some "import" beers that are produced all over the world.
Calories, carbs and sugar
Stella Artois Alcohol Free is pretty low in calories, with just 18 per 100ml.
The sugar content isn't too high either. There's 0.8g per 100ml, coming from 4.2g per 100ml of carbohydrate.
Flavours, appearance and mouthfeel
Stella Artois Alcohol Free pours clear amber with lots of tiny bubbles creating a modest head, which settles to leave a few islands of foam up top.
The aroma is simple. There's a malty doughiness backed by floral and lemon aromas. There's a touch of sweetcorn too.
The mouthfeel is surprisingly heavy – a bit syrupy and cloying. It's well carbonated but the bubbles aren't too harsh.
Like the aroma, the flavour is simple, with clean lager malt sweetened by a dab of lemon.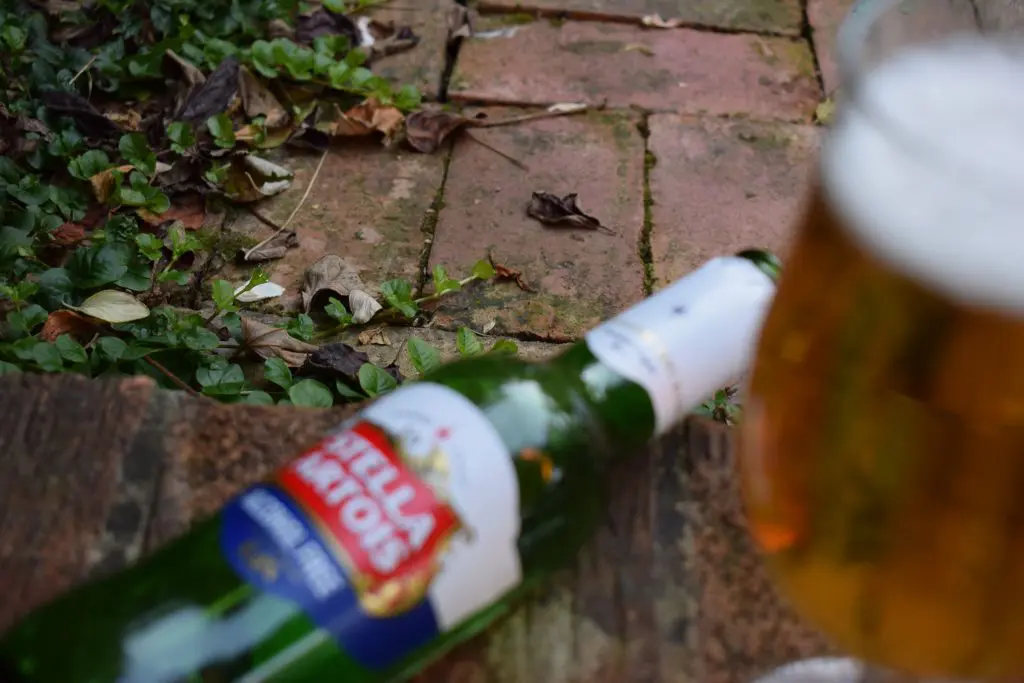 The sweetness builds, leaving a slightly sickly sweet finish that has a touch of cardboard in the aftertaste.
The bitterness is light.
Verdict
This is one of the better AB-Inbev non-alcoholic beers, despite a few minor flaws that unfussy fans of Stella probably won't care about.
For a mass-produced thirst-quencher, it does the job.
Key info – Stella Artois Alcohol Free
Name: Alcohol Free
Brewery: Stella Artois
Style: lager
Alcohol content: 0%
Calories: 60 (per 330ml)
Carbohydrates: 13.9g (per 330ml)
Sugar: 2.6g (per 330ml)
Ingredients: water, malted barley, hops, sugar, natural flavours
Country: Belgium
Dispense: bottle (330ml)
Where to buy (UK): Many major supermarkets