Mikkeller "Limbo Raspberry" is a low-alcohol fruit beer, brewed in Belgium. Get tasting notes in this review. Plus find out the ingredients, calories, sugar and carb info.
With many brewers these days proudly disclosing the varieties of hops and malts that go into their beer on the labelling, it's easy to forget the huge role that yeast plays in flavouring a beer.
That's why – when everything else is equal – it's so difficult for brewers to copy other breweries' beers. Unless they can use the exact same yeast strain, the beer will always turn out differently.
The yeast Mikkeller uses for its non-alcoholic beers certainly has recognisable characteristics. Playfully known as 'mikkellensis' and developed at Belgium's de Proefbrouwerij, beers brewed with this yeast are typically slightly sour with a passionfruit aroma and lemon flavour.
Mikkeller's "Henry and His Science" shows what the mikkellensis yeast is capable off. Mikkeller and de Proefbrouwerij produced this with neutral malts and hops so drinkers could experience the flavours produced by the yeast.
We've also seen how these yeast flavour meld with other types of hops and malts in the half-a-dozen-or-so other non-alcoholic beers Mikkeller has concocted. Its latest non-alcoholic beer "Raspberry Limbo" adds fruit – in this case, raspberries – into the mix.
As with its other non-alcoholic beers, Raspberry Limbo is brewed at de Proefbrouwerij. However, it's unlikely the fruit plays any role in fermentation as it does in many of Belgium's famous fruit beers. If it did, I reckon we'd be looking at a much higher alcohol content than 0.3%.
Ingredients, calories, carbs and sugar
The high sugar content – 17g per 330ml bottle – is another sign that the sugars from the fruit in this one didn't get fermented. In total, there's 28g of carbs and 112 calories per 330ml bottle.
Ingredients wise, there's no nasties – just water, malted barley, yeast, hops and those all-important raspberries.
Flavour, appearance and mouthfeel
Raspberry Limbo pours hazy with a deep ruby colour and gigantic off-pink head.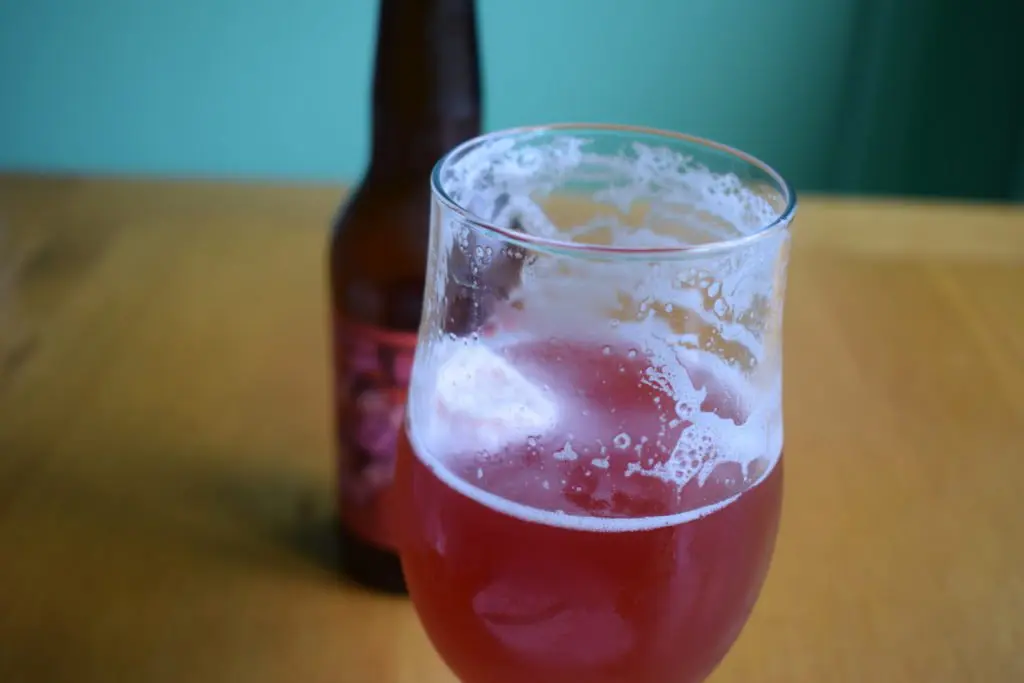 It's the distinctive and tart passionfruit aroma from the mikkellensis yeast that you notice on first whiff, with raspberry and cranberry aromas building more and more as it warms. There's little trace of malt or cereal on the nose.
The body is low to medium but the haze fools you into thinking it full, thick and juicy. There's a tickle of smooth carbonation, despite the foam.
The flavour is slightly tart on first sip, thanks to the fruit juice and yeast. But this is no sour beer.
As with the aroma, passionfruit and a splash of lemon mingle with the raspberries giving this a raspberry/cranberry flavour. The malts are missing again making this feel more like a pleasant soda than a beer.
The aftertaste is mouth-wateringly acidic, so it's difficult to stop quaffing this after each sip.
Verdict
Tart, juicy and not really recognisable as a beer, Limbo Raspberry is a lovely option when you fancy a change from a normal brew – and you don't mind taking on a bit more sugar than usual.
I've seen this described as a sour beer but I'm confident it will suit most palates, despite the tartness that pops up in the aroma and flavour.
Key info – Mikkeller Limbo Raspberry
Name: Limbo Raspberry
Brewery: Mikkeller
Style: fruit beer
Alcohol content: 0.3%
Calories: 112 (per 330ml)
Carbohydrates: 28g (per 330ml)
Sugar: 17g (per 330ml)
Ingredients: water, malted barley, raspberries, yeast, hops
Country: Belgium
Dispense: bottle (330ml)
Stockists (UK): Wise Bartender*