"Cero" is a 0% lager from ABV-Inbev brand, Corona. Get tasting notes and info on stockists, calories, carbs, sugar and ingredients in this review.
Corona Extra isn't only the best-selling export beer in the USA ahead of the likes of Stella Artois and Heineken. It's also one of the top five best-selling beers overall.
It was only introduced to the US from Mexico in the early 80s. Back then, the brand was owned by Mexican brewery Modelo, which began brewing beers under the Corona brand in 1925.
Modelo still brews Corona, but the brewery is now owned by brewing behemoth AB-Inbev. This means it's now brewed across the world, not just in Mexico.
Corona "Cero" (0%) is the non-alcoholic version of Corona Extra. Available since 2016 in Mexico, it was only launched in import markets in January 2022 but has already found its way into many supermarkets and grocery stores thanks to AB-Inbev's distribution powers.
Cero vs Sunbrew
Confusingly, the launch of Cero came at the same time as another Corona NA beer called "Sunbrew".
Sunbrew and Cero have similar branding, although Sunbrew includes added Vitamin D. It also seems that Cero is for European markets, while Sunbrew is selling in the US and Canada.
Ingredients and how it's made
Sunbrew is made by removing the alcohol from full-strength beer. Cero is likely made in the same way, by using either vacuum distillation or reverse osmosis.
Alongside water, barley malt and hops, Cero includes maize, sugar and natural flavourings.
The hop variety in Corona is rumoured to be Galena, which is primarily used for bittering. Chances are it's a processed version of the hop, so the flavours aren't affected by the light that gets through Corona's clear bottles.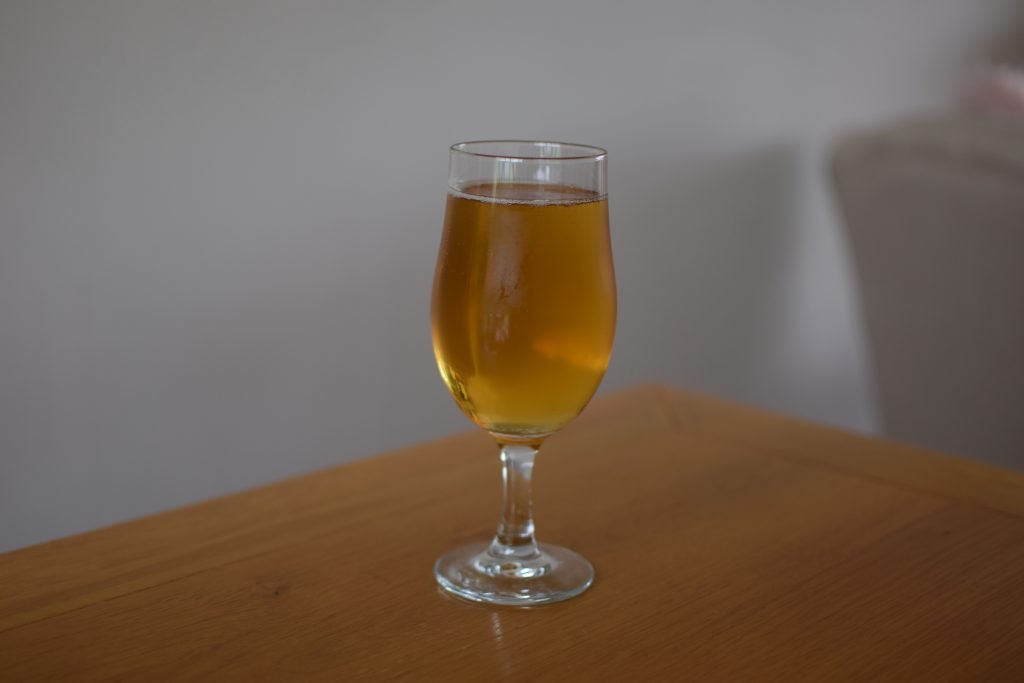 Galena hops can also produce citrus and blackcurrant flavours, depending on how they're used.
Calories, carbs and sugar
Corona Cero has 17 calories per 100ml, compared to 42 calories per 100ml in the full-strength Corona Extra.
There are 3.9g of carbohydrates per 100ml, of which 0.7g is sugar. For comparison, Corona Extra has 4g of carbs (Corona doesn't publish the sugar info). 
Flavours, appearance and mouthfeel
I know it's customary (outside of Mexico) to drink Corona out of the bottle with a slice of lime, but I poured and drank it "naked" initially.
Cero pours a straw colour with a slight haze. The carbonation consists of small, tight bubbles that create a ring of foam around the edge of the glass.
The aroma is basic – clean and simple with no hop aroma, lots of light malt and a little honey.
In the mouth, the bubbles are aggressive, cutting through a tacky, syrup-like texture that doesn't quite feel right for a pale lager.
The flavours on tasting are also basic, and tainted by a touch of sweetcorn. Otherwise it's subtle malts and more of that honey from the aroma.
The bitterness is high and more noticeable due to a lack of other flavours.
Corona Cero vs Corona Extra
Side-by-side, there's barely any differences between Cero and 4.5% Corona Extra.
The alcohol taste in the full-strength version is noticeable. There's also some sherbet flavours that aren't present in Corona Cero.
Verdict
If you're a Corona drinker, you might find Corona Cero acceptable.
There are better simple, non-alcoholic pale lagers available though such as Aldi's "Rheinbacher 0%" and Nirvana's "Lager".
Key info – Corona Cero
Name: Cero
Brewery: Corona
Style: lager
Alcohol content: 0%
Calories: 56 (per 330ml bottle)
Carbohydrates: 12.8g (per 330ml bottle)
Sugar: 2.1g (per 330ml bottle)
Ingredients: water, barley malt, maize, sugar, hops, natirual flavours
Country: Belgium
Dispense: bottle (330ml)
Selected stockists (UK): Wise Bartender* and many supermarkets and stores