"Rheinbacher 0%" is a lager-style alcohol-free beer from discount retailer Aldi. Get tasting notes and info on ingredients, calories, carbs, sugar and stockists in this review.
It's not just cheaper prices that have contributed to the rise of UK discount supermarkets Lidl and Aldi.
Some of their own-brand products are pretty good – superior even.
One Aldi product that fell into that category was its own-brand German pilsner, Rheinbacher. I say "fell" because – if the reviews on the Aldi website and social media are anything to go by – this beer took a turn for the worse in 2020.
One of the risks of focusing on price, I suppose.
Anyway, the bad reviews didn't stop Aldi from releasing a non-alcoholic version of Rheinbacher earlier this year for Dry January. "Rheinbacher 0%" joins Aldi's other own-brand alcohol-free beers, "Sainte Etienne", "Low Down" and "Low Profile". Like many Aldi own-brand products it's cheap – just £2.49 for a pack of six.
One of the common criticisms of the new version of the full-strength Rheinbacher is that it's no longer brewed in Germany. And that's true of this 0%, which is produced in France.
Ingredients
There's no way this beer could be produced in Germany and be called a "beer" because the several of the ingredients don't meet the Reinheitsgebot, which decrees a beer must only contain water, yeast, malt and hops.
Rheinbacher 0% does barley malt and water (obvs). But this is joined by hop extract, citric acid and flavouring.
These are exactly the same ingredients as Aldi's other 0% lager, "Sainte Etienne".
The label doesn't say this beer is suitable for vegans or gluten free.
Calories, carbs and sugar
100ml of Rheinbacher 0% contains 23 calories.
There are 5.2g of carbohydrate, of which 1.8g is sugar. So it's fairly high in sugar.
Again this is the exact same nutritional profile as "Sainte Etienne".
Flavours, appearance and mouthfeel
Rheinbacher 0% pours golden amber with a small head that quickly reduces to a ring of foam and the odd island of bubbles.
The aroma is clean and simple with a hoppy lemon and grapefruit character, which is soon joined by a little biscuit, sweetcorn, orange and peach.
The body is on the lighter side of medium, with small and aggressive bubbles that fight against a smooth mouthfeel.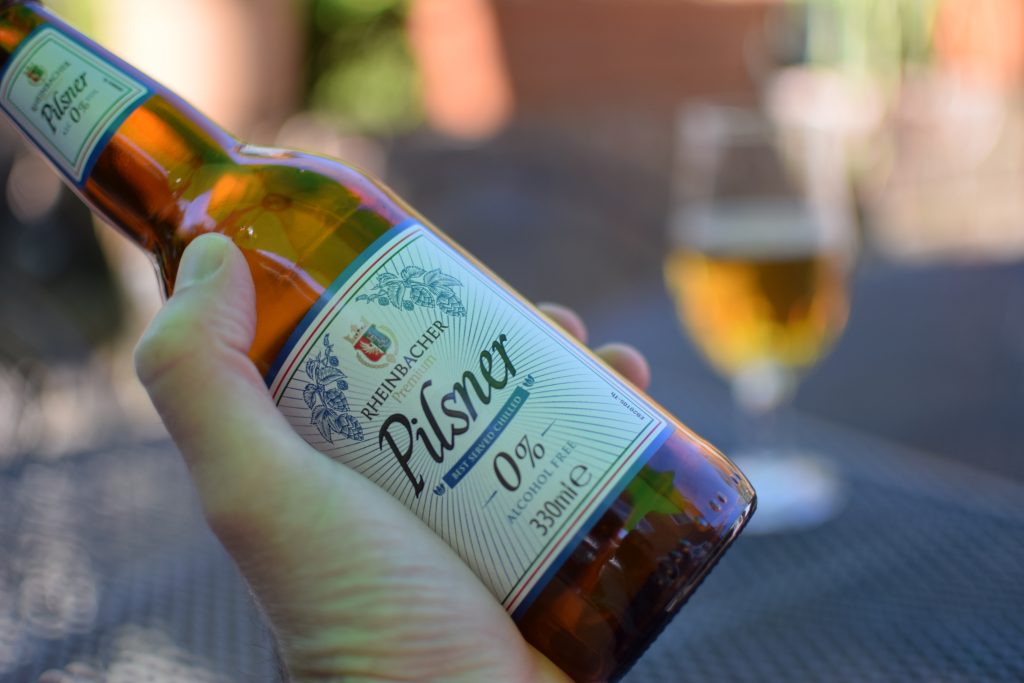 The taste like the aroma is clean and simple, with only a touch of bitterness. The flavours run deep though, with crackery, semi-grainy maltiness, more lemon and a little sherbet.
A smidge of cardboard in the taste tries its best to pollute the other flavours but fails.
The malts feature in a grain-led aftertaste.
Verdict
There's maybe a little too much citrus in Rheinbacher 0% to make it a great pilsner. But it's still a lovely drop with some great flavours and aromas and a good body.
Is it the same drink as Aldi's other non-alcoholic lager, Sainte Etienne? Despite the same nutritional profile and core ingredients, I reckon no.
Key info – Aldi Rheinbacher 0%
Name: Rheinbacher 0%
Brewery: Aldi
Style: lager
Alcohol content: 0%
Calories: 76 (per 330ml bottle)
Carbohydrates: 17g (per 330ml bottle)
Sugar: 5.8g (per 330ml bottle)
Ingredients: water, barley malt, hop extract, flavouring, citric acid
Country: France/UK
Dispense: bottle (330ml)
Selected stockists (UK): Aldi