"Smashed Lager" is a 0% non-alcoholic lager from Drynks Unlimited. Get info on stockists, calories, carbs, sugar and ingredients – plus tasting notes – in this review.
It's not just changes in people's drinking habits that have boosted the availability of low and no alcohol beer in the last few years. Innovations in the production of non-alcoholic beer have also given the industry a leg up.
Traditionally, non-alcoholic beer was produced by taking a standard strength beer and distilling off the alcohol – effectively cooking it, killing off many of the aromas and flavours.
These days, there are a variety of ways to produce a non-alcoholic beer, with distillation still a common way to remove the alcohol. Now though, producers are able to invest in tech that distils that alcohol at low temperatures, preserving those all-important flavour compounds.
Cheshire-based Drynks Unlimited uses one such system in partnership with Robinsons Brewery in Stockport. Its "Smashed Lager" is one of three (soon to be four) alcohol-substitute non-alcoholic drinks the company produces.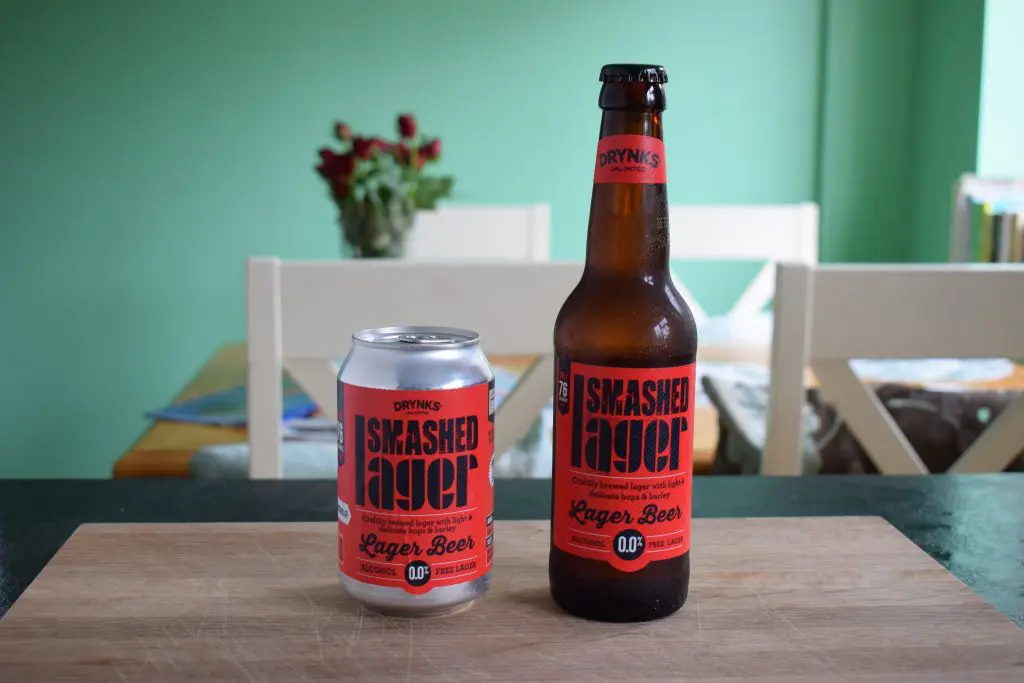 Smashed Lager starts life as a standard lager, but it's not available to buy in this guise. Brewers then use something called cool vacuum distillation (CVD) to remove the alcohol, the idea being that alcohol and water boils at a lower temperature under vacuum. Therefore, the flavours aren't cooked out.
It sounds simple. But these pieces of kit are substantial – in size and cost.
Ingredients
In the UK, producers of drinks under 1.2% must list the ingredients on the label, and this is the case with Smashed Lager.
However, while "alcohol free beer" is oddly listed (well, duh), there's no mention of hops or water, which seems strange.
Sugar, malted barley, wheat and natural flavours are also included in the ingredients.
Calories, carbs and sugar
The added sugar in this beer hasn't sent the carb and calorie count through the roof, although it's probably on the higher side of average.
There's 23 calories and 3.1g of carbs in 100ml Smashed Lager, with all of that 3.1g of carbs consisting of sugars.
Flavours, appearance and mouthfeel
Smashed Lager is amber with zero haze. It looks lively, with loads of bubbles zooming to the top when you pour it into a glass.
There's a little bit of foam, creating a ring around the side of the glass and a few bubbly islands on top.
The aroma has a fair bit going on, with lager malts backed by honey and wholemeal bread crust, plus faint touches of pepper, lemon and juniper.
Despite the obvious liveliness of this lager, it's surprisingly gentle once it passes your lips. Sure, there's good carbonation. But the mouthfeel is soft, with the bubbles on making their presences known once they hit your tongue. The finish is dry.
The fruitiness from the aroma takes centre stage in the flavour on tasting.
Again, it's malt, lemon and a touch of juniper (minus any sharpness) providing the sweetness. Some bitterness, which starts out quite harsh but is easy to get used to, balances the flavours, offering a big hit of bitterness to go with that dry finish.
Verdict
Despite diverse flavours, Smashed Lager is clean-tasting and easy to drink. So it's a great substitute if you're a lager drinker.
A decent drop, even if it's a little higher in sugar than some alternatives.
Key info – Drynks Unlimited Smashed Lager
Name: Smashed Lager
Brewery: Drynks Unlimited
Style: lager
Alcohol content: 0.05%
Calories: 76 (per 330ml bottle/can)
Carbohydrates: 10g (per 330ml bottle/can)
Sugar: 10g (per 330ml bottle/can)
Ingredients: alcohol-free beer (including barley malt and wheat), natural flavouring, sugar
Country: UK
Dispense: bottle and can (330ml)
Stockists (UK): Wise Bartender*, Drynks Unlimited