This review looks at "Skipper's" dry-hopped pilsner, an ultra-low-alcohol (0.5%) lager from German brewery Insel. Get tasting notes, plus info on ingredients, calories, carbs, sugar and stockists.
With hundreds of new breweries entering the market in the last few years and thousands – if not hundreds of thousands – of beers for drinkers to choose from, branding is key.
For many breweries in the craft beer space, that means funky labelling. But there's only so far artwork can get you in a crowded marketplace.
This is why Germany's Insel brewery had to come up with an ingenious way for its beers to stand out on the actual and virtual shelves.
Insel's beers come in bottles wrapped in paper. And this isn't just for aesthetic reasons – the paper helps protect the beer from the light.
Insel was opened in 2015 by Markus Berberich and Andries and Frans de Groen with a mission to create rare beers. Insel means "Island". It's named after the island of Rügen where the brewery is located.
The brewery uses traditional brewing methods, using shallow open-topped vessels for primary fermentation rather than the taller tanks used by many modern breweries. After a period of secondary conditioning, all the breweries are bottled where a third stage of fermentation can take place.
The brewery's primary focus is on standard-strength beers, but it also brews a limited range of non-alcoholic beers – including this 0.5% pilsner called "Skippers".
Ingredients
Skippers simply contains standard beer ingredients – water, yeast, barley, wheat and hops.
The brewery removes the alcohol after fermentation, using vacuum distillation. This "burns off" the alcohol at low temperatures, with minimal impact on the beer's flavours and aromas.
Skippers is "wet hopped". This usually means the brewery uses freshly picked hops that haven't been dried or made into pellets. This results in a "greener" flavour and aroma compared to if the same hops were dried.
Calories, carbs and sugar
Skippers is extremely low in sugar, with less than 0.5g per 100ml That's from 6.4g of carbs per 100ml.
The calorie count per 100ml is 32 – probably a little higher than average for an NA beer.
Flavours, appearance and mouthfeel
Skippers looks amazing when poured. Amber-coloured and solidly hazy, it has a chunky off-white head that's a good half-inch even after the initial carbonation on opening has died down.
Despite a bready character, the aroma is clean and simple with low levels of clove from the hops blending with pilsner malt.
The aroma is slighted by a touch by a corny flavour as it warms.
The mouthfeel is deliciously creamy, with soft carbonation and a medium body.
There's a little sediment, so it's best to store your bottles upright and pour carefully if you don't want too much in your glass.
I'm not sure how a beer can be crisp and grainy, but this one is. That breadiness continues in the taste, which is simple like the aroma and led by sweet malts. As with the aroma, there's a little clove in the taste too.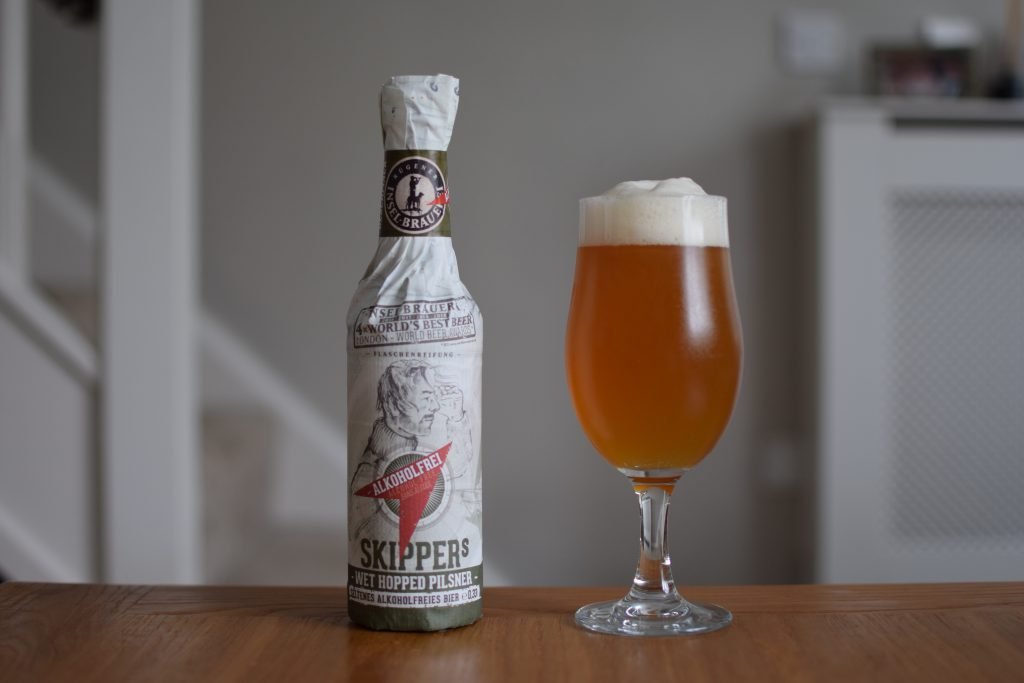 The main thing the hops contribute to is the bitterness, which grows during each sip until it's almost lip puckering. Yet it's balanced with those other, sweeter flavours.
The hop bitterness lingers until the next sip.
Verdict
From the posh wrapping, to the luxurious mouthfeel and superb simple aroma and flavour, Skipper's feels like a real treat and offers something for anyone who enjoys good beer – whether a pilsner drinker or not.
That said, this isn't a beer if all you need is a cheap-and-cheerful pale lager.
Key info – Insel-Brauerei Wet Hopped Pilsner
Name: Wet Hopped Pilsner
Brewery: Insel-Brauerei
Style: pilsner
Alcohol content: 0.5%
Calories: 106 (per 330ml bottle)
Carbohydrates: 21g (per 330ml bottle)
Sugar: 1.5g (per 330ml bottle)
Ingredients: water, barley, wheat, hops, yeast
Country: Germany
Dispense: bottle (330ml)
Selected stockists (UK): Wise Bartender*