Super Bock Non-Alcoholic is a low-alcohol lager from Portugal's Super Bock brand. Get tasting notes, nutritional info and stockist info in this review.
What sticks in your mind after a holiday abroad?
The cuisine? The historic sights? The beaches? The accommodation?
A bit weird, but the one thing I always remember without fail is the local brew, whether it's Estrella Damm in Spain, Efes in Turkey or Banks in Barbados (I don't spend my holidays sitting at the bar, promise).
I haven't been to Portugal yet. But if I do, it's highly likely that it will be Super Bock beer that sticks in my mind on my return.
Super Bock probably shares the title of Portugal's most popular beer with Sagres. It was first produced in 1927 and is now available across the world.
Non-alcoholic beer has a longish tradition on the Iberian Peninsula so Super Bock was a little late to the party when launched its first non-alcoholic beer in 2005.
This non-alcoholic version of its flagship lager came onto the market in 2007, followed by its non-alcoholic stout.
How it's made
Super Bock Non-Alcoholic is almost the same beer as the original, with the alcohol removed to bring it to 0.5% ABV. Initially, the brewery creates a wort that lower in fermentable sugars.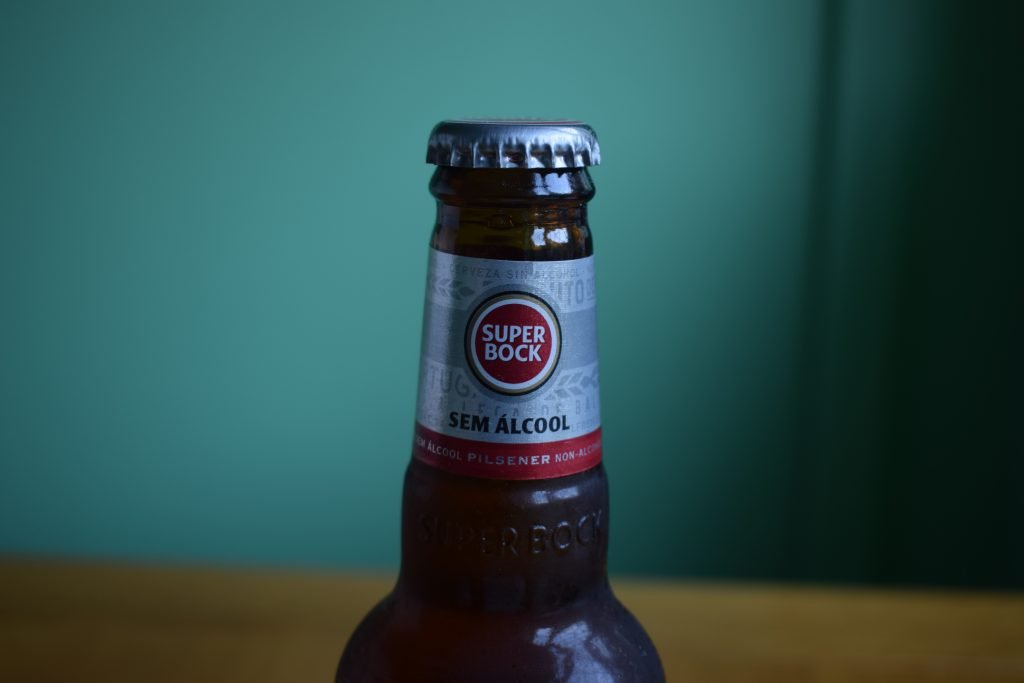 It also removes the aromas at the same time it removes the alcohol using a process it developed with the University of Porto. The aromas go back into the beer before it's packaged.
Ingredients and nutritional info
Like many popular lagers, Super Bock Non-Alcoholic's ingredients include some unmalted cereals (barley and maize) along with malted barley. There's also vague "flavourings" along with hops.
There's 23 calories per 100ml, with 4.7g of carbs and 1g of sugar. In comparison, the original 5.2% beer has 40 calories, 2.6g of carbs and 0.6g of sugar per 100ml.
Flavours, appearance and aroma
Super Bock Non-Alcoholic pours clear amber with a modest white head that holds its own as you drink.
The aroma starts off a tiny bit worty, which may be those unfermentable sugars making their mark.
Fortunately, a few more desirable aromas kick in. It's sweet and floral with hint of root beer and a smidge of sweetcorn. The aroma is pretty strong for a standard lager-style beer.
Although it cloys a bit in your mouth, the mouthfeel is good with a smooth, medium body and tiny yet prickly bubbles.
The interesting aromas continue in the taste. It's floral with some medicinal root beer flavours and sweetcorn. It's slightly sour at the end of each sip, which balances well with the sweetness provided by those unfermented sugars.
There's a lack of bitterness, but I didn't miss it.
Verdict
I wasn't expecting much from Super Bock Non-Alcoholic. But, it's got a varied aroma and flavour and a decent body. I'd order it again.
It's not a classically clean-tasting lager. Bear this in mind if that's your thing. And it does have a few undesirable flavours knocking about.
Key info – Super Bock Non-Alcoholic
Name: Non-Alcoholic
Brewery: Super Bock
Style: lager
Alcohol content: 0.5%
Calories: 76 (per 330ml)
Calories: 15.5g (per 330ml)
Calories: 3.3g (per 330ml)
Ingredients: water, barley malt, unmalted cereals (maize and barley), flavouring, hops
Country: Portugal
Dispense: 330ml bottle
Stockists (UK): Wise Bartender*